Days after the murder of a villager in Chhattisgarh's Maoist-hit Bastar, the police cited his wife's complaint to name Delhi University professor Nandini Sundar and Jawaharlal Nehru University's Archana Prasad as murder suspects.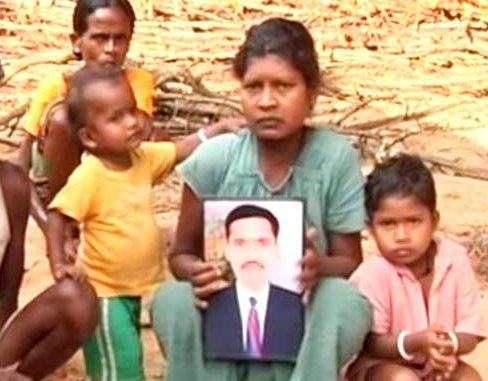 Sitting in her home at a village around 400 km from Raipur, Shamnath Baghel's wife Vimla told NDTV that she didn't name Nandini Sundar or anyone at all, even the killers.
Vimla says the family was sleeping on November 4, when the Maoists knocked on their door.
"When I did not open the door, they broke it down. They barged in and dragged my husband out of the house. They had guns, swords...They pointed a gun at me and asked me to stay inside. There were 15-20 men... I did not know any of them. I could not see them properly as they flashed a torch at me. They did not say a word. They took him and killed him on the road," said Vimla.
Did they take the name of Nandini Sundar? "No," she said, adding that she gave no names to the police.  
The entire story may be
read here
Meanwhile, the
Chhatisgarh government assured the Supreme Court
today that it will not arrest Delhi University professor Nandini Sundar, who was named as an accused in the alleged murder of a tribal person in Sukma district of Chhattisgarh.The assurance came as the bench of Justice Madan B Lokur and Justice Adarsh Kumar Goel indicated that they may put on hold the FIR in which Sundar and other civil society activists have been named as accused in the November 4 murder of Shamnath Baghel by Maoists.    
Related Articles:
Police term accused Professors Naxals,
'Attack on Activism' says booked Professor
Online Petition demands Withdrawal of Charges against
Sundar, Prasad and Others