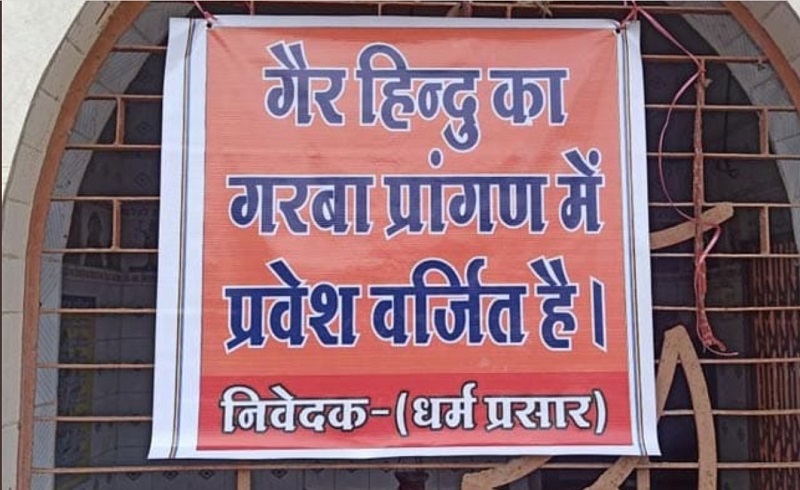 Communal polarisation is at its peak in Madhya Pradesh this Navratra. In Ratlam, Madhya Pradesh, the Vishwa Hindu Parishad (VHP) has put up posters outside Garba venues saying "entry of non-Hindus is prohibited" across 56 pandals, reported Indian Express.
The VHP claims that non-Hindu men indulge in objectionable activities and thus their entry is being prohibited for Garba. Ratlam Sub Divisional Magistrate (SDM) Abhishek Gehlot said that he had not received any complaints in this regard.
In another incident in Indore, four youths were arrested for creating "public nuisance" after members of Bajrang Dal caught them outside a Garba organised by the city's Oxford College on October 10.
Superintendent of Police, Indore West, Maheshchand Jain, told IE that the action against the four was "unfair" and that he had recommended against their detention.
One of the volunteers manning the entry at the college event, Habib Noor, a third-year B.Com student, told IE that members of the Bajrang Dal had picked out Kadir Mansoori in the parking lot, saying "Ye unwala hai (he is one of theirs)."
Sajid Shah, Adnan Shah's uncle released a video on social media stating that his nephew was put behind bars on allegations of "love jihad". He questioned, "Can a Muslim not celebrate Garba in his college function?"
He said that members of Bajrang Dal and VHP selectively dragged out the Muslim boys and handed them over to Gandhinagar Police station.
The video of the incident surfaced on Twitter:
A video of the event has surfaced in which men of Hindu outfits have almost kidnapped Muslim youths from inside College.

But, the organiser Mr. Tiwari said that they have captured them from outside college premises.

It's matter of utter shame that College didn't come to rescue. pic.twitter.com/chZFGcLcGp

— काश/if Kakvi (@KashifKakvi) October 11, 2021
It is important to note that SP Maheshchand Jain, has categorically stated that the action taken against the Muslim youth was unfair, and that they were arrested despite him ordering against it.
Related:
Uttar Pradesh: Who are these Hindutva mobs prowling the streets, targeting minorities?
Gujarat: Mob brutally attacks two teenage Madrasa students on a busy road
Indore: Police file FIR against Muslim family that was attacked 'for not leaving village'
Hate Watch: Was Sri Rama Sena Hindustan member allegedly paid Rs 5 lakh to kill