Har Kumar Goswami is a prominent electrical engineer, innovator and small industrialist of Assam. He is best known for the many unique electrical appliances he designs and manufactures in his own lab as these products have several special features and yet are quite affordable. But these days Goswami is unable to give time to his unique creations as he is busy running from pillar to post trying to prevent his and his entire family's name from being excluded from the NRC.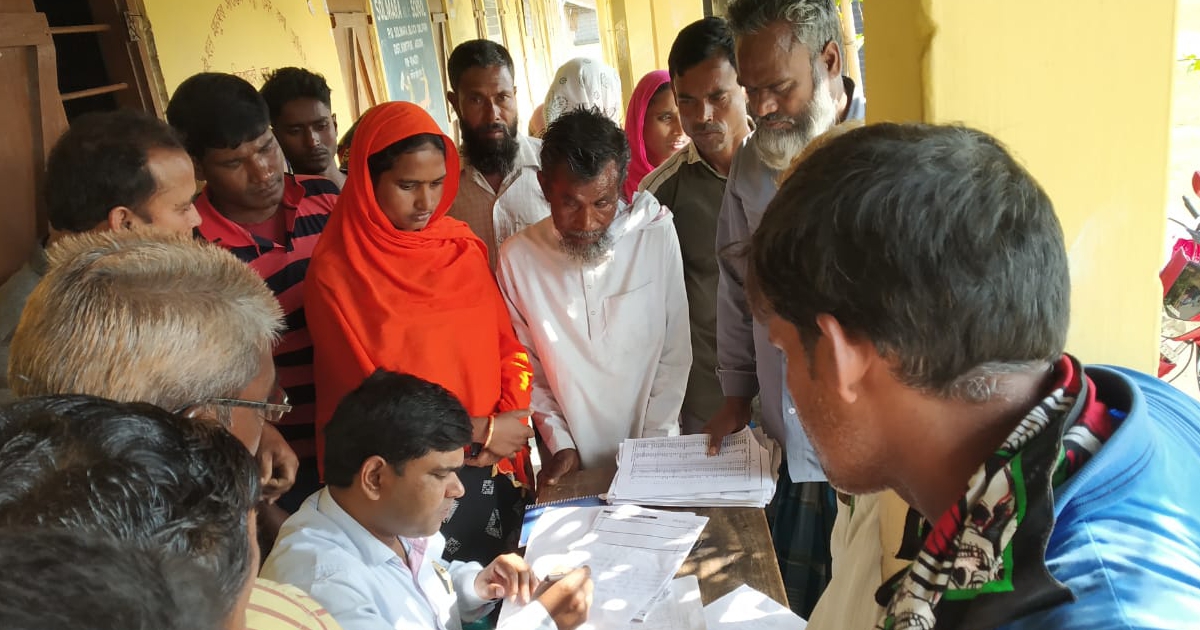 Image Courtesy: cjp.org.in
Goswami has had to line up with his entire family at a hearing center in Barpeta Road after All Assam Student's Union (AASU) workers filed objections against inclusion of his name in final draft of updated NRC. We spoke to him when he was waiting at the NRC Objection hearing center. He told us, "I am an indigenous Assamese. I was born and raised in Rampur village under Barnagar revenue circle of Barpeta erstwhile Kamrup District. The village Rampur never witnessed immigration. However, I wasn't spared because my father's name was recorded in my voter's identity card as Dharmeswar Dev instead of Dharmeswar Dev Goswami." This is not unheard of in Assam and several people have suffered because of incorrect names or spellings appearing in electoral rolls or voter identity cards.  
Goswami is also the General Secretary of Forum for Social Harmony, a group that works actively to restore unity in Assam, a state that is being torn apart along communal and ethnic lines. He told us, "Though I am an Assamese by birth, they felt that Dharmeswar Dev must be a Bengali title as Goswami after Dev was omitted from my voter's identity card.  Only for that reason one Dhanmoni Kakati and Rahul Sutradhar, who is also vice-president of the Barpeta local committee of AASU filed objections against inclusion of my name in the final draft of updated NRC."  
Har Kumar Goswami feels that this is an illegal objection. He says, "The objection filed against me is not a valid one. The state Co-ordinator, NRC, Prateek Hajela served a protocol for reconciliation to all District Register for Citizens Registration (DRCR) on January 2, 2019 to prevent harassment in the name of updating NRC. As per that protocol for reconciliation, the objectors must submit their name, proper address, ARN and phone number in the objection letter. But the objection filed by Dhanmoni Kakati and Rahul Sutradhar didn't fulfil this criteria.  The addresses of Dhanmoni Kakati and Rahul Sutradhar were not cited properly in their objection form against me. Also, they didn't recorded their ARN and phone number which they filed against me."  
Goswami also alleges "racial discrimination" given how the objection was based on his father's name that is considered to belong to a person from the Bengali speaking community, who are perceived to be ethnically distinct from the Assamese speaking community. He also worries about the deteriorating economy of Assam and the mounting financial burdens borne by some of the most socio-economically weak people. Goswami says, "I had to use two different vehicles and travel over 100 kilometers to attend this hearing with my family. Imagine how poor people are faring. The economy has come to a stand-still as people are forced to stop working when they have to stand in queue for such hearings!"  
He also mentioned seeing a black cat commando who Goswami says was an official with SP chief Akhilesh Yadav's security detail. Goswami says, "He had come from UP. He said that he wanted to file defamation and criminal case against the objectors.  But as their address is not declared in the objection form, he will file defamation and criminal case against the NRC officials who are responsible for accepting such invalid objection."   
Har Kumar Goswami is only one of the two lakh people against whom objections have been filed by chauvinist forces in Assam. The final NRC is expected to be published by July 31 in accordance with the Supreme Court's order in the matter.