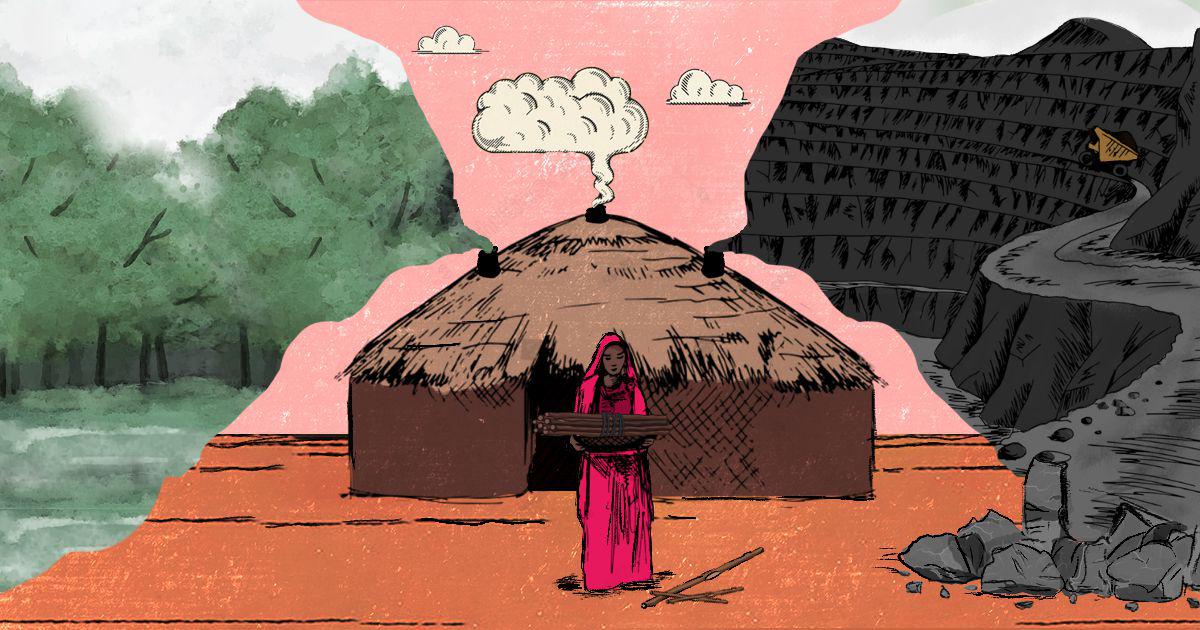 Image: Rubin D'Souza / https://scroll.in
The Campaign for Survival and Dignity (CSD)— a national platform of tribal and forest dwellers' organisation — and Gram Sabha Collectives from 18 districts of Odisha have demanded a review of rejection of over 1.5 lakh individual forest rights (IFR) applications as well as the ones filed by Other Traditional Forest Dwellers (OTFD) in the state, reported Down to Earth.
The claimants have alleged that these applications have been rejected without providing any reason and that they were not allowed to appeal against this decision. CSD has demanded that the state government must give directions to the concerned district-level committee (DLC) or the sub-divisional level committee (SDLC) to allow them to file appeals and return all the pending, incomplete, or rejected claims with findings reports.
As per Rule 12A of the Scheduled Tribes and Other Traditional Forest Dwellers (Recognition
of Forest Rights) Rules, 2007, the reasons for rejection are to be submitted to the Gram Sabhas:
(6) The Sub-Divisional Level Committee or the District Level Committee shall remand the claim to the Gram Sabha for re-consideration instead of modifying or rejecting the same, in case the resolution or the recommendation of the Gram Sabha is found to be incomplete or prima-facie requires additional examination.
(7) In cases where the resolution passed by the Gram Sabha, recommending a claim, with supporting documents and evidence, is upheld by the Sub-Divisional Level Committee with or without modifications, but the same is not approved by the District Level Committee, the District Level Committee shall record detailed reasons for not accepting the recommendations of the Gram Sabha or the Sub-Divisional Level Committee as the case may be, in writing, and a copy of the order of the District Level Committee along with the reasons shall be made available to the claimant or the Gram Sabha or the Community as the case may be.
By August 2022, around 140,347 IFR claims — 70,984 Scheduled Tribe claims and 69,399 OTFD ones — had been rejected at the DLC level in Odisha.
SDLCs and DLCs had rejected OTFDs claims outright because of the lack of clarity and improper understanding about the eligibility, "The implementing authorities have taken a fully biased approach towards OTFDs, even though Parliament itself has vested its complete faith in them when enacting this law and given OTFDs the same rights and powers as forest dwelling STs under FRA," CSD said, as per Down to Earth report.
Whose rights does the FRA recognise?
The FRA 2006 enables traditional forest dwelling communities to apply for claims to land and forest produce upon which they have been dependent for their livelihood for generations. The Act recognises the rights of two types of forest dwellers –Adivasi or tribal communities, many of which as included in the list of Scheduled Tribes (ST), and Other Traditional Forest Dwellers (OTFD). While the STs are those who consider this their ancestral and traditional habitat, and depend on forest resources for livelihood, the OTFDs are those who have primarily resided in and depended on the forest land for livelihood needsfor at least three generations prior to December 13, 2005.
Members of the above recognised communities have to go through a tedious application process to stake claim to land and forest resources. Often, they file claims as a community instead of individually.
The Odisha Story so far
Odisha is home to as many as 62 scheduled tribes who constitute over 22.8 per cent of its population and has the second highest tribal population after Madhya Pradesh. Odisha is often deemed as a high performing state when it comes to implementation of the FRA, yet when one delves into figures at the district level, enforcement appears varied and incongruent.
It is the first State in the country to make budgetary provision for implementation of the Central Act – ₹8 crore for 168 FRA cells in 2021-22. Till last year, forest rights committees were functioning in Tribal Sub Plan areas. Now, they have been extended to the entire State, reported The Hindu.
The state launched Mission 2024 for the FRA and aims to grant all kinds of forest rights including individual, community and habitat rights.
As of March 2022, a total of 6,27,998 claims had been received by Gram Sabhas of which 4,52,164 claims were upheld and titles distributed. As many as 1,31,062 claims were rejected. According to the Bhubaneswar-based Scheduled Castes and Scheduled Tribes Research and Training Institute (SCSTRTI), Odisha has an estimated 7.32 lakh potential claimants, which indicates that around 3 lakh eligible families are still left out, states The Hindu report.
Hesitancy towards granting individual rights?
As per Down to Earth, a 2021 study[1] by the Tata Institute of Social Sciences (TISS), Mumbai, which looked at the claim settlement trend in the 15 years since implementation of FRA – "The rate of recognition of forest rights from 2014 to 2021 is only 27% of all individual forest right claims received. Though, for CFR (Community Forest Rights), it is 69%."
TheScroll, after accessing data from the minutes of the meetings, and monthly progress reports on the implementation of the FRA across the state, from Odisha's Scheduled Tribe & Scheduled Caste Development, Minorities & Backward Classes Welfare Department, found that between March 2020, when the government imposed the first Covid-19 induced lockdown, to July 2021, when the lockdown in the aftermath of the second wave of the pandemic was lifted, Odisha rejected around 80,000 individual forest rights claims. Most of these rejections were made in the state's mining districts, like Sundargarh, Keonjhar, Sambalpur, Jajpur, Anugul, Koraput and Nayagarh; the highest rejections were in Gajapati district, a non-mining district. In numerous instances that the Scroll investigated, these rejections were flawed or violated processes laid down by the FRA.
A July 2021 report[2] by TISS Mumbai as of 30th April 2021 stated, of the total 6,41,863 claimed forest rights, the IFR claims account for a staggering 97.65% while the CFR claims hold for only 2.35 % of the total number of claims filed in Odisha. In comparison to the national figures, the ratio of IFR claims, recognition, and rejection in Odisha stands at 97.63%, 98.52%, and 99.44% respectively. The ratio of rejection of IFR claims is slightly higher than the national-level rejection of IFR claims. The average recognised area for IFR claim is only 1.48 acres which is less than the national average recognised area for IFR claims which is 2.17 acres. The rate of rejection of IFR claims is undoubtedly very high in Kendarapada (62.76%), along with Angul (53.21%), Subarnapur (49.88%), Baragarh (49.25%), and Ganjam (48.72%). Nabarangapur district has 100% recognised its IFR claims.
Stories from other states
Forest Dwellers in other states have been a part of this struggle for staking their claims over forest rights for years. Sabrang India's sister organization, Citizens for Justice and Peace (CJP) along with its partner organization All India Union of Forest Working People (AIUFWP) have been helping Adivasis file these community land claims in different states such as Uttar Pradesh, Uttarakhand and Madhya Pradesh among others.
In November 2021, forest dwelling communities belonging to theTharu Adivasi community residing in 20 villages of theDudhwa region of Lakhimpur Kheri, Uttar Pradesh, filed their Objections to denial of community land claims with the district administration. These claims had been filed way back in 2013.
In August this year it was reported that, as many as 16,000 claims were rejected in just two regions of Karnataka – Sagar and Shivamogga. Out of the total 16,424 applications filed in Sagar, only 505 were approved and 4,993 were rejected, leaving 10,926 applications pending. Similarly, out of the 19,191 applications filed in Shivamogga, 11,982 were rejected and only 236 approved, leaving 6,973 pending.
The only recourse now for those whose applications have been rejected, is to appeal before sub-divisional level committees (SDLC) within 90 days.
Related:
DEFENDING FOREST RIGHTS IN 2021
FOREST RESOURCE RIGHTS VS. LAND RIGHTS UNDER FOREST RIGHTS ACT
NO EVICTION OF FOREST DWELLERS WITHOUT RESOLUTION OF LAND CLAIMS: NHRC CHIEF
ADIVASI WOMEN FILE LAND CLAIMS UNDER FRA, CJP AND AIUFWP MAKE HISTORY
AFTER SONBHADRA, ADDITIONAL FOREST LANDS CLAIMS FILED FOR CHITRAKOOT VILLAGERS
---
[1] 15 years of the Scheduled Tribes and Other Traditional Forest Dwellers (Recognition of Forest Rights) Act 2006; Lekshmi M, Anup Kumar Samal&GeetanjoySahu; 18 December 2021
[2] District-Wise Implementation Status and Analysis of the Scheduled Tribes and Other Traditional Forest Dwellers (Recognition of Forest Rights) Act 2006 in Odisha; Anup Kumar Samal&GeetanjoySahu; July 2021