Petty things like the price of petrol, lack of jobs, insignificant fatalities among national sewers, mass rapes in shelter homes, gratuitously suicidal farmers, collapsed small enterprises, Institutions that brazenly insist on being autonomous, and such like, insist on hogging media spaces to the detriment of the larger national interest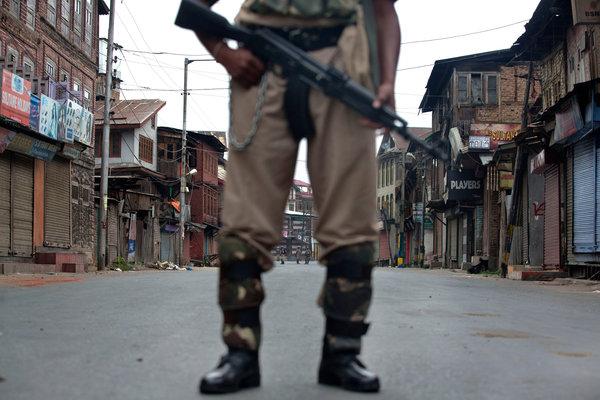 Dar Yasin/Associated Press
For donkey's years, a plethora of 'think tanks' and sundry Kashmir watchers have tried to figure out why the state of Jammu & Kashmir is in turmoil. Alas to little effect.  
But now we know! There is no Hindu King there anymore. Coming, as this insight does, from the near-Hindu King of India's largest state, this must give us pause to review all our mistaken assessments of the imbroglio.  
You may well ask, why that aforesaid largest state is itself in not such good shape, despite its good fortune in having a near-Hindu King, or why the national realm at large should be so fraught with contentions, notwithstanding the rule by a Hindu Hriday Samrat. However idle and motivated those queries might be, the answer is not far to seek: put simply, there are still residues of western-style, Nehruvian democracy prevalent; whose systems of checks, balances, due processes, and other debilitating libertarian apparatuses continue to thwart the pristine and wholesome reach of Hindu monarchy. Wretchedly also, petty things like the price of petrol, lack of jobs, insignificant fatalities among national sewers, mass rapes in shelter homes, gratuitously suicidal farmers, collapsed small enterprises, Institutions that brazenly insist on being autonomous, and such like, insist on hogging media spaces to the detriment of the larger national interest. Nor are targeted social contentions yet quite adequate to exterminating these and other obstacles to the untrammelled royalty whose unchallenged edicts alone can bring peace and prosperity to India, that is Bharat, although not for want of trying hard.  
The larger problem of course is that which dear Donald Trump, doyen of kingly nationalists, never fails to flag tweet after tweet, byte after byte; till such time as certain wrong types of the human species persist in proliferating and making injurious claims to legitimacy, nation after nation, aided and abetted by permissive Constitutionalaties, no Christian or Hindu monarch may have full control of a future of monochromatic purity. What perplexes the royal imagination bolstered by godliness is the question as to why God should have thought it fit to give us "God's own variety of creatures" rather than just one undifferentiated type wherein there would be one mind and no argument. Clearly, God must be made to answer to this lapse; how, only Trump and Yogi Adityanath may further enlighten us.  
Meanwhile, having underscored the roots of the Kashmir problem, all nationalists' heads must be put together to find a way to reinstall the Hindu monarchy.  
For a start, statewide, even country-wide, prayers, jagrans, kirtans may be initiated on state expense to persuade devis and devtas to intervene in the matter.  
More things are wrought by prayer than by politics, especially of the pernicious democratic variety.  
Professor Badri Raina taught English literature at Delhi University for four decades. He has several collections of poems, essays and translations to his credit. He is the author of books like 'Dickens and the Dialectic of Growth', 'The Underside of Things: India and the World', 'Kashmir: A Noble Tryst in Tatters,' and more.