The ruling establishment in Bengal is actually the Bengali Brahmanical Bhadralok which has denied justice both socially and politically to vast Dalit Muslim segment of the state. We all know if the Dalit-Muslims-Adivasis-OBCs join hand in Bengal, they can overthrow the entire structure.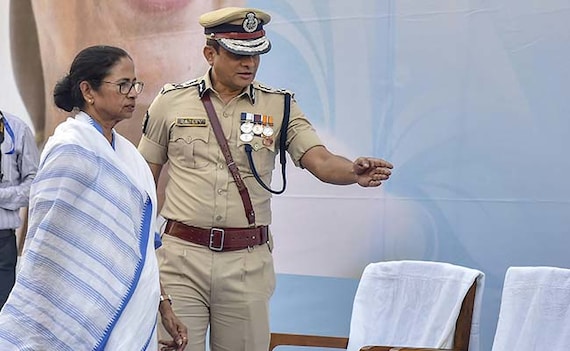 I am not a fan of Mamata Banerjee's rhetorical politics nor do I believe that BJP can't gain in West Bengal. The problem in India is that everything is between the parties and the real issues are left out because those who are sitting on our discussion tables don't want certain things to be revealed. When institutions have failed and been left with no credibility, then how do you fight? There was a huge scam but then if we are fighting against corruption by selective targeting of the opposition leaders then it will not work.  
Narendra Modi and Amit Shah are the fountainheads of corruption. Everybody knows how crony capitalism has grown over the years. Anil Ambani's company has already applied for insolvency and who will pay for it? The banks who took his guarantee? Today, politicians have converted corruption into a non-issue so that people don't speak about it and accept it as part of the culture. Selective targeting of political opponents has been the biggest tool of this government to win electoral battles.  
Now, we know that the Saradha and Narada chit fund scam case is before the Supreme Court and nothing has moved. Why is this issue being raised today when the elections are around the corner? What prohibits CBI from following the procedure? Was it a well-executed drama which suits both Mamata and BJP well? Mamata, because, she will want BJP to be her main opponent despite the fact that they are nowhere in the picture. In her zeal to eliminate the left forces, Mamata did everything the left had done. But left continues to be on a decline in the state. I am not impressed with any rallies because these are programmed rallies which are organised to show strength. When you are in power, you can mobilise anything. I am sure, Mayawati, Lalu Yadav, Chandra Babu Naidu, left parties, DMK, all can organise massive rallies of their supporters. It is a good show of strength but nothing else.  
CBI's Kolkata office has shown its incompetence several times. It was sending notices to Police commissioner on November 12 to appear on November 30. It is like what used to happen in olden days when the university registrar office would pack all the letters to be sent to applicants or invitees for a particular date but the postal staff would actually post it after the event to deny certain persons from being there. This is a typical Indian practice and shows how corruption has deep roots inside us. Kolkata High Court's single-judge bench has put a hold on the arrest of the police commissioner till a certain date.  
West Bengal government has already withdrawn its consent to CBI which means for any action, CBI has to take permission from the state. But it was not done. How can 40 officials of an organisation land up at the office of the Police commissioner and act as the cronies of the ruling establishment? They are supposed to take care of our security but are more interested in petty politics to get the opposition leaders trapped in cases. This is shameful, to say the least. Obviously, in the bhaktmandali, James Bond is a super cop who can't do anything wrong.  
They want to replicate what they did at midnight at the CBI headquarters in Delhi when they removed A K Verma and sent the Delhi Police to surround the CBI headquarter. If this is the modus-operandi then I am sure, we are now entering a dangerous war zone of centre-state relations.  
Narendra Modi-Amit Shah-BJP-RSS have actually come from one background, that once you accumulate all power then all your wrongs become right. They feel that world goes through narratives and hence they have their c-grade scriptwriters, who are unable to counter their opponents politically and hence use all kinds of intimidating tactics and legitimise it with their paid trolls in television studios what we call 'newsrooms'. These newsrooms are nothing but Sangh Parivar trolls cooking up stories to defame the opponents of the ruling establishment.  
What is happening in Bengal is a clever and well-calculated ploy to put the entire state on fire. I do not see that the stock of Banerjee would grow. People talk about Bengal and the culture of politicisation but I can say that there is no politics in Bengal. Political violence in Bengal actually has left Uttar Pradesh and Bihar far behind. The ruling establishment in Bengal is actually the Bengali Brahmanical Bhadralok which has denied justice both socially and politically to vast Dalit Muslim segment of the state. We all know if the Dalit-Muslims-Adivasis-OBCs join hand in Bengal, they can overthrow the entire structure. Unfortunately, neither the left nor Mamata or Congress has done that.  
Bengal's politics has another important point. Most of those ruling castes were 'revolutionary' when CPM and left forces dominated the state. As the resentment grew against the left, these 'revolutionaries' jumped Mamata's ship and abuse the left now. Right now, Mamata is in power and expected to do well, hence they still are with her but once they smell the decline in Mamata's popularity or fortunes, they will shift and this time as 'reactionaries'. All the time, the efforts of the Bengal's established political forces is to deny the Dalit Muslims-OBCs a united front. Whenever there will be an opportunity, these forces leave one ship and jump to others.  
There is no debate on ideological differences except the attempt to show 'knowledge' and denigrate those who differ. All those who used to do 'management' for the left in the past are with Mamata now and may go with BJP or Hindutva five to ten years later. It depends on the political temperature in Delhi and how it suits the Bhadralok.  
Mamata Banerjee might gain some brownie points at the moment and project her as a 'street' leader but the problem in Bengal is more serious. She has not made any sincere effort to fight Hindutva and RSS politically. The more you try to stop them from the campaign, the bigger will be their impact. Tripura and Assam have not gone to Hindutva simply, but because of the Bengali upper caste shifts in these states along with others who are leaders of the Hindutva party today.  
The biggest threat to India today is the dominance of the majority who want to maintain their hegemony at all costs and are ready to put the country on fire for the sake of it.  
Bengal will gain if the historically denied communities there get access to power but now Hindutva has attempted to divide them through the citizenship bill, there is a risk that political violence might grow and Hindutva party is looking for that opportunity to increase its tally. The failure of left and Mamata will ultimately give space to the Hindutva party who will use these contradictions of caste for their own purpose.  
Technically, BJP's term has resulted in the erosion of all democratic values and institutions but at the same point of time, it sets the wrong precedence for an officer on the job, the police commissioner, to sit in on a dharna along with the chief minister. It is the time we understand the crisis which is longer and political leadership of the day whether Modi or others, have no vision.  
When WhatsApp becomes our 'source' of 'research' and information, the result is bound to be more political groupings which won't help in the long term. Bengal and northeast are sitting on a time bomb of political violence and it needs serious thought and action so that violence does not go beyond control, one that can threaten the integrity and unity of India.  
Mamata should focus on fighting the BJP and Hindutva politically and the centre should desist from dismissing the government under any pretext because it would create a violent atmosphere which can go out of hand and will be detrimental for all.