On Monday evening, Congress and Rashtriya Janata Dal (RJD) party workers in Bihar reportedly came across trucks transporting
Electronic Voting Machines
 (EVMs). Similar instances were also reported from Uttar Pradesh and in many places opposition parties went on strike demanding answers from the Election Commission.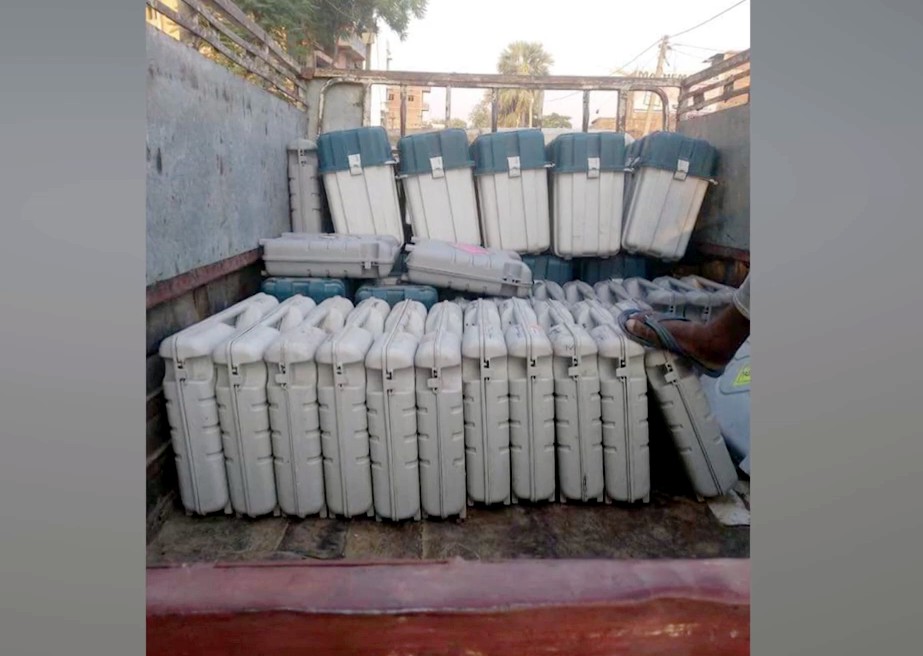 The EC officials however, claimed these were instances of reserve EVMs and VVPATs being transported to be stored in strongrooms other than the ones where the actual EVMs and VVPATs used during polls were stored. 
Saran and Maharajganj (Bihar):
The party workers who found the unescorted open top trucks in Saran and Maharajganj promptly
tweeted pictures
alleging the trucks were trying to enter an area where the strong room, a secure facility where EVM's are stored before counting of votes, is located. The party workers allege this was done in an attempt to rig the election. The
tweet
says, "अभी-अभी बिहार के सारण और महाराजगंज लोकसभा क्षेत्र स्ट्रोंग रूम के आस-पास मँडरा रही EVM से भरी एक गाड़ी जो शायद अंदर घुसने के फ़िराक़ में थी उसे राजद-कांग्रेस के कार्यकर्ताओं ने पकड़ा। साथ मे सदर BDO भी थे जिनके पास कोई जबाब नही है। सवाल उठना लाजिमी है? छपरा प्रशासन का कैसा खेल??"
But speaking to Sabrang India, PK Gupta Jt Chief Election Commisioner, Bihar summarily denied the charges saying, "There are no complaints in Bihar. I don't know who put what on Twitter." 
Chandauli (UP):
A truck carrying EVMs from Sakadiha was also seized in Chandauli in Uttar Pradesh. But district election officer Navneet Singh Chahal
rubbished allegations
of foul play saying, "Thirty five additional unused EVMs were kept at the Sakaldiha tehsil. These couldn't be transported on Sunday and were brought from Sakaldiha on Monday to be stored in a different place." A
video of men unloading EVMs
went viral on social media. 
Jhansi (UP):
As far a reports of EVMs being brought to a strong room in Jhasi are concerned, the Returning Officer of Jhansi 
clarified
 that while strong rooms are usually secured by early morning the day after polling after bringing in EVMs and VVPATs from all polling booths, there was a delay because it took long for some officials who were deputed at far flung polling booths to finish their paperwork and bring all EVMs to the strongroom. "We had kept all the EVMs in the strongroom by 7:30 AM. The general observer and all candidates were informed about it and the process of sealing was conducted in their presence and videographed." He went on to say that the unused reserve VVPATs and EVMs were stored in a different room to avoid confusion. 
Gazipur (UP):
Similar reports emerged from
Gazipur and Mau
leading to protests by opposition parties in all these areas. However, authorities in Ghazipur rubbished claims of EVM tampering
tweeting
, "The apprehensions regarding EVMs are baseless. EVMs are in strong room with 24×7 CISF security. And candidates have been allowed to post their agents to monitor the strong room."  
Even the Chief Election Officer of Uttar Pradesh using the
official twitter handle
urged people to maintain calm, "Polled EVMs are safe in sealed strong rooms under security, CCTV coverage and surveillance of candidates. There is no possibility of changing EVMs. Don't panic and keep faith."

On the matter of transferring data from malfunctioning EVMs to reserve EVMs used as replacements, a senior officer told Sabrang, "When during polling process if any EVM gets a snag the already polled votes in it do remain as it is. The machine is replaced with another EVM. After polling both EVMs are deposited in strong rooms and votes counted from both. Total of both EVMs shall match the votes polled on that particular booth. Data is NOT transferred from one machine to another machine."
 
SOPs regarding transport and storage of EVMs and VVPATs:
According to the EC the following guidelines are applicable to the storage of EVMs and VVPAT machines after polling is over till such time that counting begins, and then after counting is over.

During non-election period (After Election Petition Period to FLC/Before 1st randomisation)
a) For EVM Warehouses Room at District Head Quarters, there shall be a double-lock system (two locks- Lock-1 and Lock-2), which should be held jointly by DEO and Dy. DEO, and all the keys of Lock-1 shall be in custody of DEO and all the keys of Lock-2 shall be in the custody of Dy. DEO. Handing over and taking over of keys to be a part of CTC. The keys shall be deposited by each officer in the Treasury and proper logbook shall be maintained during depositing in and taken out the keys after following due procedure.
 
b) Other EVM Warehouse outside the District Head Quarters must also be secured by a double-lock system (two locks-lock-l and lock-2), managed by two separate officers, duly nominated by the DEO, one of whom shall not be below the rank of Dy. Collector /SDM and second not below the rank of Tehsildar. All the keys of Lock-1 shall be in custody of one officer and all the keys of Lock-2 with other officer, and the warehouse shall necessarily be opened in presence of these two designated officers after following all prescribed protocols. Also, prior written approval of DEO shall be obtained before opening the warehouse.
 
After 1st Randomisation (upto counting of votes is over)
During the counting period till such time as counting concludes, AC-wise EVMs and VVPATs are allocated and shifted to AC-wise Strong Room. For AC-wise Strong Room, there must be a double-lock system. All the keys of one lock shall be kept in custody of RO (for Assembly segment) and all the keys of other lock shall be kept by the ARO or any other officer, duly nominated by the DEO but not below the rank of Tehsildar. The DEO shall remain over all in-charge of the safe custody of EVMs and VVPATs.
After the counting is over, the EVMs/VVPATs shall be kept in the AC-wise Strong Room under double lock system and the keys shall be kept in the custody of DEO and Dy. DEO till the period of Election Petition is over.