The opposition parties including National Conference (NC) resisted the implementation of GST.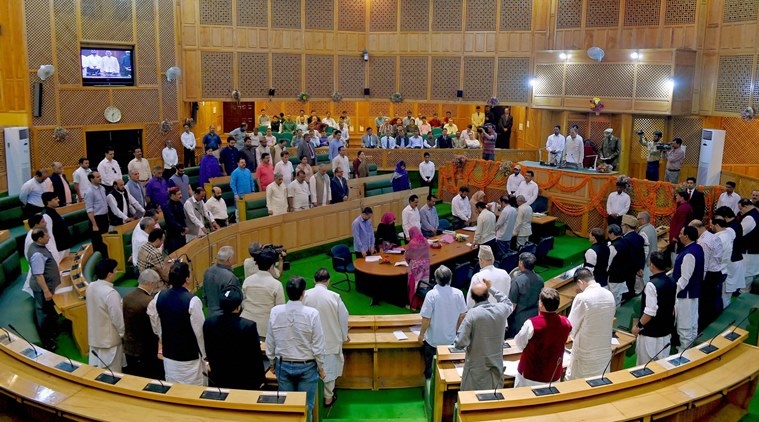 Marred by controversy, the state of Jammu and Kashmir (J&K) Assembly finally made way for the implementation of Goods and Services Tax (GST) on Wednesday despite protests and opposition against the new tax regime implemented in the rest of the country on July 1.
The opposition parties including National Conference (NC) resisted the implementation of one nation, one tax slogan in the state expressing concerns that the new tax system will erode the fiscal autonomy of the state and its implementation conflicts the special status, J&K enjoys.
Reacting to the passing of resolution, the NC on Thursday called it an "anti-people resolution" passed by the state legislature, compromising the J&K's special status. The implementation of GST, NC in its official statement said, amounts to a surrender of the state's fiscal autonomy. 
Senior opposition leader Mohammad Yousuf Tarigami told Newsclick that the implementation of GST is 'virtually a big blow to the federal polity of the country' and the ruling dispensation has failed to protect state's interest. "The law negates the rights and powers of all the states especially J&K which has a distinct position in the country. It erodes the autonomy that the state enjoyed at far as the financial matters are concerned," the CPI (M) MLA from Kulgam constituency said.
The state ruling party People's Democratic Party (PDP), however, says that the state's special position would be protected under the GST regime. The state's finance minister Haseeb Drabu while defending the implementation of new law in the Wednesday's Assembly discussion stated that the Article 370 is being used as an "obstruction" against the development of J&K.  Drabu also mentioned that there are enough "safeguards" for J&K and its special status will not be compromised.
But, leaders from the opposition parties and trade unions allege that the government has failed to convince them on the issue.
"We have been continuously asking them to point out the safeguards. But, the government has failed to specify these safeguards they keep mentioning to us," Kashmir Traders and Manufacturers (KTMF) president Muhammad Yasin Khan told Newsclick.
Khan, who has been vehemently opposing the new tax system, says the trader's body is not against any tax or taxation system but, they simply do not believe in 'one nation, one tax' slogan. He said they are willing to accept the tax regime if special amendments are made to safeguard the 'fiscal autonomy' of the state, which is currently taxed through its own legislation.
Courtesy: Newsclick.in