These accumulated vacancies – from school teachers to policepersons -- are a result of the Modi government- led squeeze on spending.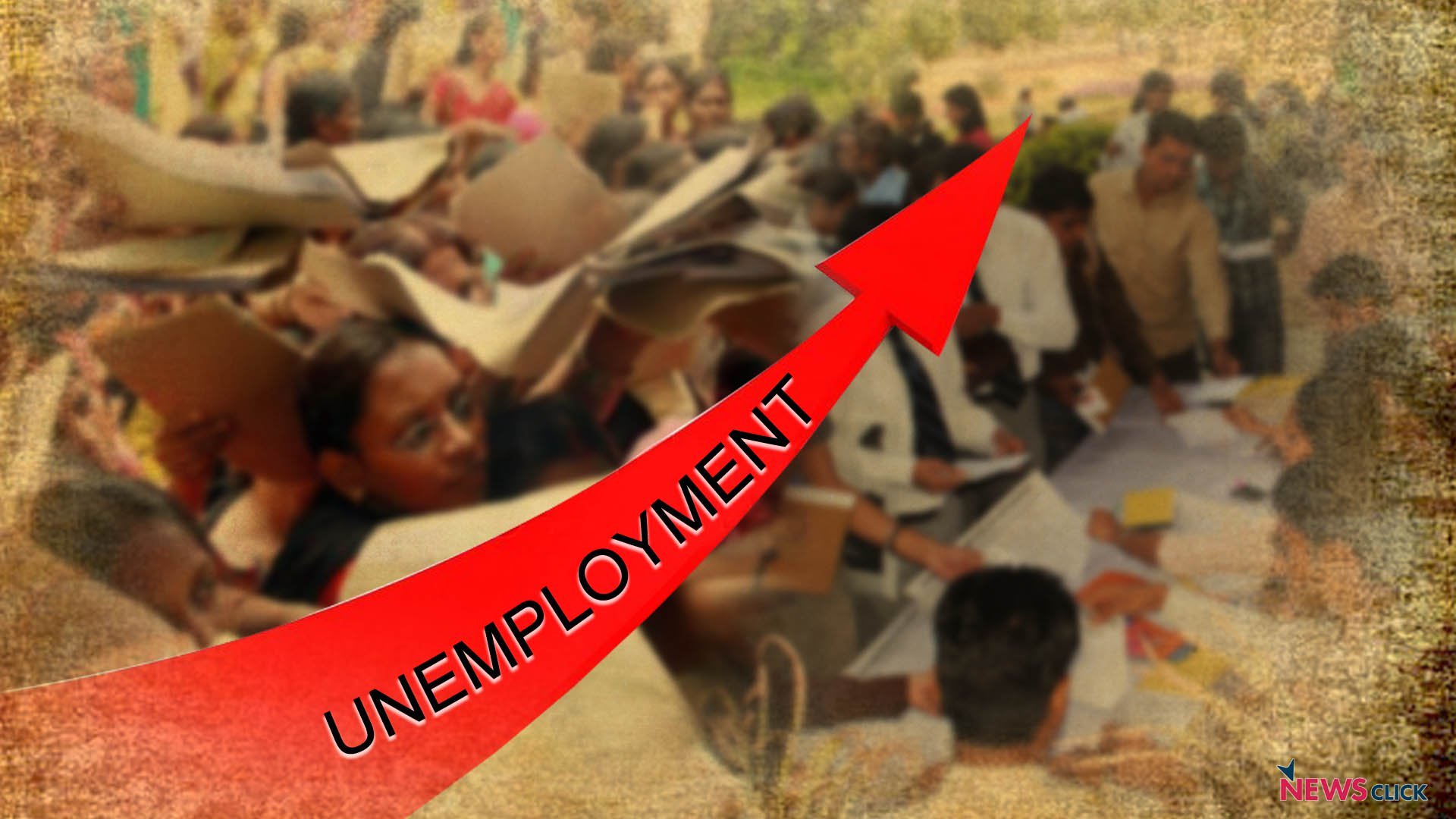 These accumulated vacancies – from school teachers to policepersons -- are a result of the Modi government- led squeeze on spending.
While the Narendra Modi government and state governments led by the Bharatiya Janata Party (BJP) are playing around with job quotas keeping an eye on the elections, answers to Parliament queries and reports from various programmes and bodies reveal a staggering 60 lakh vacancies in government posts. These include posts for over 10 lakh elementary and secondary school teachers, nearly two lakh teachers in colleges, universities and IITs/IIMs, over 2.2 lakh doctors and healthcare staff, over 5.38 lakh state policepersons and over 5,000 judges in lower courts across the country.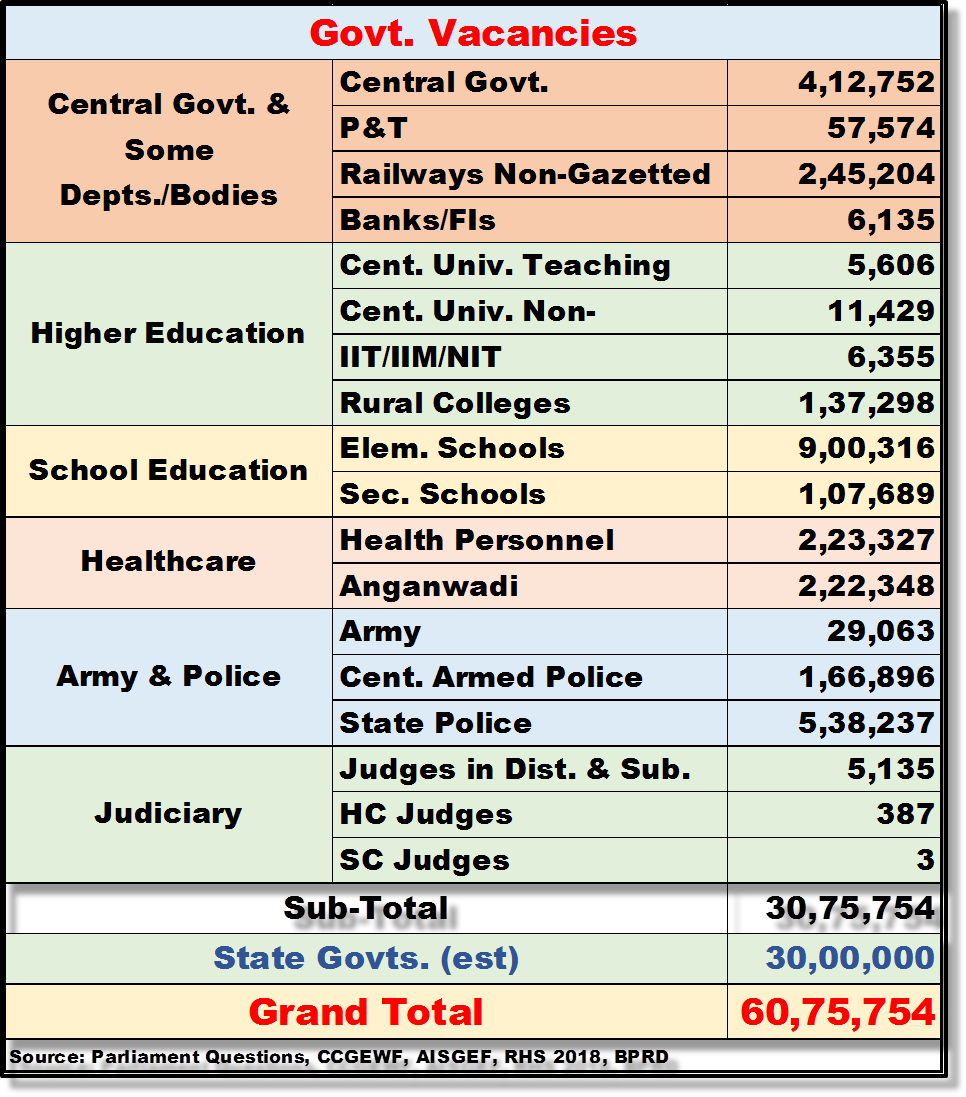 The data has been collated from different answers given by different ministers to questions asked by MPs in the Rajya Sabha and Lok Sabha over the past one year. (Question numbers: 380, 310, 4614, 2335, 2672, 1870, 1344, 1397, 111, 1015, 387, 420, 575 in Rajya Sabha and 1693 in Lok Sabha). In some cases, the figures have been updated because fresh data was available from the department itself as in health personnel (Rural Health Survey, 2018) and police personnel (Bureau of Police Research & Development).
The Modi government has been very tight-lipped about revealing consolidated figures and refuses to declare state vacancies numbers claiming that that is a state government responsibility. Even vacancy figures for the Central government, reported as 4.12 lakh, are last available for March 2016, the minister concerned told Rajya Sabha (Q.No.420) as recently as on December 13, 2018. However, M.Krishnan, Secretary General of the Confederation of Central Government Employees and Workers (CCGEW) told
Newsclick
that the figure is still valid at the beginning of 2019. He clarified that this vacancy status does not include two of the largest employers, Post & Telegraph (P&T) department and the Railways. In separate answers, vacancies in these two wings of the Central government were stated to be over 57,000 and over 2.45 lakh, respectively.
The most shocking vacancy figures are for key sectors like education and health. Due to relentless under-funding and fund cuts, lakhs of teachers are missing from schools and colleges, and even from prestigious institutions, such as Indian Institutes of Management (IIMs) and Indian Institutes of Technology (IITs). It is no wonder that learning levels are on the decline during Modi's regime, as revealed by the most recent ASER (Annual Status of Education Report). This starving of the education system will cast a long shadow on India's future.
A similarly callous approach is visible in the National Health Mission programme that is supposed to provide healthcare services to the Indian people. The Rural Health Survey points out that 2.23 lakh key health personnel posts are lying vacant only in rural areas. This includes some 18,000 specialists, 11,000 general doctors, 13,000 nurses and 18,000 technicians, besides other paramedical staff. Some 2.2 lakh anganwadi workers and helpers who provide nutrition and childcare services, too, have not been appointed.
According to Sreekumar, General secretary of the All India State Government Employees Federation (AISGEF), vacancies in various state governments put together would amount to over 30 lakh.
"This is a very conservative estimate – the number may be substantially more," he told
Newsclick
.
As reported earlier, many state governments – especially those led by BJP – had declared that they were planning to prune the employee strength by as much as one third in order to meet the pay levels recommended by the Seventh Pay Commission.
Besides the vacancies recorded above in the table, there are a vast number of other public sector enterprises, departments autonomous bodies and aided bodies that have faced a fund squeeze and hence thrown out workers and employees.
Courtesy: Newsclick.in