Prime Minister Narendra Modi has defended his party's decision to give a ticket to the 2008 Malegaon Blast accused Sadhvi Pragya Singh Thakur, saying, "..Without any evidence, a rich civilization as old as 5000 years, which gave the message of 'the whole world is one'... You called such a civilization terrorist? To give a reply to all such people, this is a symbol and this symbol will cost Congress dearly."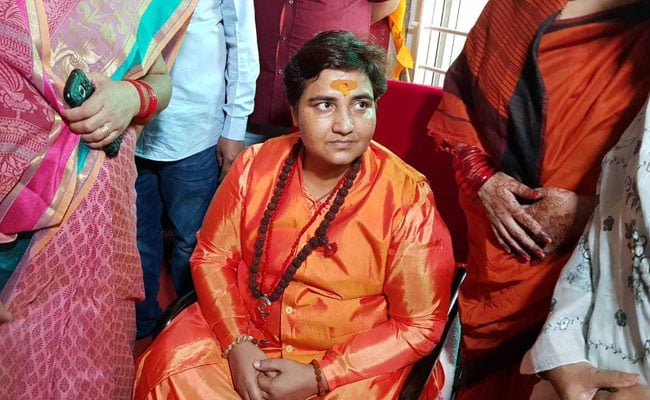 Thakur, who is out on bail, is an accused in the Malegaon bomb blast in which 7 people including a 15 year old boy had died. She will contest against Congress candidate Digvijaya Singh from the Bhopal seat on May 12.
Continuing with his astonishing
defence
, he added, "One woman, that too a 'sadhvi', was humiliated in such a manner and subjected to immense torture. Nobody raised a question then." In this, he echoed Pragya Thakur herself who had accused the NIA of torturing her in custody. But her
accusations were summarily thrown out
by the Supreme Court in 2011 who then rejected her bail plea. It seems that the Prime Minister has wilfully or otherwise, ignored the court's observations.
It is however unlikely that the Prime Minister hasn't heard of Sadhvi Pragya's recent statements that stoked a controversy on Thursday, in which she said that she had cursed Mumbai ATS Chief Hemant Karkare, which led to his death (in the 2008 Mumbai Terror Attacks). "Hemant Karkare falsely implicated me (in Malegaon blasts) and treated me very badly. I told him your entire dynasty will be erased. He died of his karma," Thakur said. Opposition parties including the IPS Association has condemned Thakur's remarks. And even the BJP has distanced itself from this controversy, saying that it was her personal view which she might have made "due to years of physical and mental torture." Later, Thakur apologized for her remarks.
Modi then went on to draw parallels with Sonia and Rahul Gandhi by asking why weren't questions being raised for the Congress candidates from Amethi (Rahul Gandhi) and Rae Bareli (Sonia Gandhi) who are out on bail as well.
Thakur's nomination has evoked the opposition's outrage with a Congress leader approaching the Election Commission of India (ECI) for the revocation of her nomination. National Conference leader Omar Abdullah said, "Since the BJP depends on the religion card when it is left with nothing else, they have now given mandate from Bhopal to someone who is not just a terror accused, but is on bail. If her health is not good enough to stay in jail, how can she be fit enough to fight polls?" Asaduddin Owaisi, the leader of All India Majlis-e-Ittehadul Muslimeen, at a rally in Aurangabad said, "If you (Prime Minister) wanted to fight terrorism, if you had class and sincerity, then you would not have made a person with terrorism charges a candidate."
Thakur's key opponent, Digvijaya Singh, has refrained from commenting and has just stated, "What else can we expect from the BJP," while welcoming her to Bhopal.