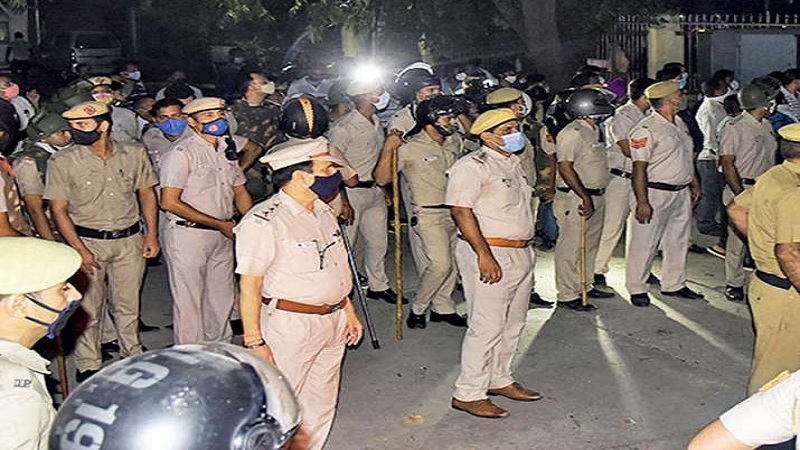 Image Courtesy:indiatvnews.com
The Uttar Pradesh Police are now claiming that the 19-year-old Dalit girl from Hathras, who herself had alleged that she was sexually assaulted and tortured by four men on September 14, wasn't raped! Two weeks later, the girl died of her injuries, and was cremated at night by the UP administration, while her family was allegedly kept away by the UP police. The police denied that allegation, even though visuals of the girl's pyre burning, surrounded by only cops, are still being shared on social media and have been reported widely in mainstream media. The 19-year-old Dalit girl was assaulted by four 'upper caste' men on September 14 and was referred to Safdarjung Hospital on Monday in an extremely critical condition with spinal injuries and paralysis. She had died on September 29, and forcibly cremated at around 3 AM on September 30.
By the evening of October 1, 2020, the Uttar Pradesh Additional Director General of Police (Law and Order) Prashant Kumar has told the media that the forensic report of the victim does not establish rape. "Postmortem report says the victim died due to her neck injury. FSL report hasn't found sperm in samples, making it clear that some ppl twisted the matter to stir caste-based tension. Such people will be identified & legal action will be taken," Kumar was quoted by news agencies, and the statement reposted widely. The senior policeman cited the medical report, post-mortem report from Safdarjung Hospital and FSL forensic report.
UP Police says the medical report, post-mortem report from Safdarjung Hospital and FSL forensic report — all have not confirmed gangrape #HathrasHorror

— Aman Sharma (@AmanKayamHai_ET) October 1, 2020
However, as senior journalists point out, the post mortem report mentioned 'old and healed injuries to her private parts' which experts say could have healed during her treatment. The report "does not commit to rape as it's not the cause of death". It is an established fact that sperm is not always found in samples taken from the victim, and other samples and parameters are examined to established rape, such as injuries, scarring, blood clots, even hair and skin tissue that can belong to the accused and can be found on the victims, even under nails in cases of struggle.
Dear @Uppolice. The law says presence of sperm is not necessary to determine rape. Experts also say the samples were collected days after the incident so presence of sperm won't be there. The PM report also finds 'old healed injuries' to her private partshttps://t.co/2MypSUTBVE

— Rohini Singh (@rohini_sgh) October 1, 2020
THIS: Uttar Pradesh Police says that Hathras victim was NOT raped

"The FSL report (taken days after the crime) shows she wasn't raped," says UP Addnl DGP

So, acc to UP Police, the young girl who's now dead lied about being gang-raped.#JusticeForIndiasDaughters #HathrasHorror

— Zeba Warsi (@Zebaism) October 1, 2020
एक लाइन में : 15 दिन दर्द सह कर जो बच्ची मर गई , वो झूठ बोल रही थी।मरणासन्न हालत में उसने झूठा बयान दिया। सच सिर्फ़ योगी आदित्यनाथ की पुलिस बोलती है।यक़ीन से परे। https://t.co/yUjnpELLZ2

— Vinod Kapri (@vinodkapri) October 1, 2020
Social media users also shared the Dalit girl's statement, when she managed to speak even as she was fighting for life.
Here is the girl's statement.pic.twitter.com/1zqOkljXNP

— vipin (@messierblack) October 1, 2020
According to news reports the senior policeman called the rape allegation "completely wrong information" and added that "action will be taken" against those "who spread misinformation to create caste tensions" in UP.
Related:
Why are rapists and 'upper-caste' supremacists getting bolder in UP?
No dignity even in death for Dalits
Hathras rape a case of Caste Supremacist Atrocity: AIPWA
Hathras Dalit girl rape: Why are Smriti Irani, PM Modi, UP CM Adityanath quiet?
Do the dead have rights in India?