Protests are being held in Mumbai, New Delhi, Bengaluru, Bhubaneshwar and more. The opposition also protested against the attack in the Jharkhand assembly.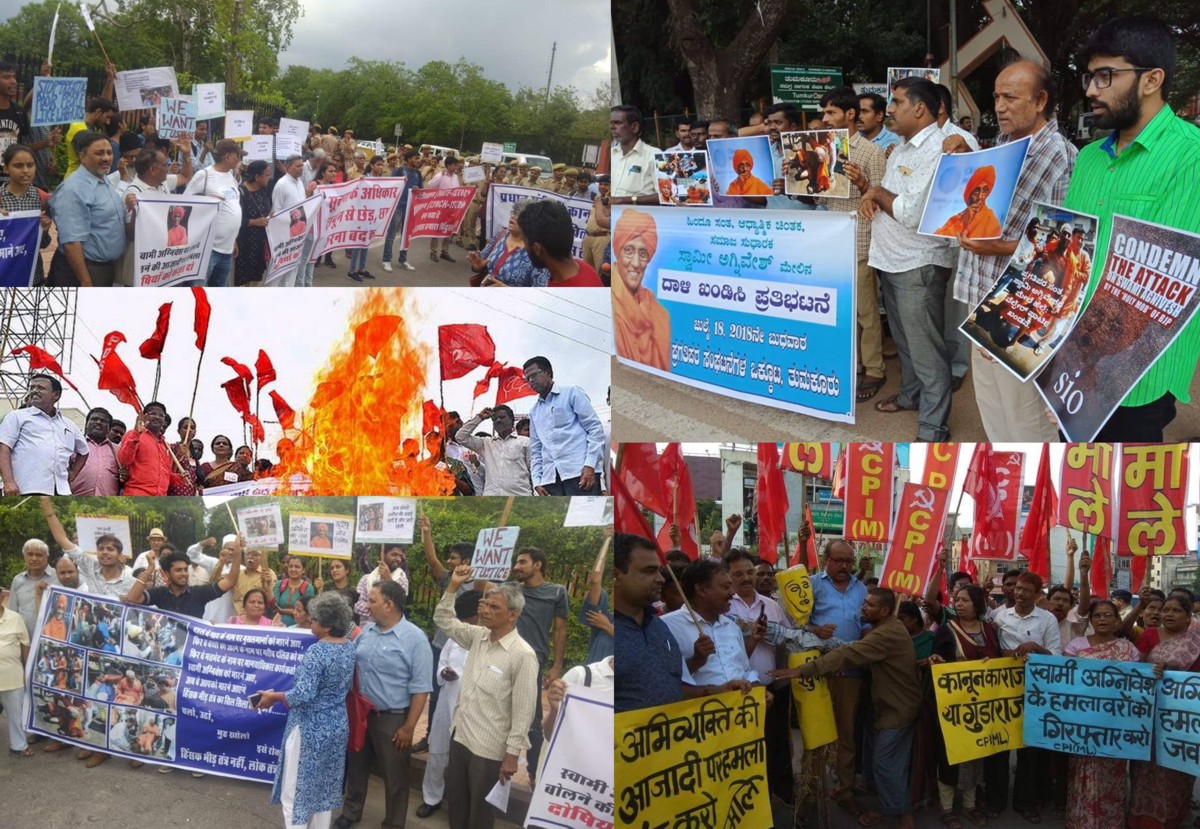 Many corners of the country are erupting with protests against the brazen attack on Swami Agnivesh. On July 19, Bengaluru, Mumbai, New Delhi and more cities have organised a protest.  
A
citizen's protest
against the mob attack has been called at 5 pm at Parliament Street in New Delhi. It is being hosted by known social rights activist Kavitha Krishnan and Sucheta De from AISA .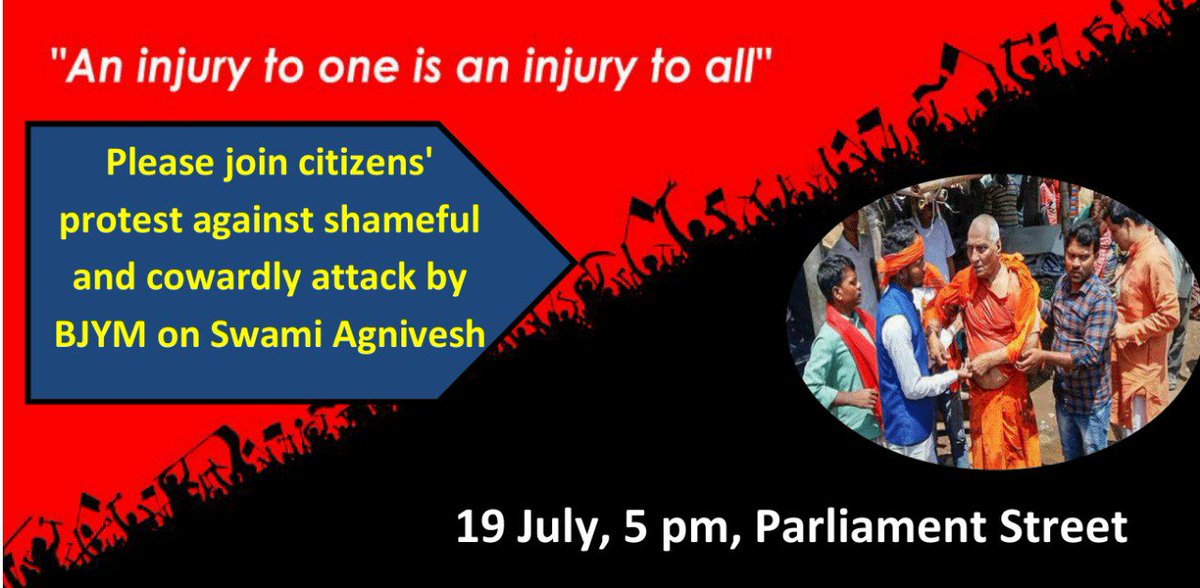 A joint protest has been called in Bhubaneshwar, Odisha on July 19 at 5 pm at Master Canteen Square by Narendra Mohanty, State Convener of INSAF & Campaign Against Fabricated Odisha. The protest is a united effort by the left, democratic and human rights organisations.  
Another protest has been organised for July 19 in Mumbai as well. "Various secular democratic organisations and parties have decided to organise a peaceful protest to condemn the fascist mob attack on Swami Agnivesh, a respected national leader, former parliamentarian and an internationally renowned social reformer," read a forwarded message. The protest will be held near Capitol Cinema, CSMT at 4.30 pm.  
"Many leading citizens of our city will be attending the protest to take on the rising tide of communal fascism and intolerance that threatens to engulf our nation. We appeal to all constitutional, democratic and secular forces to resist the tide of the fascist onslaught."  
Eminent people like Anand Patwardhan, Com. Rege, Com. Prakash Reddy, Com. Anil Tyagi, Varsha Vidya Vilas, Jatin Desai, Feroze Mithiborwala, Irfan Engineer, Ravi Bhilane, MA Khalid, Amol Madame, Ajmal Khan, Salim Alware, Nuruddin Naik, Jyoti Badekar, Smita Salunke will also be present.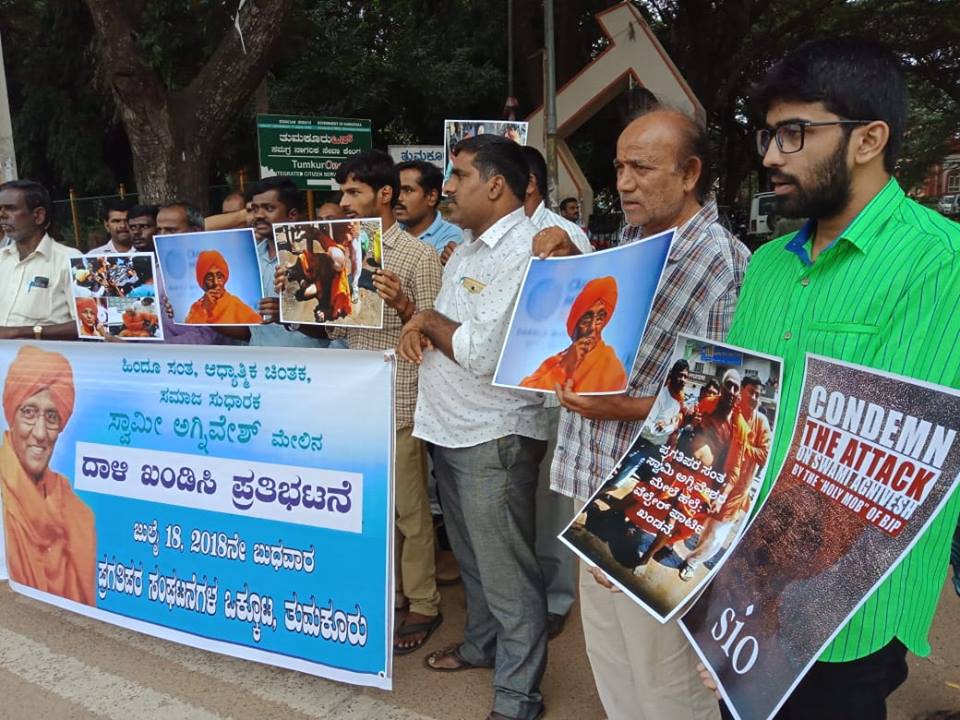 Civil society groups and individuals are hosting a protest rally in Town Hall, Bengaluru on Thursday at 4 pm. "We all believe in the secular and democratic ethos of the country. We are against divisive and hate politics propagated by communal forces in the country. We are hosting the protest to raise our voice against the barbaric attack on Swami Agnivesh,"
said
a Bengaluru-based activist."  
The Students Islamic Organisation of India held
protests
at many of their centres across India. One was organised on July 18 at the Town Hall in Tumkur, Karnataka. Their page also said that the accused people from BJYM also held a protest in Jharkhand against the attack.
A protest was also held in
Jaipur
at Ambedkar circle on Wednesday.  
Effigy of 'fascist forces' was burned in Khammam, Telangana on Wednesday. "Activists of various organisations representing students, youth, women, farmers and labourers took to the streets here on Wednesday to protest against the attack on noted social activist Swami Agnivesh allegedly by members of the BJP's youth wing in Jharkhand on Tuesday. Members owing allegiance to the Progressive Democratic Students Union (PDSU), the Progressive Youth League (PYL), the Progressive Organisation of Women (POW), the Indian Federation of Trade Unions (IFTU) and the all India Kisan Mazdoor Sabha (AIKMS) staged a demonstration near the RTA office on the bypass road here vehemently condemning the incident,"
reported
The Hindu.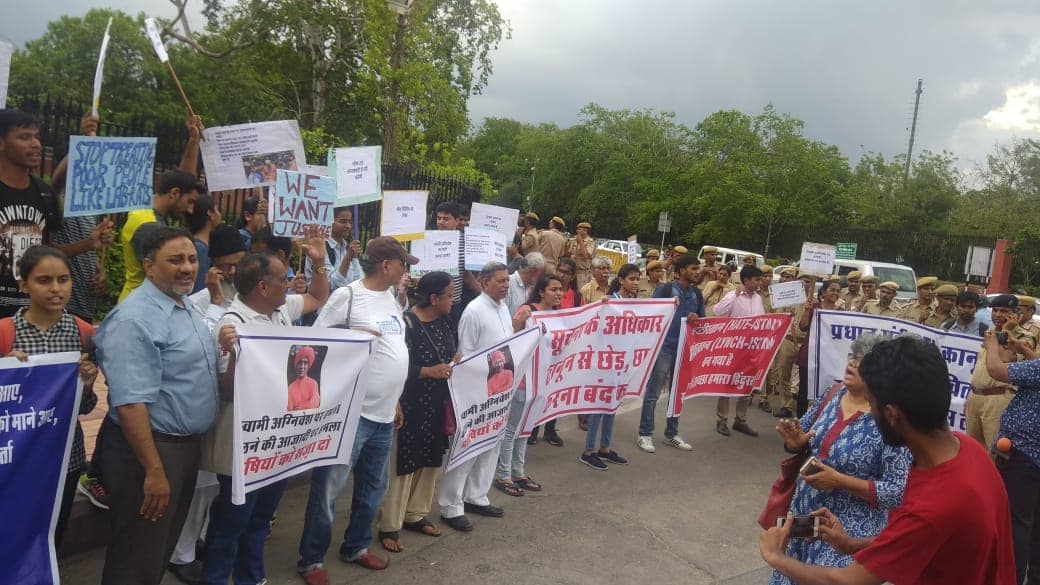 "The demonstrators set ablaze the effigy of 'fascist forces' in a symbolic protest against the alleged unabated attacks on writers, social activists, and other intellectuals by fascist elements across the country," the report added.  
The opposition also organised a noisy protest in the Jharkhand assembly. "Opposition parties today staged noisy protest over assault on social activist Swami Agnivesh in Pakur, forcing adjournment of the House. This happened despite Parliamentary Affairs Minister Nilkanth Singh Munda saying that Chief Minister Raghubar Das had set up a probe committee immediately after receiving the information,"
reported
NDTV.  
"The Left and democratic forces organised protest demonstrations and burnt effigies of RSS at Ranchi, Jamshedpur & Koderma following the attack on Swami Agnivesh yesterday at Pakur by the sangh parivar hooligans. Comrade Brinda Karat along with Comrades GK Bakshi, Md Iqbal and Prakash Viplavi met SP in Pakur and condemned attack on Swami Agnivesh. They also demanded that all the accused who have been released on bail within a day of arrest should be taken back into custody and strict actions must be taken," a facebook
post
shared by Rampari, a social activist and member of CPI stated.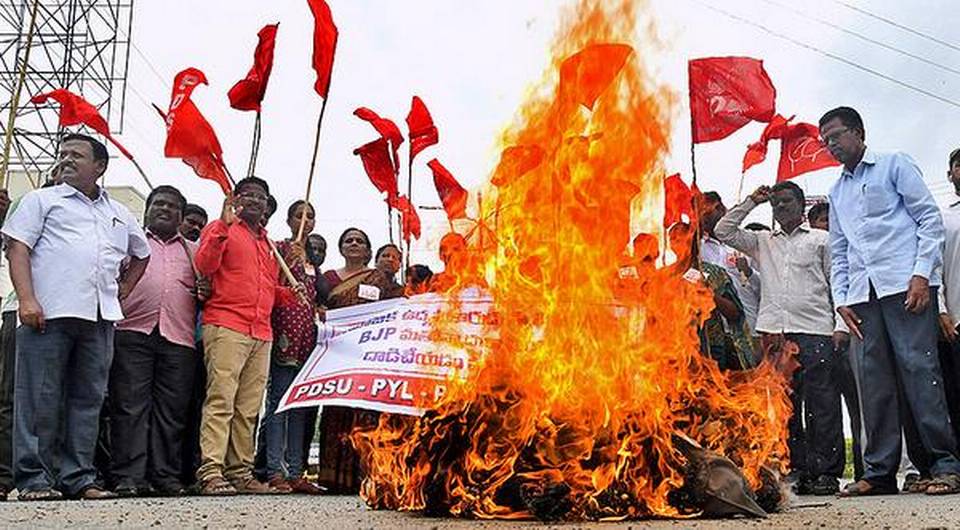 Canadian organisation Indians Abroad for Pluralist India strongly condemned the recent attack on Swami Agnivesh by the supporters of Hindu nationalist Bhartiya Janata Party (BJP). "Agnivesh is a vocal critic of superstition and religious fundamentalism. He has been speaking out against growing intolerance and attacks on minorities under the BJP government in India. He was viciously beaten during his visit to Jharkhand by those affiliated with the BJP. The attack was aimed at intimidating Agnivesh and muzzling a voice of reason. This follows series of murders of rationalist scholars and activists by those who are seeking to turn India into Hindu theocracy. The incident that left Agnivesh badly injured, must be taken seriously in the light of the killings of Narendra Dahbolkar, Govind Pansare, MM Kalburgi and Gauri Lankesh by the Hindu extremists. We also deplore the recent attack on the office of senior Congress Party leader Shashi Tharoor who came under sharp criticism from the supporters of BJP for denouncing attempts to turn India into an exclusionist Hindu state. Though we don't agree with the policies of the Congress party and will continue to question its secular credentials for its involvement in sectarian politics for opportunistic reasons, we believe that Tharoor should not be targeted for saying the right thing. Any act of violence to suppress the voice of those who believe in a diverse and pluralistic society must be condemned by everyone," they said.