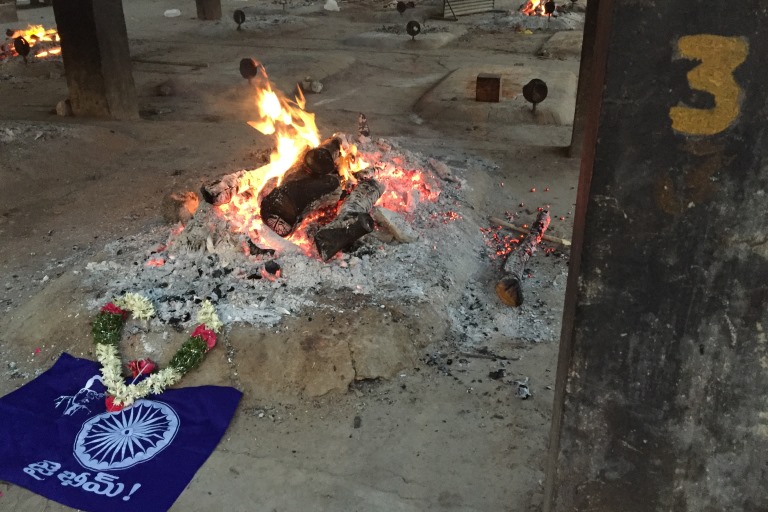 This article was written by  Shahina Nafeesa in Azhimukham. The translation is by Renu Ramanath2010 September:
To reach the village of Chinthula in Ranga Reddy District you have to travel around 60 kilometers from Hyderabad. That journey was in search of the home of R. Balaraj, who had been a Ph.D Scholar at the Central University of Hyderabad (HCU). Balraj was researching on Telugu Literature. During the second year of his Ph.D. Balraj hung himself to death. He would have become the first Ph.D. holder from his community, even from his locality. In the tiny, two-roomed house made of laterite there were Balraj's father, mother, two sisters and brother. He was the only literate one in the household. All others did their caste occupation: tethering cattle.
The broken voice of Balraj's mother Yadamma still echoes in the ears. She took out her son's certificates one by one and showed them to me. Mark lists from the school onwards. Certificates carrying marks higher than distinction. From the 10th standard till post-graduation.
Rohith Vemula dreamt of writing like Carl Sagan. What was the dream of Balraj, who was researching in Telugu Literature ? His dreams are not even recorded. He had hung himself to death on a tree near his home. It's not known whether there was a suicide note. His friend Vinod Kumar said Balraj was distressed from the very first year of the Ph.D. work.
During the first year, he was not given a supervisor. A professor used to insult him citing his caste. One day, he had reached the hostel in a totally despondent way. That day, he had told Vinod that the professor had asked him whether he could go to drive the cattle.
I went to the Chinthula Police Station. From the police records I could find that an FIR had been registered against the professor on charges of abetting the suicide. However, the Station House Officer informed me that the case was not proceeded against as there were no 'evidences.'  The file was closed. Knowing that it would have been useless to ask him more questions, I left the police station.
Amaravathy,
a Dalit girl, who was the national Boxing champion, poisoned herself in the hostel room of the Sports Academy. I met Amaravathi's mother Lakshmi in a single room house in a narrow street of Hyderabad. She had sent her daughter to school while working as a maid. Learning of my arrival, she came to meet me from the house where she was working, in her soiled clothes. With tears in her eyes, she regretted having sent her daughter to the Sports Academy. She had to face heavy insults in the name of her caste. The coach hated Amaravathy. He would often ignore and insult her. Amaravathy took her life during the preparations for the national and international competitions.
Amaravathy's certificates and medals lay on a wooden bench in a corner of the house. There was a large photo of Amaravathy standing in the boxing ring. The brilliant strength she displayed in the ring did not come to her help. That strength was not enough to overcome the pyre of caste hatred. Amaravathy had many victories under her belt, to her account. But, each of her failures was added on account of her caste. In each failure, she was insulted on the basis of her caste.
This fact had been revealed during the fact finding mission conducted by the National Dalit Forum regarding her death. Amaravathy's mother's face bears signs of where tear marks had dried up. Her endless guilt for the daughter. The question, did my daughter yearn for something undeserving…
This still lies raw, along with the thousands of wounds being inflicted during the course of a career in journalism.
Senthil Kumar,
who was a Ph.D. Scholar in Physics, at Central University, Hyderabad, hanged himself in February, 2008. Like Balraj, Senthil who hailed from Salem, was also the first person to gain higher education from his community. Their caste profession was rearing pigs. Even after the first year, Senthil was not assigned to a supervisor. He had to pass in one of the four papers as part of the course work. His fellowship was stopped due that reason. This fact was also published on the notice board. Senthil had faced severe financial difficulties as the fellowship was stopped. His friends later said that the public announcement that appeared on the notice board that his fellowship would be cut as he failed in the course work had caused him great distress.
Prof. Sayid E. Hassan, who was the then Vice Chancellor at HCU, refused to accept that caste-based discrimination had led to the death of Senthil. His argument was that such an assumption could not be drawn. He tried to convince me that the Dalits had access to many opportunities in the Central University and that almost fifty percent of students were from Dalit communities. I just listened to him as it was not my job to argue with the VC and also because I had no strength left for the task. It is not easy to communicate with those who ask for evidence for caste-based discrimination. Such discrimination has to be experienced. Communication is just impossible especially with those who feign ignorance.
There was a large photo of Amaravathy standing in the boxing ring. The brilliant strength she displayed in the ring did not come to her help. That strength was not enough to overcome the pyre of caste hatred.
Anusha,
who was a last year 
B.Com
 student at the Villa Mary College in Somajiguda committed suicide by jumping from the top of the college building. In November, 2009. The college was known as 'College of Royal Girls.' That a Dalit girl like Anusha had happened to reach there was another 'fatal accident.' She had no friends there. And she sat all alone on a bench. No 'Royal Girls' wanted to sit with Anusha. None of the teachers questioned this. At the end of the terrible ignominy, Anusha found a solution. In Rohith Vemula's words, Anusha's existence was reduced to that of a single identity. She must have experienced real isolation on that large bench.
It is not only the students who have complaints. The teachers from the Dalit community also have much to say.
Dr. K.Y.Ratnam,
who was a lecturer in the Department of Political Science, at University of Hyderabad (he must still be there). His duty as the hostel warden was suddenly handed over to another teacher, of course a 'Savarna.' Instead, he was assigned the duty of sanitation. I still remember his words, 'The caste statement in this action may not be understood by learning the theories of Political Science or Sociology alone.'  This teached told me that day that he does not know how someone can ever be convinced of these facts through arguments.
An Adivasi girl from Warankal who was an M.A. student in German Studies at English and Foreign Languages University tried to commit suicide by jumping in front of a train. She was saved by the local people. That was in August, 2010. After getting all the papers in the first and second semesters, she had failed in some papers in the Third Semester. With that, her stipend had been stopped. Unable to bear with the humiliation and isolation, she tried to end her life on a railway track.
It was in the background of these instances that I had set out on the journey to write on the Dalit – Adivasi persecution that was happening within the higher education sector. At the time, I was working for Tehelka. I met many Dalit organisation workers and activists in Andhra Pradesh. The studies they had conducted, the wounds they had experienced, the cases that had to be abandoned helplessly due to a 'lack of evidence'.
However, that story which I filed, carrying so many details, was not published. It seems that what happened can be recounted now as the unquestioned dominance of Tehelka led by Tarun Tejpal has eroded; also because those who were celebrated as flag bearers of justice later turned out to be agents of injustice and misappropriation of power. The editor who was my reporting authority wrote off this story at the first reading itself. His argument was that there was no evidence to prove that these suicides were due to caste discrimination. He was a Brahmin. Later he left Tehelka and became Editor of an online portal. I do now know where he is at present.
I tried to argue that caste hatred was an experience and that recounting it may lack recorded evidence. But I could not convince him. No one takes as evidence the tears of parents who have lost their children. I know that very well.
The FIR retrieved from the heap of files in Chinthula Police Station (they may have pushed that file heap for me to see since they were sure that it was not going to harm anyone), the fact-finding missions conducted by the National Dalit Forum into the deaths of Anusha and Amaravathy, the experiences of the Dalit activists in Hyderabad, the statements given by the activists of Ambedkar Students Association, or the experiences narrated by the teachers at Central University, Hyderabad or EFLU or Osmania University were simply not accepted evidence.
As Dr. Rathnam said, how could these wounds be shown to others ? Could the martyrdom of Rohith have convinced him of this ? During a time when the farmers' suicides were happening in succession, a senior journalist in New Delhi had commented with despair: 'We're working with people who have no scruples to ask why the farmer should commit suicide because the cotton crop failed, couldn't they do cauliflower farming ? !'
Dear Rohith. May be, those who were unable to understand why Senthil or Balraj or Anusha or Amaravathy committed suicide would understand why, a little bit at least, now. They would understand it because of your martyrdom, and only because of that.
That poem which you wrote, immortalising life and death, would certainly have frightened them. Sure. In a way, I too am indebted to you. As a failed journalist. Your political standpoints, the marks you left on all battle fronts, that letter which you wrote to the Vice Chancellor, and this last poem from you – all this is evidence. Evidence, that those among us who failed, need to file away and keep safely. I had nothing with me to show those who asked for evidence then, that the deaths of Senthil, Amaravathy and Balraj, lay at the pyre of caste. Now, you have marked them as well, through your own death.
It was tough for me making a headway in the world of the English media, overruled by Brahmanism, shifting over from Malayalam journalism. For someone coming from a small town in India, studying in the Malayalam medium, at a Government school, language alone was not enough to survive in a metro. I did not have the cultural capital to make my point with an editor who spread the aura of Brahmanism through both language and body language. I could never be the Editor's Blue-Eyed-Girl. Now I know that I need not be. And now I am proud of not being that.
Rohith, editors who hold the pen like a chisel in trembling hands to re-place the Babri Masjid in place of the controversial building erected, are a minority. I too had felt the same way as you, in those days. I too had felt many times that I too was a 'fatal accident.' But, now I know that you and me are right. Not them. Not them, by any means.
Let me dedicate this report that has not seen the light of the day, to you.