Munger: In yet another venomous outburst, BJP President Amit Shah launched an attack on the Congress leader Rahul Gandhi accusing his party of mourning after the Balakot air strikes while the entire nation was celebrating the brave act by the army. He was campaigning for the JD(U) candidate from Munger, Rajiv Ranjan alias Lalan Singh, a state minister and close aide of Nitish Kumar.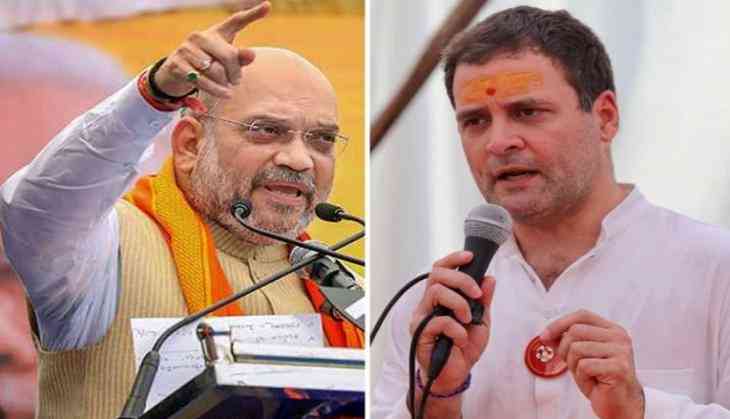 Image Courtesy: Catch News
He said, "Do jaga matam tha. Ek Pakistan mein wahan hona bhi chahiye. Doosra Rahul baba and company gathbandhan walo ke wahan. Udhar Pakistan ke aatankwadi mare usmein aapke chehre ka noor kyun ghayab ho gaya hai? Kya mamare,chachare bhai lagte hain?"
(Two places were mourning; one was naturally Pakistan. The other was Rahul Gandhi and his alliance partners. Why were you upset when Pakistani terrorists were killed?)
He further went on to say, "Gandhi may carry on doing 'Ilu Ilu' (a famous Bollywood song of the 1990s that abbreviated the expression I love you) with Pakistan, but they under Prime Minister Narendra Modi having a 56-inch chest will give befitting reply to any act of cross-border terror." He added, "since the 1990s, whenever the Congress was in power, we had to contend with the humiliation of Pakistan-sponsored terrorists killing our soldiers, mutilating their bodies. Karyakartas (BJP-RSS workers) like me cannot forget how helpless Mouni Baba (Manmohan Singh) used to look."
Shah then accused the Congress of asking for proof for the air strikes and supporting the anti-national speeches in JNU in the name of freedom of expression. He even criticized the Congress's intention of abolition of the Sedition Law. "I want to tell Rahul baba, you may carry on with your efforts to get convicts like Lalu Prasad out on bail. But as long as Narendra Modi is in power anti-nationals will find themselves behind bars", Shah said.
Shah then attacked the RJD, an alliance partner of Congress in Bihar by saying, "Memories of the 15 years long Lalu-Rabri regime, known as jungle raj because of the lawlessness that characterized it, still brings shudders to the people of the state. A change has been brought about
by the efforts of Chief Minister Nitish Kumar and Deputy CM Sushil Kumar Modi." Later, he bragged about the achievements of his party.
This is not the first time that the BJP president has attacked the Congress calling it 'anti-national' and 'pro-Pakistan.' Addressing a rally at Nagpur on April 10, Shah criticized Rahul's nomination from Wayanad, a Muslim-majority constituency, saying "When a procession is taken out  there, it is difficult to make out whether it is India or Pakistan" referring to the Indian Union Muslim League's green flags in Gandhi's election rally.
BJP members have been riding their electoral campaigns on the recent Balakot air strikes depsite the Election Commission(EC)'s warnings to the contrary. The EC also issued the advisory not suo motu but after the body was approached by former chief of the Indian navy, admiral Ramdas.
The Prime Minister himself has urged the voters to vote for BJP if they respect the army and their courageous act. The right-wing supremacist Hindutva party BJP has stuck to its despicable tactics of attacking the opposition and influencing the voters merely on emotional and nationalist
appeals. Unfortunately, what is being missed in this loathsome exercise is the real and grave socio-economic issues that plague our nation currently. Regrettably, the opposition is not talking much on it as well.
Bihar is going to polls in all seven phases with the Munger constituency election scheduled on April 29.
Related Articles:
1. In Gujarat, an urban-rural divide, as nationalism is pitted against development.
2. BJP president Amit Shah once again calls 'illegal' immigrants "termites", says BJP will
throw them out once re-elected.
3. When National Security Is Reduced To Chest-Size And Debate Is "Anti-National"