Offtake from the Public Distribution System is stagnating although there are millions who need more food.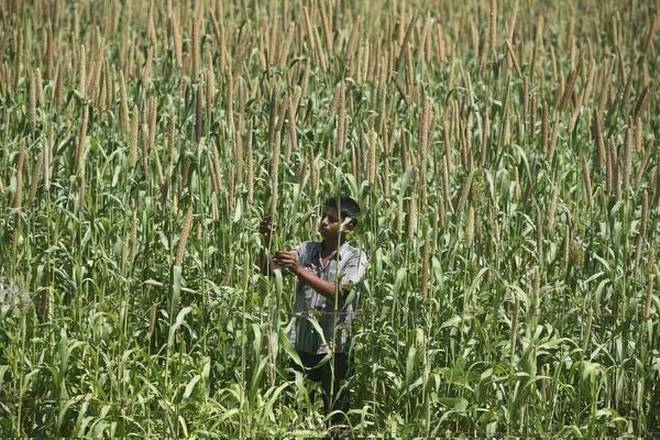 Cereal stocks of wheat, rice and coarse grains maintained in the so-called central pool hit an all-time high of 742 lakh tonnes in July this year and in August were only slightly lower at 713 lakh tonnes, according to the department of food and public distribution's
monthly bulletin
. 
Compared with 2015, grains stocks have zoomed up by an astounding 36% [see chart below]. July and August are the months when foodgrain stocks are at the highest every year as the procured wheat accumulates after the Rabi harvest, adding to the existing rice stocks. 
These high levels of stocks, driven by increased production and procurement, betray a macabre irony because the country continues to suffer from mass deprivation of food, thousands remain outside the limited public distribution system and nutritional levels continue to remain alarmingly low. It also has a connection with the ongoing economic slowdown – accumulated stocks of foodgrains reflect the declining ability of people to purchase what they need.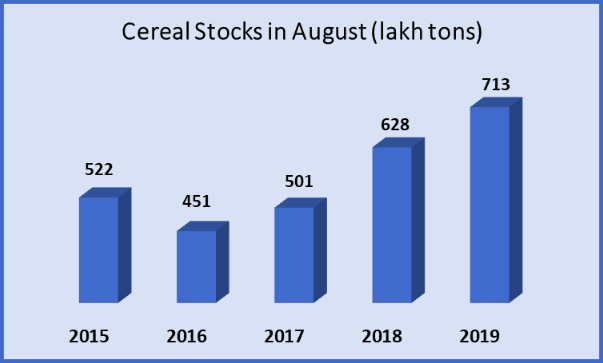 The 2018 Global Hunger Index had ranked India at 103 out of 119 countries describing the hunger situation in the country as "serious". According to
FAO estimates
in 'The State of Food Security and Nutrition in the World, 2019' 194.4 million people i.e. 14.5% of India's population is undernourished, 20.8% of children under 5 years are underweight, 37.9% of children under 5 years are stunted and a staggering 51.4% women in the reproductive age (15-49 years) are anaemic. 
With high output of foodgrains and increasing procurement by government agencies, it would be reasonable to expect that the enormous mountain of foodgrains accumulated in government warehouses would be speedily distributed among the needy. There already exists a network of fair price shops through which the grain is distributed under the public distribution system (PDS). This can be readily utilised to offload extra grain.
But the government appears to be strangely unconcerned. As the chart below shows, offtake of foodgrains (rice and wheat) has barely inched up this year till July. Till July 2019, 195 lakh tonnes of foodgrain had been taken from the stocks for routing through the PDS. That's about a 4% increase over July 2018, whereas stocks have risen by nearly 14% in the same period.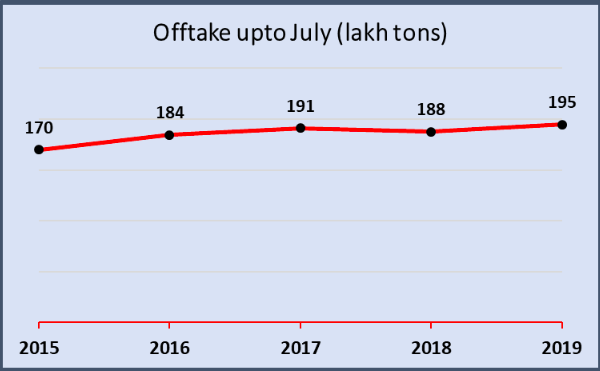 This indifference of the Modi government could have very serious consequences, on multiple fronts. The most important is, of course, that many needy people would be deprived of the foodgrains which are readily available. In addition, the government will have to keep the grain in warehouses for much longer, pushing up costs for the Food Corporation of India (FCI) and various state agencies. There is also a danger of foodgrain rotting in the warehouses because about 15% of the stock is stored under "covered and plinth" (CAP) type of storage, that is, in non-pucca storage.
The government may also decide to push the stock through its scheme of open market sales or even export it, both options being not too successful in the past. But this would be a betrayal of the mandate of the government to provide affordable food to the people.
Accumulated stocks also reveal that there is a deadly depression of demand because people do not have the means to buy essential items like foodgrains, despite their dire need. Just as people are not buying cars and tractors and biscuits and soaps, there is also a distress-driven cut back in buying of food grain. In other words, the accumulated foodgrain stocks are yet another symptom – and a much more dangerous one – of the ongoing economic tailspin that the present government's policies have brought upon India.
Courtesy: News Click