New Delhi:
About 44 huts of Rohingya refugees caught fire in Kalindi Kunj area of Delhi on Sunday, April 15, leading to minor burn injuries to two persons besides reducing the shelters to ashes along with a complete loss of household materials.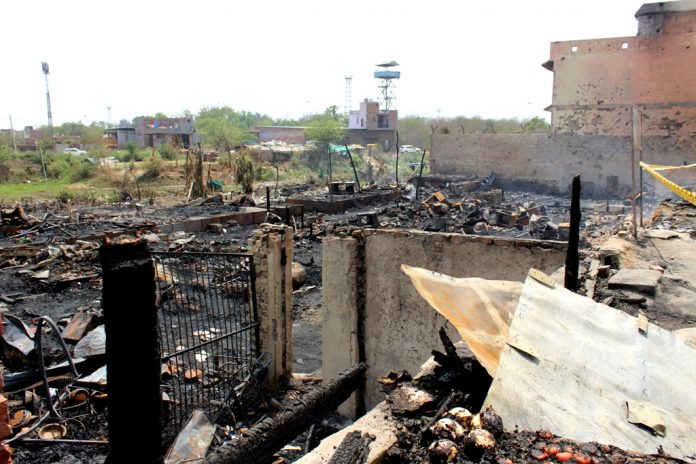 The fire in Rohingya slum in South-East Delhi's Kalindi Kunj reduced 44 huts to ashes. (Photo by: Raqib Hameed Naik)
The fire which started in the early hours of Sunday morning also consumed a makeshift mosque and a madrasa.
"The fire started at 3 am in the morning when everyone was asleep," says Shabir Alam, 37 a Rohingya. He says that the fire started near the Toilets close to the makeshift mosque. "That time everyone was running to save their lives. I took my 5 children to safety and when I returned everything was on fire," he told TwoCircles.net.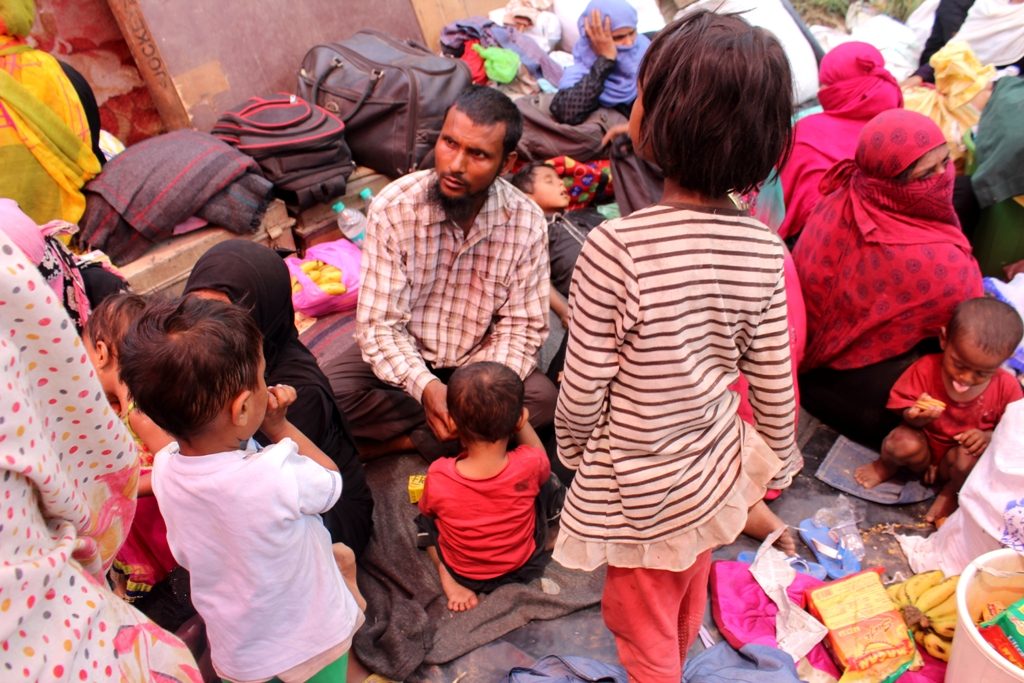 Shabir Alam, 37 a Rohingya refugee feeds his child inside a temporary relief camp. (Photo by: Raqib Hameed Naik)
The shanties were made of bamboo and polythene. "It is the reason why everything caught fire so quickly. The fire brigade arrived half an hour later. By then everything was turned into ashes," he adds.
Fayaz Ahmed, 31 lost everything to the fire. He had saved 80,000 rupees in last five years after toiling hard by collecting scrap.
"I have lost everything. My house, money, utensils. I don't even have clothes to wear. I had to ask NGO people to buy one shirt for me," Fayaz told Twocircles.net.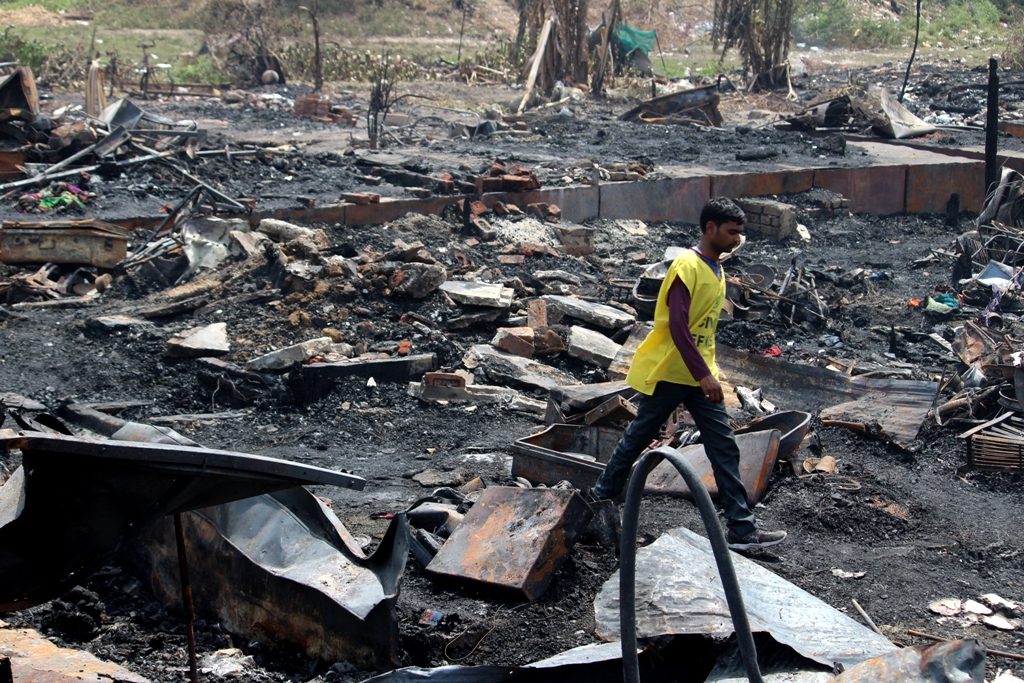 A civil defense official walks past the burnt structure. (Photo by: Raqib Hameed Naik)
The fire has affected 44 refugee families consisting of 230 members who mainly work as hawkers, laborers, rickshaw pullers.
According to Fayazul Kalam, a Rickshaw puller, it will take him years to rebuild back what he has lost in the fire. "For five years, I worked day and night and built a house, bought utensils, clothes for my two kids and wife, but today I lost everything. This was my second home along with the one in Burma," he said.
Various Non-Government organizations are providing food and clothes to the fire affected families. The members of Jamiat Ulema-e-Hind are also camping at the spot and surveying the families who need help.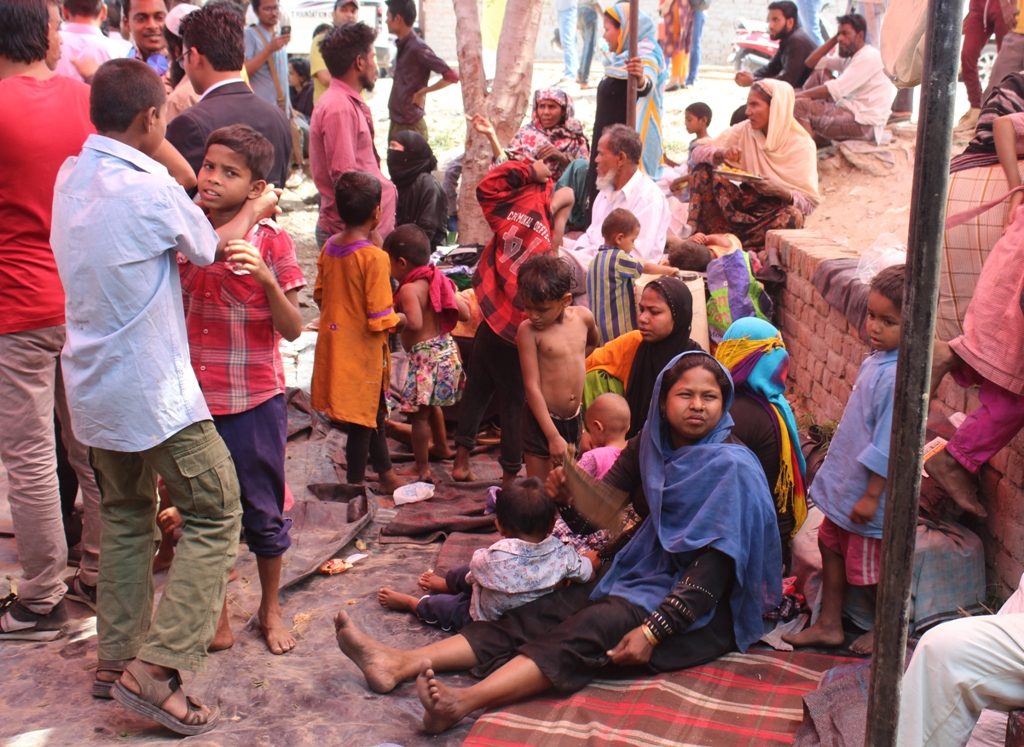 Fire affected families inside the temporary shelter. (Photo by: Raqib Hameed Naik)
"We will make fireproof tents for them and provide them with utensils, clothes, and fans. The work will start in a day or two. As of now, we are surveying what else can be done for them," Ghayur Ahmad, Jamiat member who is accessing the situation at Kalindi Kunj told TwoCirlces.net.
In last few years, the Rohingya slums across the country have seen various incidents of fire turning their shanties into ashes. In a similar incident in April 2017, five huts of Rohingya refugees caught fire in Nangali gaon, Nooh of Mewat in Haryana, leading to one person being severely burnt. In November 2016 more than 80 huts belonging to the refugees were reduced to ashes leading to the death of four refugees in Narwal area of Jammu.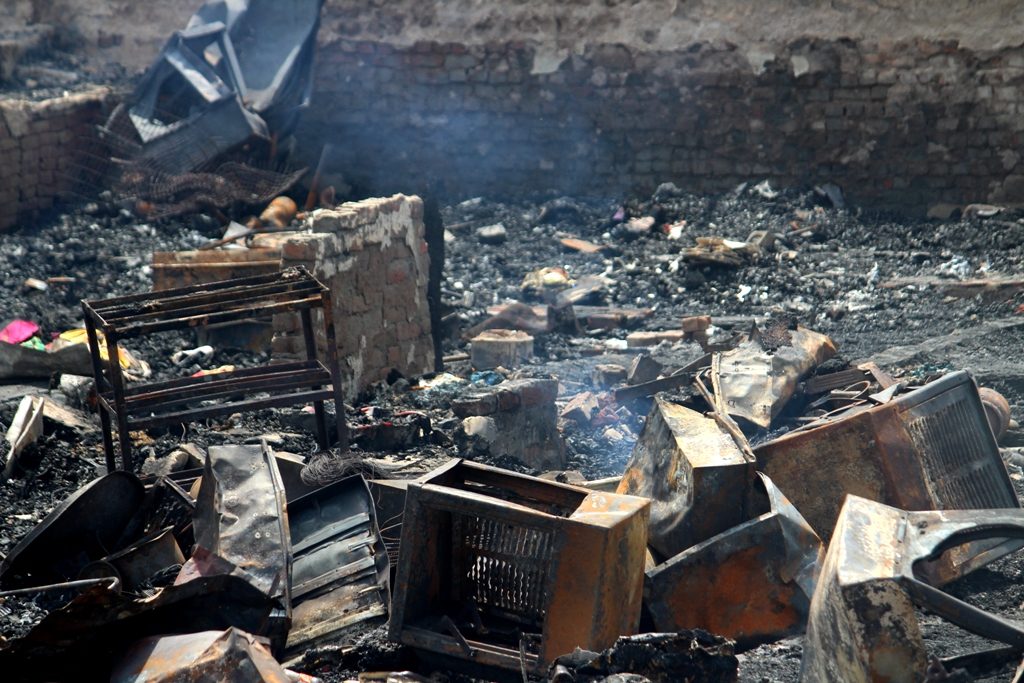 The belongings of refugees consumed in the fire. (Photo by: Raqib Hameed Naik)
Last year on August 19, the Union Ministry of Home Affairs issued a circular asking all states to identify and deport 'illegal' Rohingyas.
"Illegal migrants are more vulnerable to getting recruited by terrorist organizations. Infiltration from the Rakhine State of Myanmar into Indian Territory, especially in the recent years, besides being a burden on the limited resources of the country also aggravates the security challenges posed to the country," the document read.
The Supreme Court is presently hearing a petition filed by the Rohingya.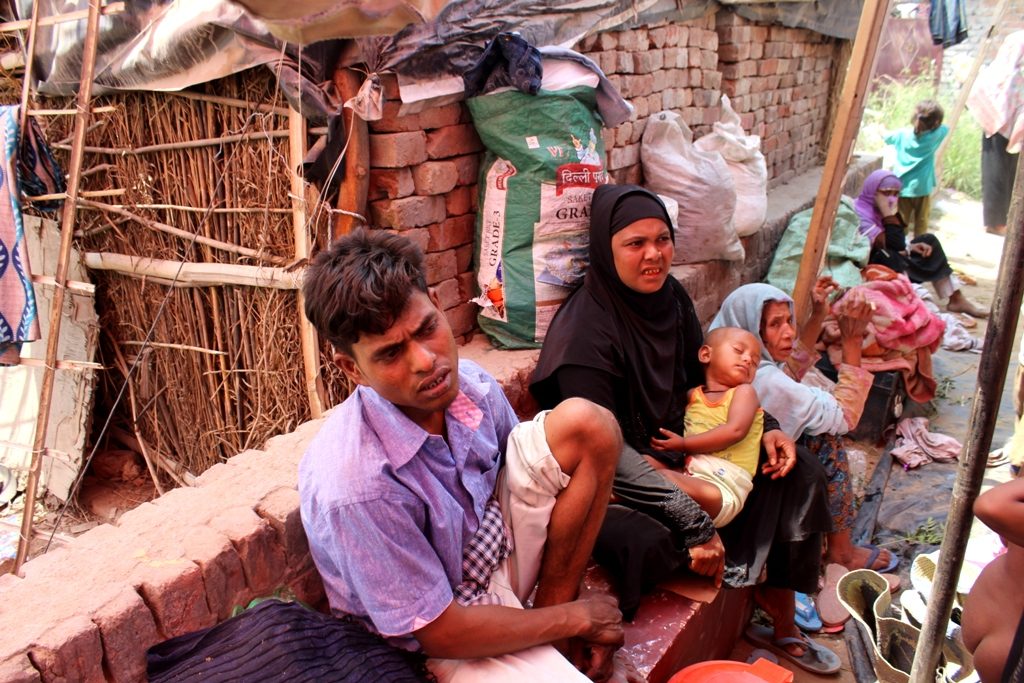 Fayaz Ahmed, 31 a hawker who lost his house, utensils, clothes and 80,000 rupees in the fire. (Photo by: Raqib Hameed Naik)
At present, there are more than 40,000 Rohingya Muslim refugees living in four states: Jammu, Haryana, Rajasthan, and Delhi majority of whom are living in Jammu.
Thousands of Rohingyas fled Myanmar during a spike of violence some five years ago. They arrived in India with hopes for peace and security. At first, the refugees were well-received by the locals, but the hostility has gradually increased over the past few years.
Courtesy: Two Circles