In keeping with the BJP's style of coming up with ever-bizarre ways of forcing 'patriotism', the Madhya Pradesh government orders school students to answer roll calls with "Jai Hind".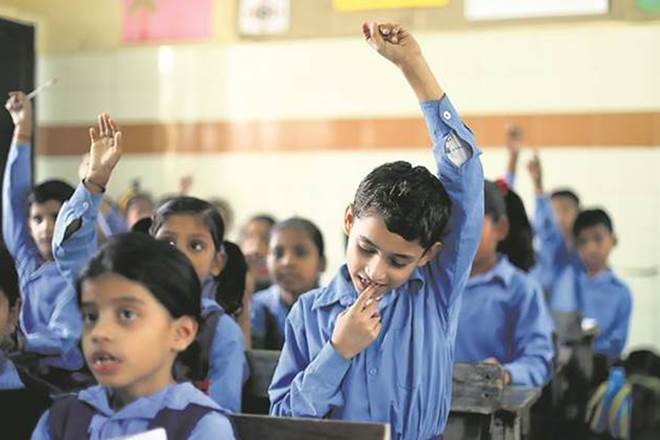 Image Courtesy: Indian Express
Students of state-run schools in Madhya Pradesh must answer the attendance call by saying "Jai Hind", mandates an order issued by the Shivraj Singh Chouhan-led BJP government on 15 May.
"It has now been made compulsory for all 1.22 lakh government schools in the state to answer attendance roll calls by saying Jai Hind instead of Yes Sir/Ma'am," reads the order signed by Deputy Secretary of School Education Department Pramod Singh," reported
The Times of India
.
In a bizarre realisation, Madhya Pradesh Education Minister Vijay Shah had claimed in November 2017 that answering roll-calls with "Yes, Sir" or "Yes, Ma'am" did not cultivate patriotism.
In a state where
farmers are letting animals into their farms
because of the losses incurred due to the crashing of prices, the government's priority is to instill patriotism among school students. Thus, last October, the idea to rob students of their volition to choose how they answer their roll call was introduced on an experimental basis in Satna district.
Madhya Pradesh needs education, not patriotism
While no data is available to assess the state's performance in fostering patriotism, what we do have are reports that draw the attention to the condition of the education department of Madhya Pradesh.
According to the
National Family Health Survey (NFHS) 2015-16
, the school attendance in Madhya Pradesh schools is 90% at 6-14 years of age, but then drops sharply to 65% at 15-17 years of age. This decline points towards the deplorable condition of education in the state, where students are dropping out of higher studies. Further, 34% of women and 14% of men in the age bracket of 15-49 years have never been to school, according to the same report.
'Nation-builders' in the state of Madhya Pradesh
A look at the environment that is encouraged by the state for teachers is significant to understand the lamentable condition of Madhya Pradesh's schooling system. The teachers are appointed by the state government as a
Samvida Shala Shikshak
(SSS), or a contract teacher, and upon successful completion of three years of tenure are promoted to
Adhyapak Samvarg
(AS), which is the permanent teachers' cadre.
According to a report by
National University of Educational Planning and Administration (NUEPA)
, which evaluates the working condition of teachers in Madhya Pradesh, the salary of a Grade I contract teacher is a mere Rs 9,000. A comparison of this amount with the salary of a yoga teacher at Kendriya Vidyalaya, whose salary as prescribed by the seventh pay commission is Rs 21,250, will be helpful in understanding how poorly the Madhya Pradesh government treats its school teachers.
Interestingly, the same NUEPA report includes excerpts from Bertrand Russell's essay, "
(Since) something called education is (now) given to everybody, usually by the State… The teacher has become… A civil servant obliged to carry out the behests of men who have not his learning, who have no experience of dealing with the young… It is not very easy to see how, in these circumstances, teachers can perform the functions for which they are specially fitted…
" When the government is trying to control even the process of taking attendance in schools, this statement indeed holds true.
Moreover, the recent celebration on social media by the BJP-led NDA government for achieving 100% electricity had eclipsed the fact that as few as 29% of schools in Madhya Pradesh had an electricity connection, according to the 2015-16
District Information System for Education (DISE) report
.
Failed attempts to foster patriotism
As per a 2016 report in
The Tribune
, a trust run by Bharatiya Janata Party (BJP) leader Dilip Sanghani in Gujarat's Amreli has made it mandatory for students seeking admission to its educational institutions to write 'Bharat Mata Ki Jai' in their application forms.
In an another incident that created controversy, in September 2017, the Madhya Pradesh government had ordered the schools and madrasas to sing the national anthem and hoist the tricolor daily.
While endorsing the idea, Chief Minister Shivraj Singh Chouhan had said, "How to love one's country and help it march ahead should be part of school curriculum," reported
The Indian Express
.
Clearly, the Chief Minister and his party are not in agreement with Jesse Ventura, the American Politician who once remarked, "Patriotism is voluntary… A patriot shows their patriotism through their actions, by their choice".
Instead, the BJP government is busy finding ever-newer ways of imposing restrictions on the actions of individuals under the facade of 'nurturing love for nation'.
Courtesy: Newsclick.in