Following pressure by affiliates of India's Rashtriya Swayamsevak Sangh (RSS) in the USA, US Congressman Tom Suozzi has not just withdrawn but also 'apologised' for a letter about the Kashmir issue in which he asked the Department of State to support "the human rights of all people."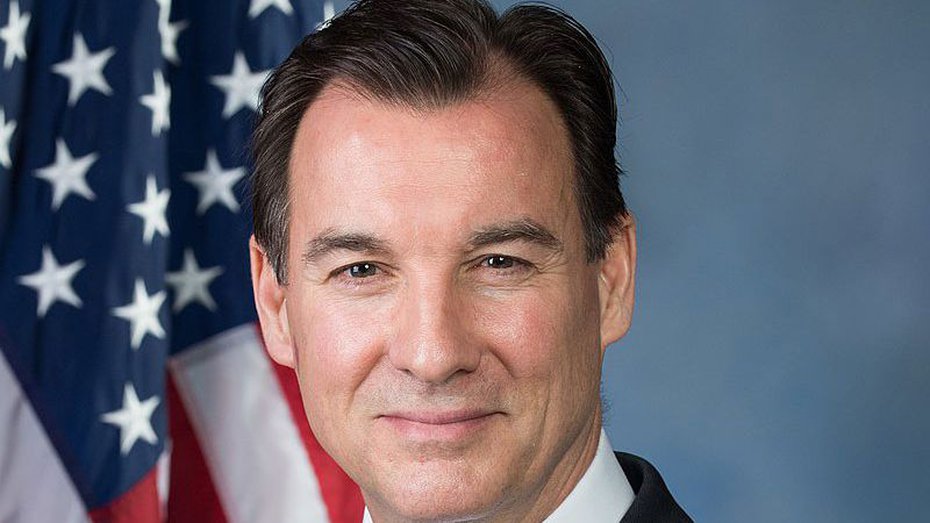 Last week, on August 5, the BharatiyaJanata Party (BJP) led Indian Government scrapped constitutional articles providing Jammu and Kashmir with autonomy in domestic affairs and subsequently stripped J&K of statehood. The regime also deployed nearly 50,000 additional troops to the disputed region, imposed a curfew, and cut off all communications, including phone and internet.
Widespread condemnation
has followed. Days later, on August 12, Human Rights Watch denounced the continued Kashmir blackout, stating, "Unless it wants to inflame tensions in Kashmir for another generation, the Indian government needs to step back, and fast."
Four days after the Indian
government's drastic step
, in an August 9 letter to US Secretary of State Mike Pompeo, Rep. Suozzi wrote, "I am concerned that Prime Minister Modi's recent actions in Kashmir have contributed to tensions that are now higher than ever." He noted, "The Modi government's move could embolden Hindu nationalists to engage in acts of violence and discrimination against India's minority religious groups, including Muslims, Christians, and Sikhs…. We must, as you know, hold true to our values of respecting the human rights of all people, including religious minorities, and we must use our influence to encourage our allies to do the same."
The letter may be read here: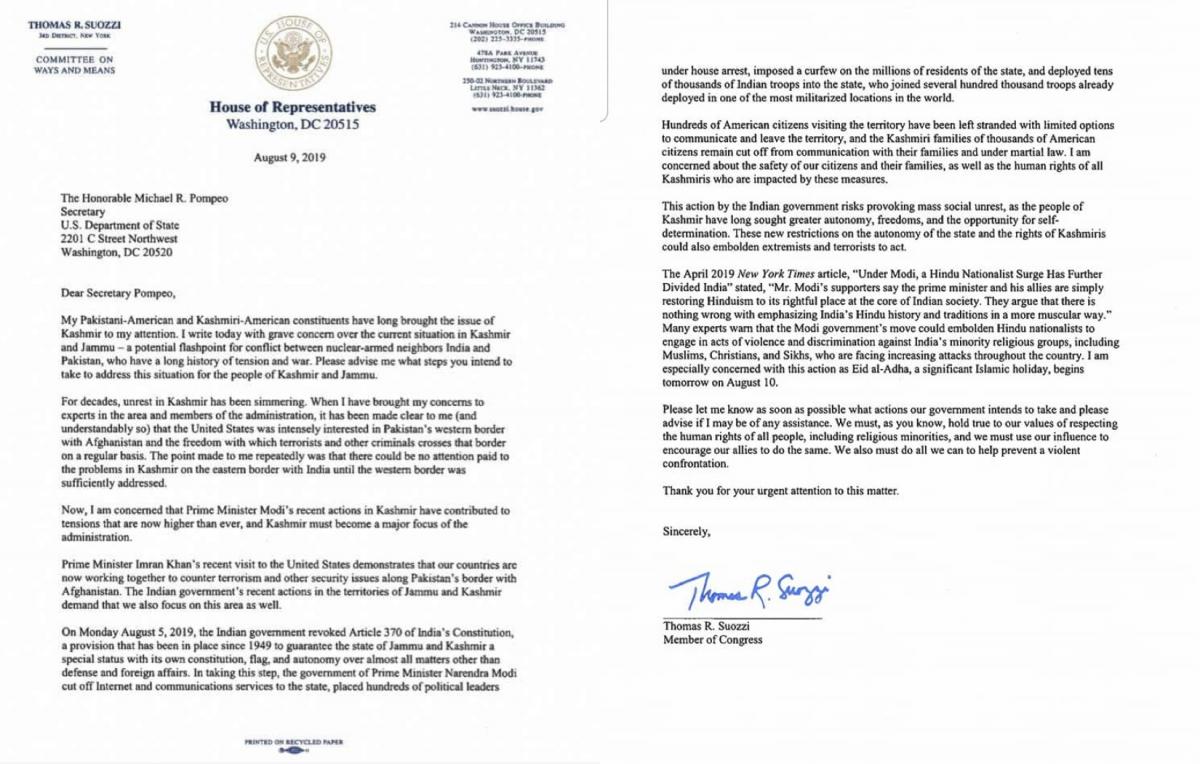 Suozzi's letter prompted an outcry led by JagdishSewhani, an executive with RSS' International wing. "We Indian Americans are very upset with Congressman Suozzi," said Sewhani on August 11. "We are demanding that he withdraws his letter written to Secretary Pompeo. Kashmir is an integral part of India and it is India's internal matter." The NY-based Sewhani apparently spoke on behalf of Indian-Americans who, reported NDTV, "played a key role in [Suozzi's] election and fundraising."
Local reportage surrounding the incident failed to note that Sewhani is a top executive in US affiliates of the RSS who has repeatedly campaigned for Modi's election. In an interview with the May 2019 edition of
The South Asian Insider
, Sewhani is described as "a proud RashtriyaSwayamsevakSangh (RSS) Karyakarta [officer] and an ideologue." In 2015,
India West
described him as Coordinator of Community Reach for Hindu SwayamsevakSangh, the international wing of the RSS. He has also served as General Secretary of the Overseas Friends of the BJP, the BJP's international wing, and is reportedly a founding member of the group.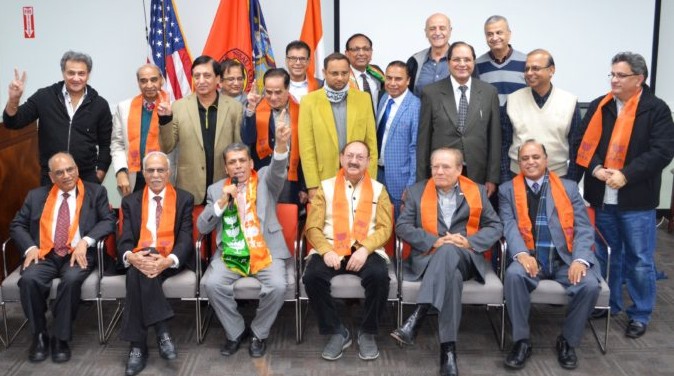 Sewhani at an OFBJP event in 2017
Sewhani is also close associate of Modi. In 2013, he inaugurated the launch of the Overseas Friends of NarendraModi in New York. In 2014, he traveled to Gujarat, India, where he says he was "part of Modi-ji's campaign team" and was "privy to the brainstorming sessions during the campaign." In April 2019, he inaugurated a BJP campaign kickoff event in New York to support Modi's re-election. As reported by
The Organiser
, the RSS's official media outlet, he "urged the Indian American Community to call, email their friends and relatives in India and tell them to vote for Modi."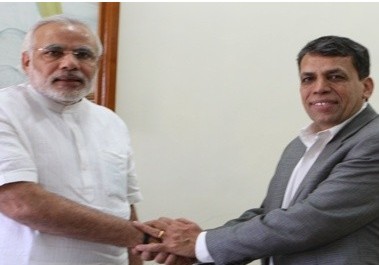 Sewhani with Modi
"We are agitated by the tone and tenor of the letter," stated Sewhani in an August 11 meeting with Suozzi. "We demand that the Congressman withdraw this letter." On August 13, Suozzistated, "Based upon my meeting, it is clear that it was a mistake to not consult with some of my Indian-American friends and supporters before I sent the letter…. Moving forward, I will make sure to solicit the input of all of my constituents who have a vested interest in Kashmir."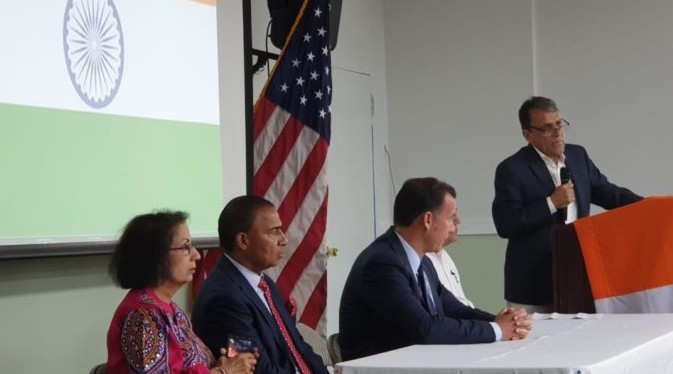 Sewhani speaks at meeting with Rep. Suozzi
Suozzi's letter had expressed support for "hundreds of American citizens visiting the territory who have been left stranded with limited options to communicate and leave the territory, and the Kashmiri families of thousands of American citizens [who] remain cut off from communication with their families." He had further warned that the situation in J&K is "a potential flashpoint for conflict between nuclear-armed neighbors India and Pakistan, who have a long history of tension and war."
USCIRF, in its 2019 report on the status of religious freedom in India, stated, "Over the last decade, conditions for religious minorities in India have deteriorated. "A multifaceted campaign by Hindu nationalist groups like RashtriyaSwayamsevakSangh… to alienate non-Hindus or lower-caste Hindus is a significant contributor to the rise of religious violence and persecution."
Related Articles:
1.Scrutinising Legal Challenges to
Abrogation of J & K Special Status
2. 69 HR Activists and Organisations petition
Modi on Jammu & Kashmir