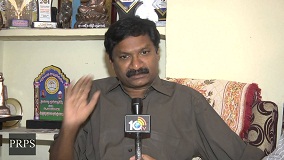 Image: Sreepati Ramudu
Rubbing Salt on Dalit Wounds: Modi Regime Appoints Vipin Srivastava as Pro VC, a Man who was allegedly held responsible for Dalit Scholar Senthil Kumar Death in 2008
Senior Dalit faculty member professor Sreepati Ramudu resigned yesterday from the post of Head of the Center for Study of Social Exclusion and Inclusive Policy in protest against the appointment of Vipin Srivastava as the Pro-Vice Chancellor of University of Hyderabad. The SC-ST Faculty Forum of University of Hyderabad had strongly condemned the varsity's move of appointing Prof. Vipin Srivastava as the Pro V-C1 of the university the day before.
Giving reasons for his resignation, professor Sreepati Ramudu writes,
"I resigned from the headship of Center for Study of Social Exclusion and Inclusive Policy today against the decision of appointing Prof, Vipin Srivastava as the Pro-Vice Chancellor 1 of the University of Hyderabad.
When Pof. Vipin Srivastava was instated as interim Vice-Chancellor earlier, SC/ST Teachers' Forum  had opposed the decision because he, Vipin Srivastava , was allegedly responsible for the tragic death of a yet another Dalit research scholar Senthil Kumar in 2008.
Vipin Srivastava also headed the Sub-Committee, Executive Council that executed the decision of social boycott against the five Dalit research scholars which eventually led to the tragic death of Rohith Vemula. I am pained by the constant humiliation and oppression that is meted out to the Dalit community in the University.
I, in my capacity as the Head of the Center, suggested constructive measures to make this campus socially inclusive. I thought there will be measures taken by the University administration to build confidence among Dalits on campus but to my dismay, the things are turning the other way round.
I am pained and my conscience does not permit to continue as the Head of the Center at a time when the Dalit community on campus lack the confidence in the administration  that should ideally be impartial towards the campus community."
He also wrote that he was the supervisor for one of the four Dalit PhD scholars who were suspended along with Rohith Vemula last year and that he was not even informed by the university of the suspension until the orders were issued. He alleged that vice-chancellor professor Appa Rao Podile had told him and supervisors of the other students to "influence" them in leaving the university campus when the five suspended Dalit scholars had started living in a makeshift tent in the campus after being evicted from their hostel.
Professor Ramudu added that there were many omissions in the process, culminating to suspension of the five Dalit scholars from hostels, and that his constructive suggestions had been ignored. A few other faculty members released a statement condemning the appointment of Professor  Srivastava and demanded that he should accept moral responsibility and step down.
Here are some video links to addresses by HCU Professor Sripathi Ramudu