The "Samvidhan Samman Yatra" reached Jammu for its third led leg after covering over 20 states across the country. A large number of peace right activists, students, journalists including Prabodh Jamwal, Editor 'Kashmir Times Group of Publications' were present for the occasion.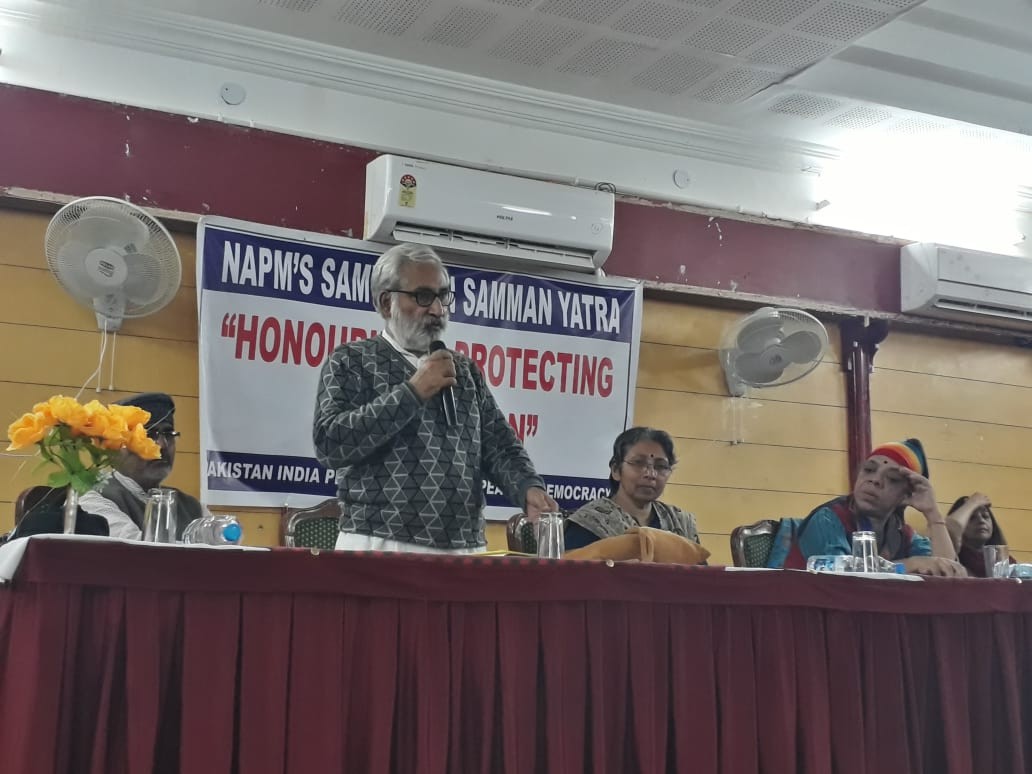 Jammu: The "Samvidhan Samman Yatra" reached Jammu for its third led leg after covering over 20 states across the country. J&K chapter of Pakistan India People's Forum For Peace and Democracy (PIPFPD) hosted National Alliance for People's Movement's (NAPM) "Samvidhan Samman Yatra", aimed at "Honouring and Protecting Constitution" on Tuesday.  
In a function organized at the convention hall of Tourist Reception Centre (TRC), national convener of NAPM from Delhi, Rajendra Ravi, talked of public/citizens' participation (Jan-Bhagidhari) in policy formulation. He also spoke of the Alliance and how it was an amalgam of organizations, fighting for the rights of marginal groups, weaker sections, tribal, Dalit and minority rights. "Yatra is aimed at protecting autonomous institutions of the country and citizens' rights enshrined in the Constitution from the onslaught of those in power patronizing few big corporate houses and rabid communal elements," he said.  
NAPM convener Suniti SR said that the individuals and organizations that are a part of the Yatra, which had almost covered its third leg, believed that they were fighting for people's rights and striving hard for uprooting those working against citizens' rights and playing communal-politics. They want to ensure people-oriented development. "We've fought battles for citizens' rights and won also. This Yatra will culminate at Delhi on December 10. We need the support of all those who believe in socialism, Constitution and above all humanism to make our endeavours in this regard successful," she stated.  
Ramon Magsaysay awardee peace activist and vice president Socialist Party of India, Sandeep Pandey, cited the life struggle of Ganga crusader and IITian-turned seer Professor G D Agrawal, who died after 111-day fast for the cause of the holy river, to expose, what he said, "doublespeak of present ruling dispensation headed by Prime Minister Narendra Modi."  
While detailing about PIPFPD's persistent endeavours advocating increased people-to-people contacts, de-militarisation, Indo-Pak dialogue to resolve all issues including Kashmir, Pandey also referred to "duplicity" of former Prime Minister Atal Behari Vajpayee on the nuclear policy.  
Roma Mallick of All Indian Union of Forest Working People stated that she shared empathy with the struggling people of Kashmir for their "right of self-determination" and branded as "terrorists and Pak agents" as she found them no more different from Adivasis, forest dwellers fighting for their land for which they were being labelled as "Maoists" shamefully by the ruling clique.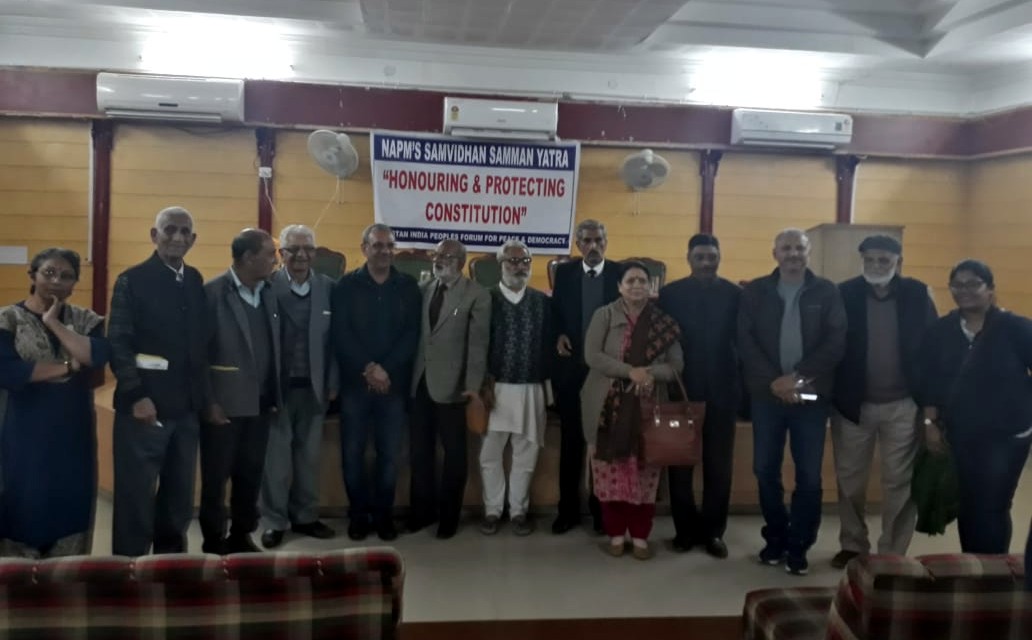 Ashok Chaudhary of All Indian Union of Forest Working People, while also cautioning against attempts to fiddle with Article 370 and Article 35-A, invoked Dr. BR Ambedkar- the father of Indian Constitution, to underline persisting social and economic disparities, encouraged by lopsided policies of ruling dispensation. "Dr Ambedkar had cautioned that if these disparities did not end, political equality guaranteed by the constitution too will get eroded. This is happening now with the government of the day acting as state agent of Multi-National Companies (MNCs). In the present times, even the fundamental rights, including freedom of speech and expression, are in danger. Yet we need to remind all that the citizens' rights cannot be negotiated at any cost," he said.  
NAPM convener from Gujarat Krishan Kant, Sanjeev Kumar of Delhi Solidarity Group, Basant Hetansaria, an activist from Jharkhand working on Right to Food issue, Aishwarya Adhikari PIPFPD coordinator too shared their views about Yatra while ridiculing misplaced priorities of the ruling dispensation. "The ruling clique is exploiting natural resources, land, which actually belonged to citizens of the country, for furthering interests of few privileged corporate houses against the basic structure of the constitution," they added.  
Earlier in her welcome address, peace activist, PIPFPD national executive committee member and Executive Editor of 'Kashmir Times Group of Publications' Anuradha Bhasin Jamwal delineated the imminent dangers to the basic spirit of Constitution and the rights, it confers upon all citizens, irrespective of their caste, creed, colour or religion, from fascist forces. She emphasized the need to value the constitutional guarantees aimed at ensuring a life with dignity for all citizens of the country and make all-out efforts to protect them from the onslaught by fundamentalists patronized by the ruling dispensation.  
Peace activists from Jammu viz., advocate Jameel Qazmi, I D Khajuria of Internationalist Democratic Party (IDP), Abhijit Jasrotia, trade union leader Sampat Prakash advocated for sincere efforts to resolve J&K problem, major irritant in Indo-Pak relations, to provide much sought-after reprieve to common masses of the state, suffering for last three decades.  
A large number of peace right activists, students, journalists including Prabodh Jamwal, Editor 'Kashmir Times Group of Publications' were present on the occasion.  
The function concluded with a revolutionary song presented by a trio of Bhima Azad, Satish Vidrohi and Gulshan Udham of Inquilabi Natak Manch from the border area of R S Pura.  
Meanwhile, the other team of the yatra continued its journey to Himachal Pradesh and held a public meeting in Shimla joined by many community groups and organisations.  
National Alliance of People's Movements (NAPM) planned to embark on a Samvidhan Samman Yatra after numerous discussions. The Yatra is a nationwide tour to restore and protect the core values of Constitution and democracy, at a time when there is an all-out attack on the Constitution, people's rights, livelihoods, environment and the spirit of diversity in the country, even as massive scams, resource loot and dilution of laws are taking place and farmers, workers, students, employees, women, Dalits, Adivasis, Muslims all are on the streets asserting their rights, spaces and freedoms.  
The Yatra plans to travel more than 25000 kms through 26 states in 65 days holding meetings, discussions, public events, supporting struggles, sharing grief with victims of violence and spreading the message of plurality, love, peace and social justice. The Yatra will culminate in a Manvadhikar Rally and Jan Sansad in Delhi on December 10, 2018, the International Human Rights Day.