Disciplinary action has been ordered against him as the "Centre's Department of Personnel and Training saw it as his failure to maintain absolute honesty and integrity in discharge of duties."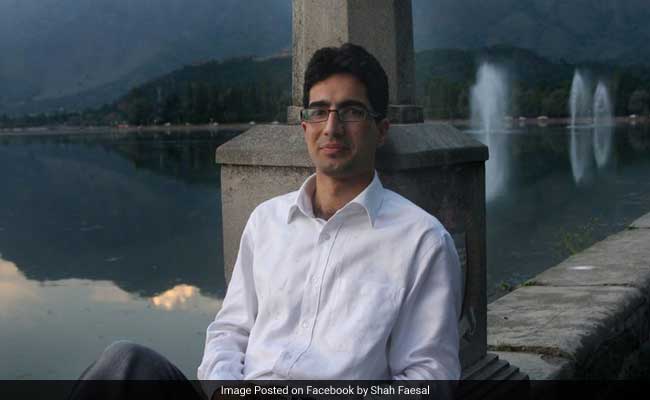 New Delhi: In April this year, Shah Faesal, a J&K bureaucrat, tweeted about the components that make a rape republic. He wrote, "Patriarchy + Population + Illiteracy + Alcohol + Porn + Technology + Anarchy = Rapistan!" to describe the rape culture in South Asian countries. He recently received a show cause notice by the central government that ordered disciplinary action against him as the "Centre's Department of Personnel and Training saw it as his failure to maintain absolute honesty and integrity in discharge of duties."  
Faesal, 35, is the only IAS officer from Jammu and Kashmir to have ever topped the civil services exam. He is the former Managing Director of J&K State Power Development Corporation. The 2011 batch officer has inspired many others to join the civil services and is currently an Edward S Mason Fellow at Harvard Kennedy School on study leave.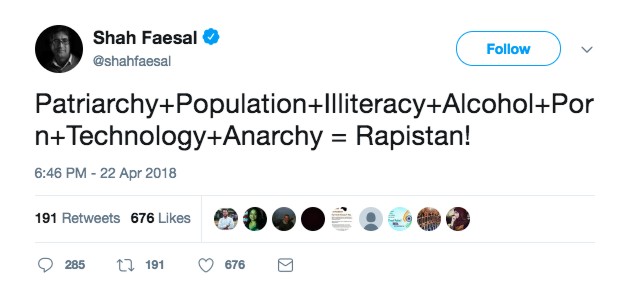 It seems that the bureaucracy has gone into an overdrive as observed by Faesal himself. "Faesal said the action was "bureaucratic over-enthusiasm". "I don't think this warrants any action. Rape is not part of government policy that criticism of rape would mean criticism of government policy and invite action," he
told
Indian Express.  
On Tuesday, he posted an image of the letter he received by email with a message that read, "Love letter from my boss for my sarcastic tweet against rape-culture in South Asia. The Irony here is that service rules with a colonial spirit are invoked in a democratic India to stifle the freedom of conscience. I'm sharing this to underscore the need for a rule change."  
Former CM of J&K Omar Abdullah defended Faesal. "Looks like DOPT is determined to chase @shahfaesal out of the civil services. The last line of this page is shocking & unacceptable where they question Faesal's "integrity & honesty". How is a sarcastic tweet dishonest? How does it make him corrupt?" he tweeted.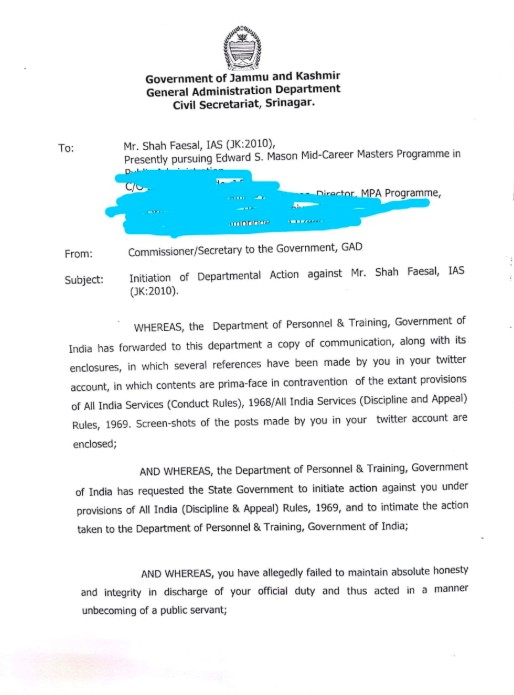 Not an isolated incident
In 2016, the Centre banned civil servants, officials and bureaucrats from criticizing the government on social media.  
"Faesal, however, is not the first bureaucrat to face disciplinary action by the Centre. A senior Madhya Pradesh bureaucrat Ajay Singh Gangwar was asked to explain his "purported" Facebook post calling for a people's revolution (jan kranti) against Prime Minister Narendra Modi,"
reported
Firstpost.  
"Gangwar, who was Barwani collector, was transferred to the secretariat in Bhopal by the BJP's Madhya Pradesh government. "The state government has transferred Barwani Collector Gangwar as Deputy Secretary in the Mantralaya in Bhopal," a state Public Relation department official had said. In the Facebook post written in Hindi, Gangwar wrote: "Let me know the mistakes that Nehru should not have committed... Is it his mistake that he prevented all of us from becoming Hindu Talibani Rashtra in 1947? Is it his mistake to open IIT, ISRO, BARC, IISB, IIM, BHEL steel plant, dams, thermal power? Is it his mistake that he honoured Sarabhai, Homi Jehangir in place of intellectuals like Asaram and Ramdev?" the report added.