In a landmark judgment passed on March 9, 2018, the Indian Supreme Court permitted the creation of a living will to allow passive euthanasia in case of an incurable persistent vegetative state. The Constitution Bench of Chief Justice Dipak Misra and Justices AK Sikri, AM Khanwilkar, DY Chandrachud and Ashok Bhushan was delivering its verdict on a 
PIL filed by NGO Common Cause
 in 2005 and argued by noted lawyer Prashant Bhushan.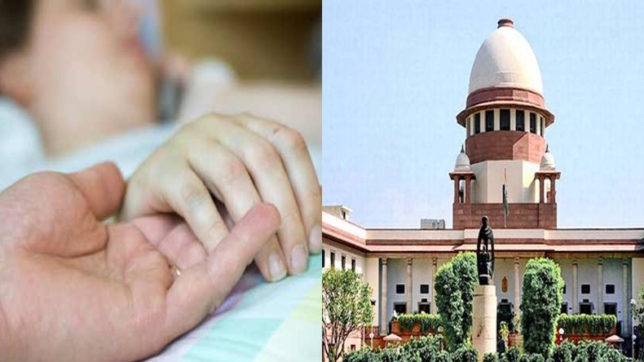 "To deprive an individual of dignity the end of life is to deprive him of meaningful existence," said Justice Chandrachud while 
allowing the living will
 for passive euthanasia. The court said the 
life support 
can be removed only after the statutory medical board declares the patient to be incurable.  
The entire verdict may be read here.  
The Euthanasia Debate
Euthanasia is the practice of intentionally ending life to end paid and suffering. It has always been a hotly debated subject in India where while on one side the argument is for the right of a person to die with dignity and avoid suffering, the counter argument is how it can be misused against members of the family to in case of property disputes. There are also religious factors as the act of euthanasia is often equated with suicide by many religions which is why priests and heads of different religions have had many different reactions on the subject from 
full support to outright condemnation
.  
Constitutional Values
The SC judgement may have elicited a variety of responses from different sections of society and interest groups. However, it cannot be denied that the court has upheld constitutional values of liberty, dignity, autonomy and privacy in delivering this landmark verdict. Justice D Y Chandrachud held in his separate and concurring judgement that,   
"Every individual has a constitutionally protected expectation that the dignity which attaches to life must subsist even in the culminating phase of human existence.  
"The right of an individual to refuse medical treatment is unconditional. Neither the law nor the Constitution compels an individual who is competent and able to take decisions, to disclose the reasons for refusing medical treatment nor is such a refusal subject to the supervisory control of an outside entity."  
Types of Euthanasia
A distinction needs to be made between the two kinds of euthanasia, active euthanasia where life is ended usually with a lethal injection and passive euthanasia where life support systems are turned off and medical treatment is discontinued in case of an irreversible persistent vegetative state. The SC has permitted a 'living will' allowing passive euthanasia and that too under specific circumstances and 
under strict guidelines
. It is in this context that the concept of a 'Living Will' is significant.  
What is a Living Will
A 'Living Will' is made by a person to give directions to medical professionals, family and friends to not prolong life by artificial means in case of an incurable condition that leads to a vegetative state, or what is called 'being in a coma' in common parlance. In the context of the current matter, it muct be made by a person in their sound mind and without pressure or coercion.  
The Aruna Shanbaug Case
The Euthanasia case in the Supreme Court brought back memories of Mumbai nurse Aruna Shanbaug who spent 42 years in a vegetative state after being brutally sexually assaulted by Sohanlal Valmiki, a ward boy at KEM Hospital in 1973. Activist 
Pinki Virani had moved court
 to end Aruna's suffering by 'mercy killing' her. But the nurse of KEM Hospital who had been diligently looking after Aruna so well that not one bed sore developed in over 40 years, objected to this plea. Eventually, the petition was rejected by the Supreme Court in 2011. Aruna Shanbaug died in May 2015. She succumbed to a bout of pneumonia.