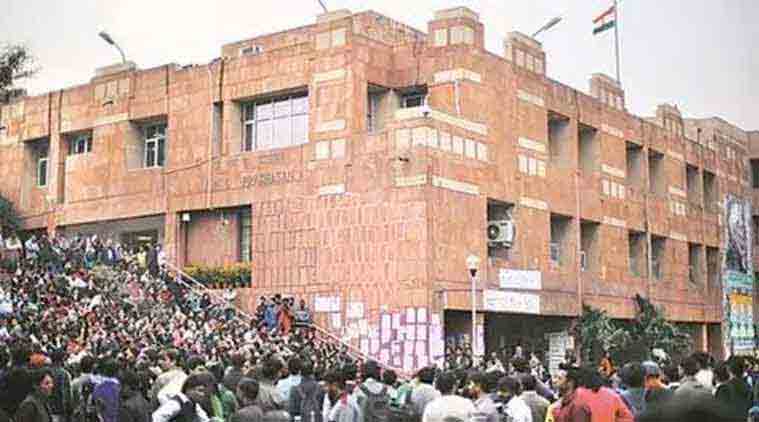 So Now, the JNU VC, an RSS Man Wants an Army Tank on Campus
The JNU Students Union, in a statement issued today, has strongly condemnded efforts by the current Vice Chancellor, Jagadesh Kumar, an RSS man, to militarise the JNU campus. JNUSU general secretary, Satarupa Chakraborty has said that, " JNU, or for that matter any University is an Institutional space to further develop ideas and deliberate on issues. Army tanks are not for spectacle. Nationalism cannot be infused through beholding instruments of war. The Vice Chancellor and his idea of a tank in University is not needed to instill patriotism. Patriotism is not to be enforced upon."
It was the commemoration or celebration of 'Kargil Divas' that had seen the strange spectacle on campus. Two Union ministers, a cricketer whose bat no longer talks, an author accused of plagiarism and military veterans who are laughed at within the fraternity for being loudmouths—basically all Right-wing worthies, self-proclaimed deshbhakts (patriots) and Hindutva posterboys—came together to create quite a disturbing spectacle at JNU on Sunday (July 23)
Please sample some of the enlightening remarks made at the event to observe "Kargil Victory Day" three days before the actual anniversary. 
The Vice-Chancellor requested the government to install a battle tank on campus to "instil love for the Army" among JNU students. Cricketer Gautam Gambhir spoke about the freedom of expression debate but said some things are non-negotiable. "No one should comment against the army," he said. Then the talk about enemies and traitors started. Union minister VK Singh talked about how India was always invaded with the help of traitors. US-based engineer turned RW evangelist and social scientist Rajeev Malhotra warned about an "internal war" in the country. He said the event at JNU was "much like a victory over Kargil. Every student has to be a Kshatriya in this internal war".
Major General G D Bakshi (Retd), who had famously burst into tears on Arnab Goswami's TV gig, congratulated everyone for the "victory over JNU" and credited the VC for it. He then proclaimed, "There are many forts like Jadavpur and Hyderabad university which our army will capture." It seems universities are enemy territory that need to be captured by the Army.  But the famous last words were by another retired fauji, B K Mishra. He said, "We will create a situation where people will love the nation. And if they don't, we will force them to love it." 
The use of force for anything is a classic trait of fascism. It's but a natural outcome of the "dear leader" cult that's been growing. Sometime ago, a Union minister had told us that there is nothing called marital rape, implying that a husband's use of force is natural. Now this.  University campuses are not for militaristic jingoism. That a hollow man is at the helm of affairs, you have hollow people running riot everywhere. This is not India's finest hour.
Further the statement of the JNUSU on this affair states, "The administration, instead of protecting the the university from the false propaganda of RSS to malign the image of the university, is proactively spreading the lies and propaganda of RSS saying "students are anti-army". This remark was made by the associate Dean of Students, Mr. Buddha Singh.
What is important for a university and its students is its academic environment, intellectual space for debate -discussions, good academic and infrastructural facilities. A university doesn't need any army tanks, but, needs to ensure all its students get registration, continue with their academic activities without any intervention from the administration. A university needs to ensure scholarships, hostels and other facilities for students. I wish, Mr. Jagadesh Kumar has the ability to understand what a university stands for."
It was at this event on Sunday that the JNU Vice-Chancellor M Jagadesh Kumar on Sunday requested union ministers
Dharmendra
Pradhan and General V K Singh to help in "procuring an Army tank" that could be displayed at a "prominent place" on campus to serve as a "constant" reminder to students of the sacrifices the Army makes.
The idea of showcasing a military tank to "instill nationalism" was first brought up in the aftermath of the February 9, 2016 event on campus, where the alleged raising of anti-India slogans led to students being arrested for sedition.
Kumar was speaking at the first ever celebration of Kargil Vijay Diwas on the JNU campus, organised by the university administration and Veterans India. Besides Pradhan and Singh, cricketer
Gautam Gambhir
, Major General (retd) G D Bakshi and author Rajiv Malhotra were part of the event, which began with a Tiranga March from the main gate to the Convention Centre, carrying a 2,200 foot-long tricolor.
"It's an important day for us to remember the sacrifices made by men in the defence forces to keep the safety and security of this country… We would like to request V K Singh and also Pradhan ji to help us procure an Army tank so that we can put it in a prominent place in JNU. The presence of the Army tank will constantly remind thousands of students who pass through this university about the great sacrifices and valour of the Indian Army," Kumar said.
It was cricketer Gautam Gambhir spoke about the February 9 controversy, and said respect for the tricolor should be non-negotiable, and that the Army had the right to take extreme decisions. "Those standing on the borders are the real heroes, not cricketers or Bollywood celebrities. Standing in JNU, it takes me back to when there was a lot of talk about freedom of speech. Freedom of speech is important, but there are certain things which are absolutely non-negotiable. One is the respect for the tricolor," Gambhir said.
"There are people sitting in AC rooms and comfortable positions should never try and make a comment about the defence forces. People who stay in extreme conditions and risk their lives should be given all the rights to take extreme decisions… Some time back, people said that the decision (to tie a Kashmiri man to the front of a military vehicle to deter stone-pelters) taken by Major (Leetul) Gogoi in Kashmir was very wrong, but I always maintained that people w'o're in extreme conditions should have all the right to protect themselves, their men and the country," Gambhir added.
MoS External Affairs V K Singh said the Indian Army had the "best record" on human rights across the world.
Petroleum Minister Dharmendra Pradhan said that in no other country was the Army undermined in the way some people did in India. "JNU is always making headlines. But I am happy that under the current VC, the university has installed the Wall of Heroes and organised this Tiranga March where slogans of Bharat Mata ki Jai reverberated," Pradhan said.