Social activist Swami Agnivesh was assaulted, allegedly by workers from the Bharatiya Janata Party's (BJP) youth wing, the Yuva Morcha, in Jharkhand's Pakur area on Tuesday, July 16. Workers from the Rashtriya Swayamsevak Sangh (RSS) and Vishva Hindu Parishad (VHP) also reportedly attacked Agnivesh.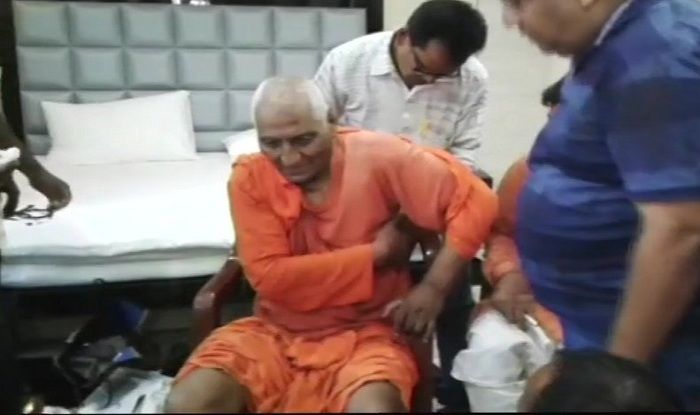 Image Courtesy: http://www.india.com

Local reports indicated that the BJP workers were protesting Swami Agnivesh's visit to the area, with Dainik Jagran saying, "They accused him of being hand-in-gloves with Christian missionaries to instigate tribals in Jharkhand". The protesters also reportedly alleged that he was working against sanatan dharm by remarking on beef.

The protesters had been outside his hotel since the morning. Although Agnivesh was due to attend an event in Littipada, he was surrounded by the protesters when he exited the hotel. Slogans were raised against him. Agnivesh was with tribals who held bows and arrows. When he left his hotel, the alleged BJP members chanted "Jai Sri Ram" and attacked him.

Agnivesh, a former Haryana MLA, told NDTV that police were not present despite the fact that the protesters had amassed outside his hotel, and said that he was taken aback when he was assaulted. "I had offered to hold a dialogue with them. But nobody came to speak to me. I was going to a sammelan (seminar) with my tribal friends when they launched an attack. They were carrying black flags and without any warning pounced on me. They punched, kicked and dragged me on the ground. They also used cuss words," he said to NDTV, adding, "I pleaded with them with folded hands... But they didn't think it was necessary to tell me why they were raining blows on me. They just went on and on". He compared the assault on him to reports of mob lynchings that have occurred across the country over the last year.

When Sabrang spoke to Swami Agnivesh's associate, Manohar Manav, he said that they had been badly beaten, and were on their way to the hospital.
According to the police, the assault seemed to have been 
pre-meditated
. The police have reportedly detained 20 people.