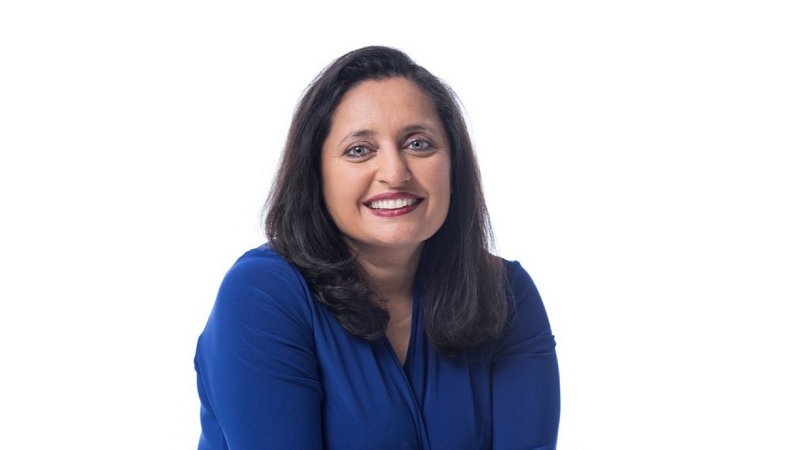 Image Courtesy:hindutvawatch.org
In January this year, the Tribune had reported that US President Joe Biden's administration was keeping out Democrats who had connections with Bharatiya Janata Party (BJP), and the right-wing Rashtriya Swayamsevak Sangh (RSS) Hindutva outfit. Economist Sonal Shah and Amit Jani, were the two named as being "so far been excluded."
Sonal Shah (53), an Obama administration staffer, had served on Biden's Unity Task Force. Her father Ramesh Shah was the President of Overseas Friends of BJP-USA and is the founder of RSS-run Ekal Vidyalaya, Sonal reportedly has raised funds for the right wing organisation as well. Shah's alleged RSS/BJP links were reportedly exposed by over a dozen Indian-American organisations, as per the news report.
However in February 2022, Sonal Shah was sworn in as Chief Commissioner of Biden's Advisory Commission on Asian Americans, Native Hawaiians, and Pacific Islanders. According to a Hinduva Watch website, On March 17, she was appointed to the Department of Homeland Security's Advisory Council, a body that takes decisions "across the spectrum of homeland security operations." According to the article, Shah in her youth was also a leader in the US wing of the Vishwa Hindu Parishad (VHP). In 2018 the Central Intelligence Agency called it a "religious militant organisation."
According to the report, Sonal Shah's "two recent appointments came and went almost unnoticed amongst the Indian-American diaspora. It's a sharp contrast to her first presidential appointment, in 2008, which prompted a month-long international media firestorm focused on her past Vishwa Hindu Parishad of America (VHPA) role as well as her family's deep ties to the RSS-BJP's international affiliates — including Overseas Friends of the BJP (OFBJP), which registered as a Foreign Agent in 2020."
A change.org petition demanding "Remove Sonal Shah From DHS For Hindutva Links" has gathered thousands of signatures already.
It highlights that "Sonal's father, Ramesh Shah, might be described as a founding father of America's RSS-BJP affiliates" and he was honoured by Indian Prime Minister Narendra Modi's administration in January 2017 with the Pravasi Bharatiya Samman Award.
According to the petition long before that Sonal has been directly involved with the "American Sangh" and in 2005, she "donated $10,000 to Ekal Vidyalaya. Founded by her father and claimed by VHPA as their original project, Ekal, according to Indian media reports, creates "RSS-run" schools which have "helped the spread of Hindutva[Hindu nationalism]."" She "also volunteered, alongside her father, with Sewa International, a charity which is currently chaired by HSS's Bhutada and is (as admitted by the Sangh itself) one of "several affiliated organisations of the RSS."
The Shah family, stated the petition "has not backed off its advocacy for the BJP: both of Sonal's parents apparently joined OFBJP to campaign in Gujarat in 2019." It also adds that Sonal Shah had claimed that she "would not have associated with the VHP of America" had she foreseen VHP's involvement in the 2002 violence, but once the spotlight on her shifted "she showed no hesitation to associate with a VHPA project like Ekal. In 2008, she denounced the Gujarat riots as "heinous events" and expressed her shock that VHPA "could possibly stand by silently," but in 2021 she waved off concerns about her involvement with VHPA as "dumb"."
Recently, US Congresswoman Ilhan Omar on April 6, 2022 asked President Joe Biden administration why it has been so reluctant to criticise Indian Prime Minister Narendra Modi's government on its human rights record. She asked "How much does the Modi administration have to criminalise the act of being Muslim in India for us to say something? What will it take for us to outwardly criticise the actions that the Modi administration is taking against its Muslim minorities in India?"
Why has the Biden Administration been so reluctant to criticize Modi's government on human rights?

What does Modi need to do to India's Muslim population before we will stop considering them a partner in peace?

These are the questions the Administration needs to answer. pic.twitter.com/kwO2rSh1BL

— Rep. Ilhan Omar (@Ilhan) April 6, 2022
According to The Tribune report from January, "Those with RSS-BJP links have not found a place as secular Indian-American organisations have maintained the pressure on the Biden-Harris transition team to keep such individuals on the sidelines." It added that "Democrats may have been more circumspect over accommodating pro-BJP-RSS elements in the government following renewed activism by organisations opposed to the Hindutva project and also after witnessing the fate of such candidates." According to the report, 19 Indian-American organisations had written to Biden "pointing out that many South Asian-American individuals with ties to far-right Hindu organisations in India are affiliated with the Democratic Party."
Related
'What will it take for the Biden administration to call out Modi's regime for human rights violations?': US lawmaker, Ilhan Omar
News of anti-Christian violence precedes Modi in Vatican call
EXCLUSIVE: Craig Whitlock exposes the Secret History of the War in Afghanistan
Amnesty for Afghans: Can the world walk the talk?
Afghan President flees as Taliban enters Kabul
Mark India as "country of particular concern": USCIRF