On Monday, August 12, Reliance Industries chairman, Mukesh Ambani said that his company will invest in Jammu and Kashmir.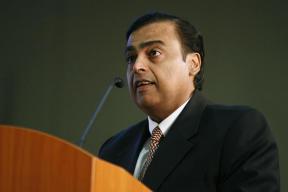 This came a week to a day after the NDA II government tool drastic steps to abrogate Article 370. Article 370, which gives Jammu and Kashmir special status,
was abrogated
on August 5 and a new bill Jammu and Kashmir Reorganization Bill, 2019 was introduced. This bill divided the state of Jammu and Kashmir into two Union Territories (UTs), namely Jammu and Kashmir and Ladakh. Following the abrogation the Prime Minister Modi
called on businesses
to "invest" in J&K and Ladakh. He said Ladakh has a huge potential for eco and religious tourism, and it can also be a solar power hub. "I urge companies to come forward, we need to take products of the region to the world," Modi had
said
. Ambani's statement came after this call. He was addressing the Annual General Meeting (AGM) of Reliance Industries and said, "You will see several announcements for Jammu and Kashmir and Ladakh in the coming days."
He also added that Reliance Industries would create a special task force for developmental activities in J&K and Ladakh.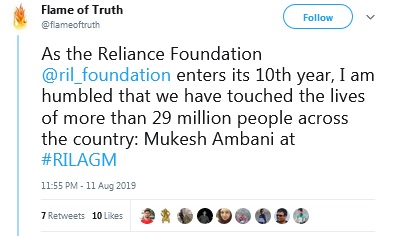 Apart from Reliance Industries, Amul and the hospitality chain, Lemon Tree have expressed their interest in "investing in the region."  
Earlier, while presenting the Jammu and Kashmir Reorganisation Bill in Parliament, Home Minister Amit Shah had claimed that one of the reasons for this move was to
bring
"development" to the region. Many, especially on social media, rejoiced the move as they felt that now the prospects of "buying land" had opened up for them in the state, which had struggled hard to preserve its identity so far. In the subsequent days, many platforms
refuted
such claims and elaborated that the human development indicators in the state, were in fact, better than many states ruled by the Bharatiya Janata Party (BJP).  
Ambani added that RIL
had
"built a unique portfolio of world class" and "extremely valuable assets" in the "world's fastest-growing economy". . "It is my passion and conviction that New India will lead and not follow the advanced nations of the world in adopting, even creating disruptive technologies that will decide the winners and losers of the Fourth Industrial Revolution," he added.