More than two decade old statue of India's first Prime Minister Jawaharlal Nehru was removed from
Balsan Chauraha
in Allahabad, UP on Thursday, September 13 in the name of "city beautification" and "road widening" projects by the Yogi Adityanath led UP government. The Congress and Samajwadi party protested the move in strong measures and have said that they will take the matter to higher authorities.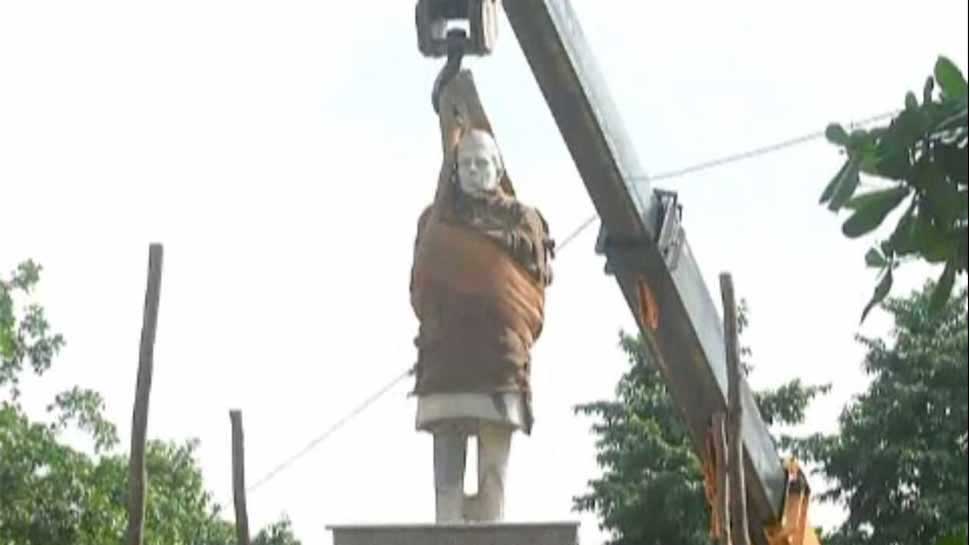 Reportedly
, the state authorities said that the statue which was placed near Anand Bhavan was removed as part of city beautification on the occasion of upcoming Kumbh Mela. The Kumbh mela is supposed to take place in January 2019.
Protesters from opposition parties, Congress and Samajwadi party denounced the move and said that the statue of Pt. Deendayal Upadhyay which was on the same road, hasn't been removed. They blocked the crane and raised slogans against Yogi Adityanath.
Local newspapers r
eported
that the authorities were in fact trying to expand the area where the statue of Pt. Deendayal Upadhyay was placed.
The statue in question was placed in 1995 and it was inaugurated by the then Governor Motilal Bora. Pt. Deendayal Upadhyay's statue was inaugurated in 1991 by UP's then CM Kalyan Singh, BJP's national president Murli Manhohar Joshi and BJP's member Lal Krishan Advani.
Members of the Congress
said
that the BJP government is regularly humiliating great leaders of India by tacitly removing their statues, or by taking no measures to protect them. They considered this particular incident as an attempt to attack an entire ideology and line of thought. They have said that they won't take this move lying low and will carry forward a movement against this starting today.
Earlier in April
, a statue of Dr. B. R. Ambedkar, jurist, social activist, and Dalit icon, was vandalised in the Badaun district of Uttar Pradesh, sparking widespread controversy, while the
same government
is busy spending Rs. 3000 crores on constructing a statue of our first home minister Sardar Vallabhai Patel. Leftist thinker and ideologue Lenin's statue was dismantled in Tripura in March.
Senior CPI (Marxist) leader Brinda Karat, had earlier
said
that the destruction of statues exposes RSS ideology.