There were scenes of mayhem at the Allahabad University campus on Tuesday as explosives were allegedly hurled at student leaders demanding the resignation of Vice Chancellor RL Hangloo, who has been accused of sexually harassing a Delhi based woman. The student leaders claim that they were attacked at Hangloo's behest.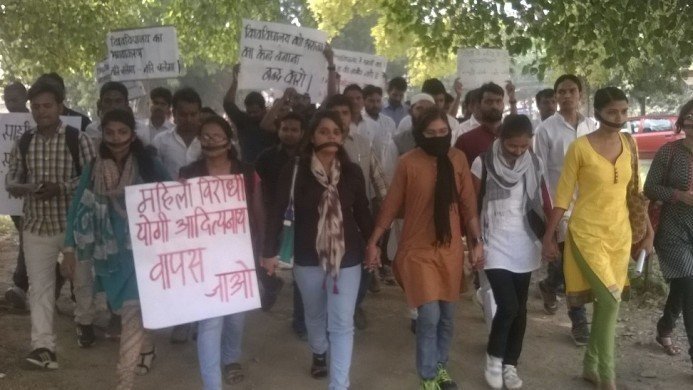 Former Allahabad University Students Union President Richa Singh who is also a member of the Samajwadi Party was attacked with several of her fellow students activists at the Universty of Allahabad. In an exclusive telephonic interview to Sabrang India, Richa Singh said, "They lobbed bombs on campus to spread fear among students. They also categorically told us to stop speaking against the Vice Chancellor."
The entire interview may be heard here:  
Brief background of the case
On Monday September 17, student leader Avinash Dubey released a Whatsapp chat between Prof Hangloo and the Delhi based woman. Shortly afterwards, Rohit Mishra, the former President of the AU Students Union and current National Secretary of ABVP,
released a 35 minute audio
recording of a conversation between Prof Hangloo and the woman.
In the recording a man (who Mishra claims is Professor Hangloo) offers to use his influence to get the Delhi based woman a job. Sometimes during the discussion, the man is alleged to have crossed boundaries of professional decency and engaged in inappropriate and objectionable conversation. There are allegedly many similarities between the contents of the leaked Whatsapp chat and the audio conversation. Mishra claims he has 17 more such tapes.
Meanwhile, the AU pulic relations officer
Chitranjan Kumar said
, "It is the matter of probe whether what has been made public by Mishra is authentic or someone has mimic the voice of the VC, the entire issue has to be thoroughly inquired as it is nothing but the conspiracy to malign the image of the VC".
Attacks on Student Leaders
It looks like there is no respite for student leaders in India, as this attack comes just a day after student activists and newly elected office bearers of the Jawaharlal Nehru University Student Union (JNUSU) were brutally attacked by members of the Akhil Bharatiya Vidyarthi Parishad (ABVP) in New Delhi. Whatever the catalyst and whoever the perpetrator, it appears that under the present ruling dispensation, student leaders are an easy target and university authorities are either ill equipped to protect them or not particularly committed to ensuring their safety.