Students demand revocation of TISS admin's Sine die order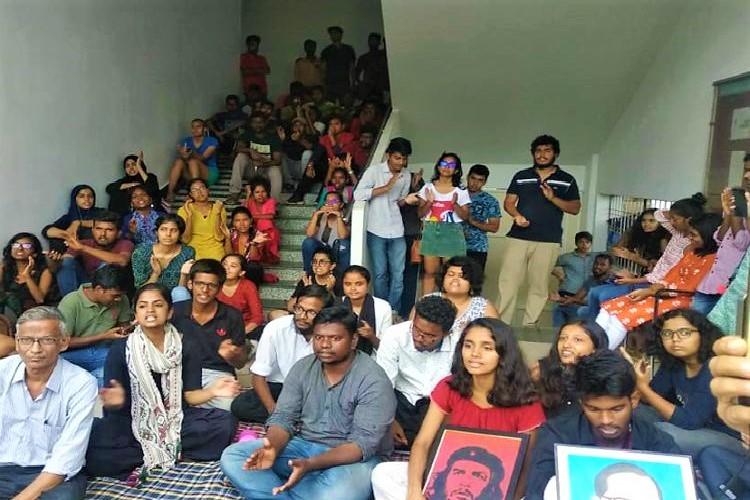 "Only a broken system shuts down instead of engaging in a dialogue.
#injusTISS
. How can a higher education institute shut down indefinitely in between an academic year, risking the future of entire student body?"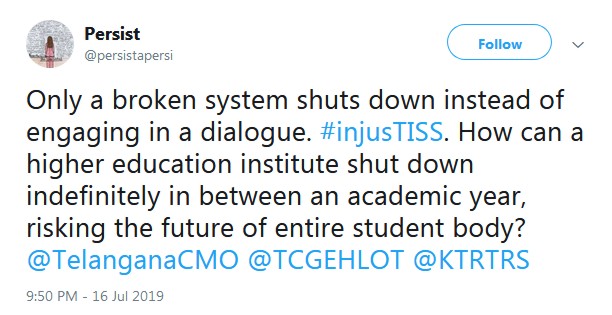 Twitter users on Tuesday questioned a
sine die
order by Tata Institute of Social Sciences (TISS),
Hyderabad administration to quell protests going onwithin the institute for eight days now.
Students of the premier institute for social sciences have been on strike since Monday July 8 demanding a revision in the hostel fees. The student bodies feel that the increase in fees will detrimentally affect Dalit and Adivasi students from seeking admission.The main demand of the students protest has been for the institute to lower the feestructure.
After the institute's operations were moved to a different campus, reports indicate that a 'new private service provider' asked students for six months accommodation fee to be paid in advance. This means that for students, beneficiaries of the government of India post-metric scholarship (GoI-PMS) a payment of Rs. 54,650 at one go, which students protested is far too high.
The protest has been marked by a shocking show of arrogance by the academic authorities: s Dalit and Adivasi women were allegedly
being asked to wait on the
streets at 11 pm in the night because of their inability to pay the fees. Many students have had to vacate their hostels in the middle of the academic session again on grounds of being unable to pay up!
It was when the meetings with administration didn't bear any fruitthat eight students went on a hunger strike on July 11 and more pledged to join if demands were not met. However, there has been not much response from the administration, apart from calling the protests '
illegal' and 'unlawful'.
More seriously, two students on hunger strike fell gravely ill and one had to be admitted to the hospital. So far, the administration, instead of initiating dialogues with the students, announced a 'sine-die' closure of the campus from July 15, Monday till the protests stopped.
The Student Action Committee member
said
, "Even though voices of dissent have been miffed by putting an undemocratic order of closure of academic activities, the protests will continue."
On Tuesday, students and supporters took to twitter to express their grievances: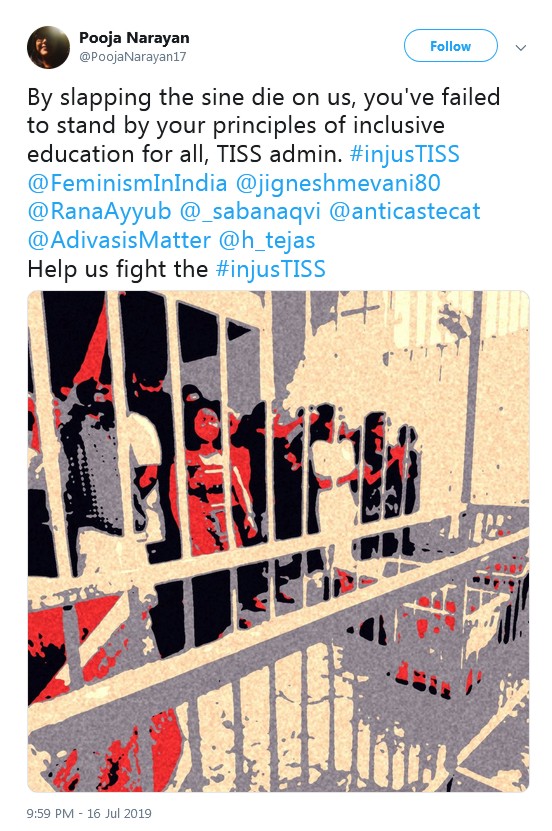 Expressing solidarity with the protesting students the student body based in JNU, Birsa Ambedkar Phule Students Association (BAPSA)
noted
, "There is a palpable fear that many existing students might be forced to drop out of the course owing to high fees. This is a serious attempt to push students coming from a certain background outside of university spaces."
Senior activists including Medha Patkar, Aruna Roy and Binayak Sen  have
also written
 to the administrative heads of both TISS Mumbai and Hyderabad asking the admin to "take necessary steps to ensure that Dalits, Adivasi and other students from marginalized backgrounds have access to hostel and other amenities."Referring to
recurring protests in various TISS campuses
, including the one in Mumbai in February 2018 and Guwahati in March this year, the activists
say
, "It is a very unfortunate state of affairs that students have to repeatedly keep protesting for their legitimate demands…"
A petition condemning the sine die closure has been circulated by the well-wishers of the students. The petition notes, "These are the third round of protests on the question of access and availability of hostel facilities for Dalit and tribal students. It is worrying that instead of engaging with the burning question of diversity and inclusivity in academic spaces, the TISS administration has chosen to shut down the institute. This is despite the fact that the protests were democratic and peaceful in nature."
The students have demanded that TISS should revoke the sine die order immediately, and take all steps necessary to ensure that students from marginalised communities can avail of hostels and other amenities.  
Statement can be signed here:
https://docs.google.com/forms/d/e/1FAIpQLScXWQrx2c54tZaLqoxw9ujUPycv-AA1iWxIoaaF_kCjSAJyMA/viewform?usp=sf_link