This is the third time in eight months that the Supreme Court has declared its Chief Justice as the 'Master of Roster.'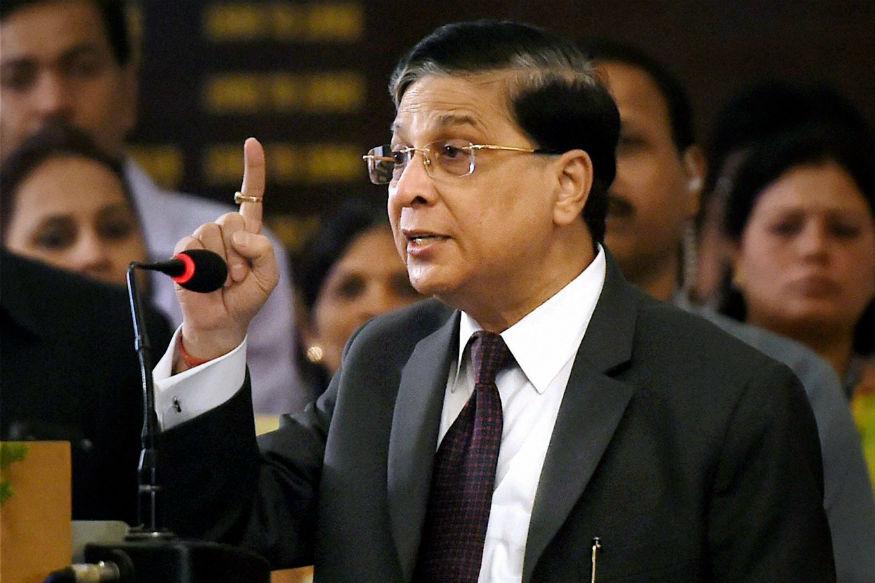 Image Courtesy: PTI
New Delhi: In a response to a PIL filed by former union law minister Shanti Bhushan, The Supreme Court reiterated on Friday that The Chief Justice is the spokesperson of the court and has the power to allocate cases to fellow judges as the 'Master of Roster.'  
"The 'Chief Justice of India' is an individual judge and not the powerful collective of five senior-most judges of the Supreme Court called the 'Collegium', the Supreme Court held on Friday. It is this exclusive authority of this individual judge, who is the "spokesperson of the court", to allocate cases to fellow judges as the 'Master of Roster', a Bench of Justices A.K. Sikri and Ashok Bhushan declared in their separate but concurring opinions,"
reported
The Hindu.  
The PIL demanded that the 'Collegium of Supreme Court judges collectively allocate cases in the apex court rather than leave the entire power in the hands of the CJI in his administrative capacity as 'Master of Roster.'  
This is the third time in eight months that the Supreme Court has declared its Chief Justice as the 'Master of Roster.'  
Justice Bhushan, who penned a separate concurring judgment, said the "rich conventions and practices of the Supreme Court which are time-tested" should not be tinkered with.  
In January 2018, CJP had carried
reports
of how the CJI allocating all the power to himself could hamper the justice system. In January, Four of the five senior-most judges of the Supreme Court – Justices J Chelameswar, Ranjan Gogoi, Madan Lokur and Kurian Joseph – in a letter to Chief Justice of India Dipak Misra expressed concern on certain judicial orders passed by the top court which has "adversely affected the overall functioning of the justice delivery system."  
CJP
reported
that "The judges have—months after the issue has been festering– literally blown the lid off a growing rift with Chief Justice Dipak Misra. The explosive statements were made at a press conference "The four of us are convinced that unless this institution is preserved and it maintains its equanimity, democracy will not survive in this country," Justice J Chelameswar said on the lawns of his residence. He is the second-most-senior judge of the Supreme Court. Being pushed to the wall, the four senior-most judges after the CJI, said that their concerns include cases of far-reaching consequences" being allocated without transparency. They made available a letter written by them to the Chief Justice two months ago, alleging "selective assignment of cases to preferred judges" and that "sensitive cases were being allotted to junior judges."  
"Justices J Chelameswar, Ranjan Gogoi, Madan Lokur and Kurien Joseph said repeated attempts to alert the Chief Justice to their concerns – including a meeting with him this morning – had failed to make any progress which is why they decided to voice their complaints publicly," the report added.  
"In his petition, Shanti Bhushan had sought, inter alia, that the power to list matters be shared with the senior-most judges of the Supreme Court, contending that the Master of Roster power "cannot be unguided and unbridled discretionary power, exercised arbitrarily by the Hon'ble Chief Justice of India." It was also claimed by him that the manner in which politically sensitive matters were being listed before select judges was a violation of the Supreme Court Rules, 2013 and Handbook of Practice and Procedure, 2017,"
reported
News18.  
Read Also-
Procedure not Privilege, Assigning Cases in the SC Roster
Guardians of Democracy: 4 judges openly challenge Nepotism in the SC
All Is Not Well within the SC & this needs Correction: Kamini Jaiswal
"We agree with the 4 most senior SC judges": Open letter to CJI by 4 retired judges
MPs submit petition for Impeachment of CJI Dipak Misra