A week after the 
grievous attack
 on Swami Agnivesh, 
a report by Indian Express
 reveals that attackers have, in turn, blamed the Swami and his supporters for instigating the attack. District chief of Bharatiya Janata Yuva Morcha (BJYM), Prasann Mishra
said
, "The problem started when people, armed with bows and arrows, arrived in 10 vehicles to take Agnivesh to the function venue. They started to push and pull, which led to the incident. We believe that Agnivesh's supporters orchestrated the incident."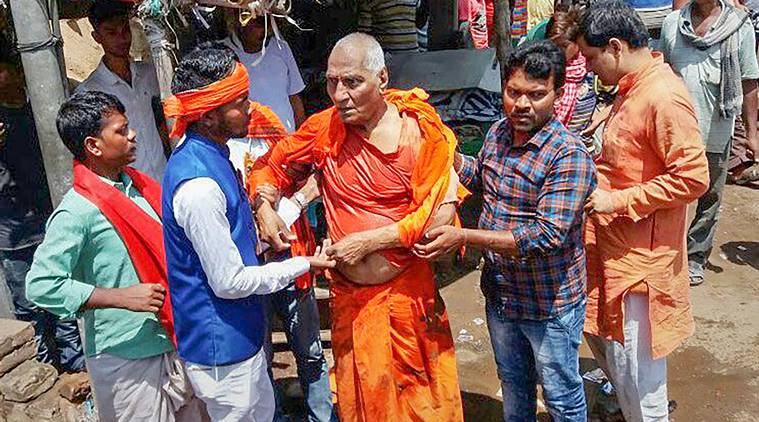 This is not surprising, given how most 
attackers seem to belong
 to right wing organisations such as BJYM, Bajrang Dal or Rashtriya Swayamsevak Sangh (RSS).   
Shockingly, when the Sabrang India team reached out to the DIG Rajkumar Lakda of Dumka, Jharkhand, where the FIR has been registered, he confirmed that none of those named in the FIR have been arrested yet. "There have been no arrests so far", he said. When the team asked him about the reasons as the FIR clearly named people, he maintained a callous attitude saying, "Yes, the FIR is named, but unfortunately there have been no arrests yet. We need to review this [the delay in arrests]." The FIR was lodged by one 
Jai Malto
, who had gone to Pakur to pick up Swami. He too got attacked in the chaos that ensued.  
Hours after Swami Agnivesh was attacked in Pakur town of Jharkhand, where he had gone to attend a program with the Paharia tribe, BJYM's state chief Amit Singh 
said that
 no one from his outfit was involved in the attack. The
BJYM
was staging a protest at the venue of the program.     
Why is Swamy Agnivesh a thorn in the side of Right Wing ideologues? 
It appears that Swami Agnivesh's mass appeal and outreach among Adivasis and his clear bold stand against the farcical promises of the government, have earned him the wrath of right wing Hindutva extremists. Swami Agnivesh's outreach work has been recognised across the world and he was 
awarded
 the Alternative Nobel Peace Prize (The Right Livelihood Award) in 2004.  
Though born in a Brahmin family, 
he shed
 his caste, religion, name, and all his property and belongings "to adopt the life of a renunciate" and devoted his life to social justice. He has worked for the rights of bonded labourers, inter-generational labor, child labour and even contributed to the law making processes. He has also advocated for the rights of indigenous people and worked to eradicate alcoholism, violence against women, female foeticide and other social problems.  
In any region that Swami Agnivesh worked, he earned a lot of trust of local people through his genuine and selfless work. More recently, he also extended his support to the
 Patthalgadi
 movement taking place in many areas of the country. He is also known for calling a spade a spade and
has critiqued religion and religious practices
. He has advocated a path of science and reason. It just appears that his reasoned stand hasn't gone down well with the advocates of Hindutva ideology who are using Hindutva as a political ploy.  
This kind of frustration is apparent in the statements made by those who have been named in the FIR. This is 
the list of people
 who have been named in the FIR (as per the Indian Express report):  
Anand Tiwari:
 A member of the state BJP's Kisan Morcha, according to a local office-bearer of the party. A farmer based in Sahebganj, Tiwari also runs an NGO.
Pintu Dubey:
 District convenor of Bajrang Dal, Dubey runs a small business, said a BJYM office-bearer.
Ashok Prasad:
 Was recently elected ward councillor in Pakur town.
Prasann Mishra:
 District chief of BJYM. Mishra said he has been associated with RSS since childhood, and runs a small business in medical supplies. He is also on the Senate of the Siddo-Kanhu Murmu University run by the state government.
Gopi Dubey:
 District BJP secretary. He undertakes civil contract work, said a local BJP office-bearer.
Balram Dubey:
 A BJP worker, works as a civil contractor, according to a party office-bearer.
Badal Mandal:
 RSS member, not involved in active politics, said BJYM's Mishra.
Shiv Kumar:
 RSS member, not involved in active politics, said BJYM's Mishra.  
Prasann Mishra made a vague statement about the Swami, alleging he was Naxal supporter, he said, "
Agnivesh has been constantly issuing statements that are against the true spirit of nationalism. He supports Naxals. He gives statements in support of patthalgarhi, which has been twisted from its original purpose to a form of resistance against the state. Agnivesh had come here to instigate tribals at the behest of agents of the Church." He added that they were carrying black flags and that they didn't initiate the attack. "The problem started when people, armed with bows and arrows, arrived in 10 vehicles to take Agnivesh to the function venue. They started to push and pull, which led to the incident. We believe that Agnivesh's supporters orchestrated the incident," Mishra said.   
On the other hand, Ashok Prasad completely
washed his hands
off any responsibility though his name appears in the FIR. He alleges that he was named in the FIR due to reasons of personal anger and claimed that his name didn't appear in any photos or video of the attack.   
Sudip Trivedi, BJP's district media in-charge, 
alleged
 "Agnivesh and his supporters created a situation where BJYM and others associated with the Sangh Parivar could be accused of assaulting him."  
However the local leaders of these right wing outfits are not the only ones making such statements. Just a day after the attack, instead of taking cognisance of such a serious and vicious assault on this defender of human rights, an 80 year old man, Jharkhand state's urban development minister, CP Singh said that Swami Agnivesh was a 
"fraud" and a "foreign agent"
Swami Agnivesh recalls the attack
Describing the attack on him, Swami Agnivesh 
said
, "I couldn't believe my eyes. A menacing crowd of 100 and 150 people just pounced on me. I folded my hands, but they were so angry, they were shouting nasty abuses, hurling mother-sister abuses at me. They hit me, punched me, kicked me, and threw me to the ground. When I was on the ground, they climbed on top of me and kicked me. They tore my clothes and threw my turban on the ground. I was shell shocked. It all happened in a few minutes. I thought it was the end. I was prepared to die that day. It was a typical lynch mob. Someone was saying '
gau-maas ke samarthak, Bharat chodho
' (supporter of cow flesh, leave India). I have never supported beef. The dominant slogan was Jai Shri Ram, Jai Shri Ram."  
Swami Agnivesh believes that actually it is the PM Modi 
who has given the legitimacy
 for such lynch mobs, "I blame Modi, Amit Shah, his regime, the state governments under the BJP and the central government, for building this hate mongering campaign and spreading this polarization. I blame Modi for the attack on me because he has been promoting these hate mongering forces, directly or indirectly, and trying to play up hardcore Hindutva politics, and that is why it has come to such a pass."  
Following the attack, 
many sections of democratic and progressive individuals
 and groups came together to register their anger over this vicious assault.