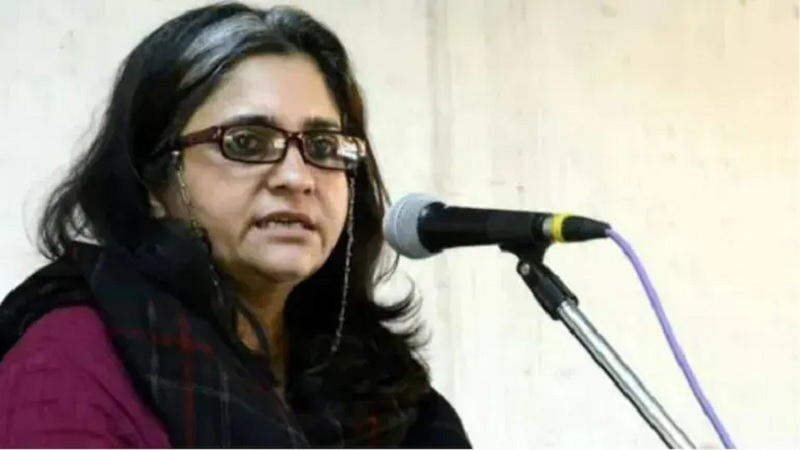 Image Courtesy: indiatoday.in
Human rights defender Teesta Setalvad has moved court seeking bail in connection with the trumped-up charges of forgery and conspiracy levelled against her by a vindictive regime, in wake of the Supreme Court's remarks about her in the Zakia Jafri case judgment. Her bail plea will now be heard on Friday, July 8.
Readers would recall that on June 25, just a day after the judgement was delivered, a unit of the Gujarat Anti Terrorism Squad (ATS) had barged into Setalvad's ancestral bungalow in Mumbai and whisked her away to Ahmedabad after a brief pitstop at the Santacruz Police Station. In fact, it was here that Setalvad had filed a handwritten complaint against two ATS officials for physically assaulting her.
Setalvad was formally arrested on June 26, and the metropolitan magistrate's court had remanded her to police custody. When she was next produced before the court on July 2, the police said they did not need her further custody and Setalvad was remanded to judicial custody and sent to the Sabarmati Jail pending bail.
On July 6, Additional Sessions Judge DD Thakkar admitted Setalvad's plea for regular bail. Former Gujarat Director General of Police (DGP) RB Sreekumar, who is also an accused in the case, had also moved court for bail on July 5. The court has now issued notice to the State seeking response and scheduled both bail hearings on July 8.
Both Setalvad and Sreekumar have maintained that the charges of forgery, criminal conspiracy etc. against them are completely baseless and no case can be made out against them based on these charges.
In fact, many legal luminaries, activists, journalists and now even former civil servants have concurred that the arrest is just an example of vendetta. While some have even urged the Supreme Court to suo motu clarify if the court intended for Setalvad and the whistleblowers to face prosecution when it made remarks about them in the Zakia Jafri judgment, the Constitutional Conduct Group (CCG) has gone a step further, and urged the court to withdraw those remarks.
Related:
Review order and withdraw observations against Teesta Setalvad and whistleblowers: CCG to SC
Gujarat court remands Teesta Setalvad to judicial custody
Suo motu clarify Zakia Jafri case judgment's intention to not prosecute Teesta Setalvad: Citizens to CJI