At least 19 students have killed themselves in the last week, since the Telangana Board of Intermediate Education (TSBIE) released examination results for class XI and class XII on Thursday, April 18. Three students committed suicide in 24 hours, over April 24-25, the Times of India reported.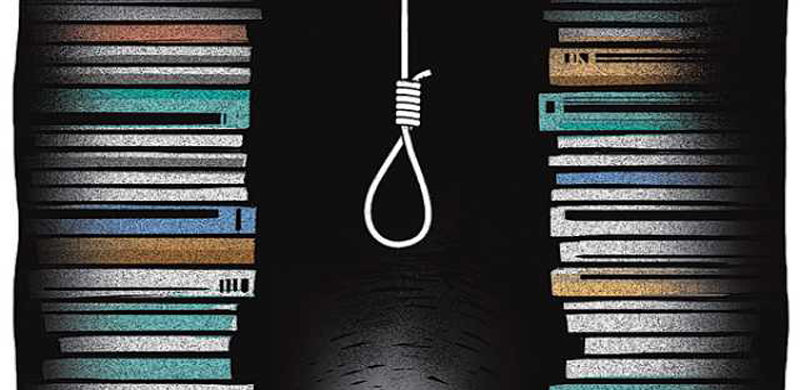 The release of the results prompted widespread protests by students and parents, who have alleged that the results are riddled with errors. Per The News Minute, "Students quickly discovered that
some had received abysmal scores
, despite topping those exams on previous occasions, and others had been marked absent despite appearing for the exam." In some cases, students
received high marks in other subjects, but failed in one or two subjects
, prompting student and parent bodies to call for justice, ANI noted, adding that some students said that they
performed well in their first-year exams, but that their scores declined
in the final year. 
"My child is
a brilliant student but he failed in two subjects
. There are some errors in the evaluation process. We want justice for our children," said Mohamed Abdul Mohsin, a parent, to ANI. Nizama, a student, said, "In the intermediate first year, I
got 90 percent but got only 60 percent marks in the second year
. I did not get admission to any other college due to my low marks. I demand the government to re-check my papers free of cost". G Nagendra, a student of Narayana College, was among those students
who committed suicide, hanging himself after he failed his Mathematics
exam.  "We could not believe that
he failed in Maths, his favourite subject
. He became withdrawn and refused to eat. But we never thought he would take his life," his father, G. Vivekananda, told the Indian Express.
N. Narayana, the president of the Telangana Parents' Association, informed the Indian Express that due to technical errors in the evaluation system,
high-performing students received just five or ten marks in some subjects
, and several hundred were marked 'absent', even though they sat the exams. "There were technical glitches in the software deployed by Globarena Technologies. When the results were declared,
the company admitted there were glitches but said they had been rectified.
Now it appears the whole process was full of mistakes. Unfortunately, due to these mistakes, students who failed are taking their lives," Narayana said. One parent, Vishuvardhan Reddy, told the Indian Express, "Students who
scored over 95 per cent in Class XI have failed in Class XII.
We can understand if these brilliant students scored less than last year, but failing in one or more subjects raises questions". 
G Navya, a student from Telangana's Mancherial district, initially received zero marks in Telugu,
despite leading the district with 98 marks in her first year
, The News Minute reported. After her story was highlighted by a Telugu newspaper,
her result was re-verified, and she was awarded 99 marks
. The Indian Express noted that
this development intensified the protests
on Wednesday, April 24, adding that Narayana said, "Navya's case strengthens suspicions that the system was hit by errors most students have been failed or marked absent due to blunders. The government must set this right". 
On Monday, the Congress wrote to Telangana Chief Minister K. Chandrasekhar Rao calling for the TSBIE secretary
to be suspended due to "callous and corrupt practices,"
and also sought Rs. 25 lakh compensation for the families of the students who had killed themselves, ANI reported. Per India Today, some members of the Akhil Bharatiya Vidya Parishad (ABVP), the student wing of the Bharatiya Janata Party (BJP), also
staged a dharna outside the BIE office
in Nampally. 
On Tuesday, prompted by a public interest litigation by the Telangana Parents' Association, the
High Court directed the TSBIE to re-evaluate the papers of the students who had failed
, the Indian Express reported, adding that Telangana's education department told the court that this would take at least two months, and that response would be submitted after talks were held. An
investigative team has been established
to ascertain if Globarena's system had technical glitches. 
Following several days of protests, KCR
held a review meeting
on Wednesday, April 24. The state's education minister, G. Jagadish Reddy, and education secretary, B. Janardhan Reddy, were among those present. A statement issued by the Telangana CMO said that
KCR directed officials to conduct free re-evaluation and recounting
of the results of the students who failed the exams, The News Minute reported. 9.74 lakh students appeared for the exams, of which 3.28 lakh have failed. 
Per The News Minute, KCR also "reportedly questioned the officials regarding
the process of selection of agencies that were outsourced for data
and result processing in the exams," and was told that
tenders were solicited through an e-procurement process
, with the company offering lowest price being chosen. The officials also claimed that experts had assessed the company (Globarena) before contract was given, and that all norms had been followed. However, The News Minute pointed out that
concerns regarding process
through which Globarena was selected have recently been raised, with Congress national spokesperson Sravan Dasoju
accusing the TSBIE of breaching multiple norms
. One official told the Indian Express, "Globarena failed to implement Examination Automation Work of JNTU, Kakinada in 2015
due to which lakhs of students faced immense hardship
. JNTU filed a police complaint against Globarena. In spite of this, Telangana government awarded the contract to the firm and it has again done a shoddy job due to which 18 students committed suicide".
Globarena Technologies' CEO,
VSN Raju, said
, "We got this order
through the tender process
. They were two companies that competed with us. However, during the technical presentation we fared better and scored T-1. We even won the financial bid," per The News Minute, which noted that Raju reportedly has
close ties with former Telangana education minister
Kadiyam Srihari. Raju said, "I didn't get this contract through anybody's recommendation." He highlighted that Globarena has been in the industry for two decades, and served 26 boards and universities. Per the Indian Express, he has
denied that there were widespread errors
in the system, and said minor issues were corrected, saying, "We did not commit any large-scale blunder as is being alleged".