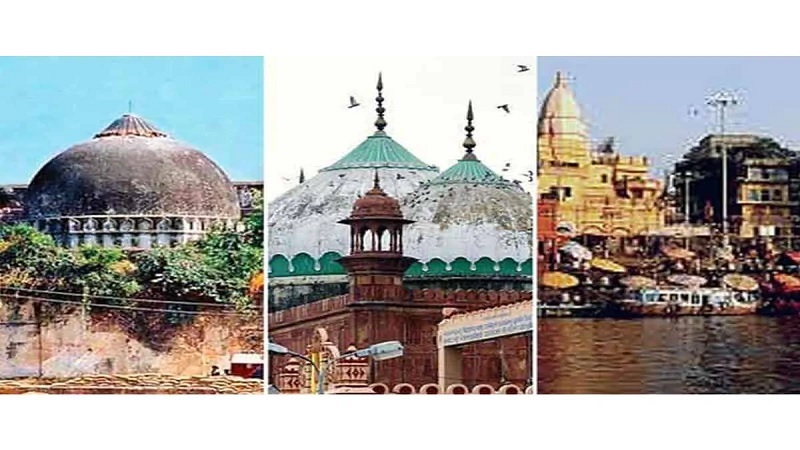 At the time of publishing this report, there are at least three temple-mosque disputes being heard in court: Kashi Vishwanath temple – Gyanvapi mosque dispute, Katra Keshav Dev temple – Shahi Idgah dispute (Krishna Janmabhoomi), and the dispute surrounding the Qutub Minar.
This is just weeks after the Lucknow Bench of the Allahabad High Court disposed of a petition to open the locks of rooms in the Taj Mahal that has spawned fan-fiction about being a Hindu temple called TejoMahalay.
But every day new controversies are cropping up every day. In fact, KS Eshwarappa, a Bharatiya Janata Party (BJP) Member of Parliament (PM) from Karnataka has announced just today i.e May 27, that thousands of temples will be "reclaimed" across the country. India Today quoted him as saying, "36,000 temples have been destroyed and masjids were built over it. Let them build mosques elsewhere and offer namaz, but we cannot allow them to build masjids over our temples. I am telling you, all the 36000 temples will be reclaimed by Hindus and legally."
The hardline groups behind the various petitions and claims appear to have been emboldened after the Supreme Court judgment in the Ayodhya dispute case. In fact, their agenda has been clear since the immediate aftermath of the Babri Masjid demolition on December 6, 1992.
Communalism Combat, a precursor to SabrangIndia, had compiled a list of such allegedly disputed sites that hardliners had started training their guns on at that time in a piece titled Hindutva's Hitlistpublished in May 2003.
Here are a few more recent examples of temple-mosque disputes being raked up by vested interests in pursuit of a divisive agenda.
Jogulamba Temple – Hazrat Shah Ali Dargah, Telangana
The Jogulamba temple located near the confluence of the Krishna and Tungabhadra rivers along the Andhra Pradesh Telangana border, is one of the 18 shaktipeethas in India. It isbelieved to be the site where Sati's teeth fell after her husband, Hindu deity Shiva, driven into a rage by her self-immolation, dismembered her corpse, according to Hindu mythology.
The original temple was built in the 7th Century by Badami Chalukyas, butwas allegedly razed by Bahamani sultans in 1390. The temple was rebuilt. There is a dargah of Hazrat Shah Ali inside the temple, and now local Bharatiya Janata Party (BJP) leaders are demanding that the non-Hindu structures be removed from the temple premises. According to Deccan Herald, T Raja Singh Lodh has asked the Chandrashekhar government to remove the dargah, "or else BJP willdothe needful after forming the government in 2023." This is, in fact, the most blatant example of temple-mosque politics being used as a poll plank.He has also written to the Archeological Survey of India (ASI) complaining that the "dargah appeared suddenly," and that it was an "encroachment".
Kindly look into the matter at the earliest @TelanganaCMO @TelanganaDGP and remove Non-Hindu religious construction in the ancient Jogulamba Shakti Peetham premises in Gadwal district, Telangana. pic.twitter.com/rJSXEp3zdW

— Raja Singh (@TigerRajaSingh) May 18, 2022
Readers would recall that T Raja Singh, Member of Legislative Assembly (MLA) from the Goshamahal Assembly of Hyderabad, Telangana, is not new to creating such controversies. In February 2022, a video of him threatening Uttar Pradesh voters with dire consequences if the Adityanath-led BJP government is not re-elected, began circulating on social media. He was heard and seen warning the voters that if they do not vote for a "Yogi-government" then their houses will be identified and destroyed with bulldozers and JCBs.
In 2020, Raja Singh was among the central figures named in an August Wall Street Journal report that claimed Facebook ignored hate speech by BJP leaders to protect its business interests in India. By March 2021, they concluded Singh not only had violated the company's hate-speech rules but qualified as dangerous, a designation that takes into account a person's off-platform activities. They took down his account, but he reappeared using another unverified account. The post about the Jogulamba temple was made on his verified account on Twitter,that is now owned by "free-speech absolutist" Elon Musk, who just announced that he will vote Republican and is widely believed to be open to reviving Donald Trump's Twitter account.
In fact,Citizens for Justice and Peace (CJP)had been tracking this serial hate offender for two years previously. In 2019, our HateWatch programme had analysed how one elected official of the influential ruling BJP party from a state in the south, Telangana amplified a rumour and added his own hate-filled speech on Facebook where he had half a million viewers. A year earlier, he had called for a vicious economic boycott of "terrorist Kashmiris" during the Amarnath Yatra on a video that has been viewed 3,00,000 times.
Dargah of Moinuddin Chishti, Ajmer
The Maharana Pratap Sena (MPS), a Hindutva outfit has demanded a survey of the mausoleum of the dargah of Sufi saint Moinuddin Chishti, claiming that it was once an ancient Hindu temple and symbols related to Hinduism were present on its walls. Moinuddin Chishti was a well-known Sufi saint who was so famous for his commitment to protecting the poor that he was given the title of Khwaja Gareeb Nawaz by the people. Even today thousands of people from all faiths visit his mausoleum each year.
MPS chief Rajvardhan Singh Parmar told reporters, "The dargah of Khwaja Gareeb Nawaz was an ancient Hindu temple earlier. The symbols of Swastika are there on the walls and windows. We demand that ASI conduct a survey of the dargah."
But AnjumanSaiyadZadgan (ASZ), the body of Khadims or caretakers of the mausoleum, has rejected the claims. ASZ president Moin Chishti said, "I am saying this with full responsibility that the symbol of Swastika is nowhere in the dargah. The dargah has been there for 850 years. No such question ever arose," adding, "There is a certain kind of atmosphere in the country today which was never there."
Baba Budhangiri's shrine, Chikkamagalur
Next door in Karnataka, lies the Baba Budhangiri dargah, that has often been referred to as Ayodhya of the South. The 16th Century Sufi shrine is the resting place of Baba Budan, and had for centuries been a symbol of secularism and syncretic faith, being frequented by both, Hindus and Muslims. In 2003, Bajrang Dal members had allegedly attempted to Hinduise the character of the shrine located in the hills of Chikkamagaluru.
The now slain journalist, Gauri Lankesh was part of a citizens' movement along with leading writers and activists, including the late Girish Karnad, who had at the time not just raised concerns about this communally polarising agenda of the right-wing. They had led protests and even been detained/jailed for a night in year 2000. CJP was lead petitioner in the Supreme Court along with the Karnataka KoumuSouhardeVeddike (KSSV) around the assault on the Baba Boudhangiri dargah, pleasing for a strict implementation of the Places of Worship (Special Provisions) Act, 1991.
A year after Gauri Lankesh's assassination (September 5, 2017), members of Vishwa Hindu Parishad (VHP) and Bajrang Dal, once again raised the demand to remove Muslim elements of the shrine that the right-wing sees as a Dattapeetha of Guru Dattatreya. They held a press conference in December 2018, demanding that the Muslim graves be relocated to Nagenahalli instead and a priest be appointed at the Dattapeetha to perform trikaal puja. In fact, in September 2021, the Karnataka High Court quashed an order passed by the state government in 2018, authorizing only the Muzawar appointed by Shah Khadri to perform daily rituals at the sanctum sanctorum of the dargah. According to the New Indian Express, the government order had prescribed religious practices and worship to be followed to distribute 'teertha' to both Hindus and Muslims. The Muzawar was also required to offer flowers to the paduka and light nandadeepa.
"The Article 25 of the Constitution guarantees Freedom of Conscience and free profession, practice and propagation of religion. By the impugned order, the State has infringed upon the right of Hindu community to have the pooja and archana done in the manner as per their faith. Secondly, the State imposed upon the Mujawar to perform 'paduka pooja' and to light 'nandadeepa' contrary to his faith. Both these acts amount to flagrant violation of rights of both communities guaranteed by Article 25 of the Constitution," said the court.
Ladle Mashak Dargah, Karnataka
It is no secret that Karnataka has seen a huge spike in right-wing activity since then, and Muslim places of worship continue to be in their cross-hairs. Take for example the case of the Ladle Mashak Dargah in Aland in Kalaburagi district. Dargah authorities had planned a procession and Shab-e-Barat, a religious congregation in remembrance of the deceased, on March 1. Right-wing organisations also announced they will conduct a 'purification puja' to a Shivalinga located in the dargah premises. It was also the occasion of Mahashivaratri, which the Sri Ram Sena insisted was the day they must perform their 'purification' ceremony.
As a precautionary measure, Kalaburagi Deputy Commissioner YeshwanthGurukar imposed Section 144 in Aland for five days – from February 27 to March 3. Entry of Sri Ram Sena chief Pramod Mutalik, who was one of the people to have given the call for the 'purification ceremony', and right-wing activist Chaitra Kundapur into Kalaburagi district was barred. Siddalinga Swamy, head of AndolaKaruneshwara math in Jewargi taluk and the State president of Sri Ram Sena, was also barred from entering Aland taluk.
However, a large number of right-wing activists, including members of the ruling BJP and the Sri Ram Sena, gathered in Aland despite these orders. Chaos ensued, and as per local media, arrests followed, mostly of Muslims. Locals Muslims from the Ansari clan, some of whom claim to have descended from the Pir estimate that as many as 165 Muslim men were arrested.
Pirana Dargah, Gujarat
Meanwhile, in Gujarat, the 600-year-old Pirana dargah, the shrine of Imam Shah Baba, a figure revered by Muslims, Hindus and others for centuries, has become another target of right-wing groups. In late January – early February 2022, there was tremendous unease among local Muslims when a wall was constructed between the dargah and the mosque next to it by the trust that manages the complex that they insist actually hosts a Satpanthi temple, effectively cutting of access to the dargah for Muslims.
Pirana, in Daskroi taluka of Ahmedabad district lies just 25 km away from Ahmedabad city, and the dargah is visited by devotees from both communities and is a symbol of peace. The complex houses the dargah of the Pir, a mosque and a graveyard. The restriction of access was seen as a deliberate act of aggression by local Muslims who held a mass-migration march in protest. 133 people including 64 women were detained for this protest, though released later. But the trust later also allegedly installed idols inside the shrine and planted saffron flags.
According to AzharSaiyyed, one of the descendants of the Pir, who lives in Pirana, there was a programme by the Rashtriya Swayamsevak Sangh (RSS) from March 1-17, and on March 19-20, there was another program by the Vishwa Hindu Parishad (VHP) and Bajrang Dal. Entry to the dargah was restricted to all other people during this period. He told SabrangIndia, that this decision had been informed beforehand by the dargah committee, and the villagers wanted to maintain peace, so they did not object to it. However, when they visited the shrine to mark Shab-e-Barat they saw that there were statues of Hindu gods installed in the dargah compound!
"Even the gaddi (seat) of Imam Shah Baba was broken and a statue they say is of him was placed there," recalled Azhar. Locals shared photos showing a statue of a bearded man installed. A man wearing a saffron cap is seen putting a tilak (Hindu vermillion mark of prayer, reverence or respect) on the statue. However Muslim devotees are aghast that any such statue has been installed, as Islam does not permit idol worship.The Kutchi Patels, who revere this Pir and are identified as Satpanthis, say they do not follow idol worship as a norm. However, a few years ago, when Hindu idols and symbols were painted in the compound, they had called it simple art.
So far, the dargah has only had the grave of the Pir or saint, and the 'seat' marking the place he is said to have sat on, prayed and met people, where respects are paid even now. "Both Hindus and Muslims prayed at this spot in their own ways, usually putting flowers and lighting diyas but there was no statue installed there, no one had ever thought of this. This statue also has a 'tilak' on it now", said Azhar adding, "This installation work has been done illegally in the 17 days when the dargah had been kept closed." Locals say the statues may have been brought in and installed at night, as no one in the village was aware of it.
This is not the first time, matters escalated at the dargah. In wake of the Babri Masjid demolition, slogans like "Ayodhyatohjhankihai, Kashi-Mathura bakihai," were chanted with impunity by Hindutva extremists who hoped to "reclaim" places of worship of the minority community. Citizens for Justice and Peace (CJP) and SabrangIndia's predecessor Communalism Combat had kept a sharp eye on such instances and we later came into possession of a list of such potential sites that included the KashiVishwanath – Gyanvapi mosque complex, Mathura Krishna Janmabhoomi – Shahi Idgah complex and Baba Baudhangiri dargah among others. Which is why our team became increasingly vigilant and when we heard about trouble brewing in Pirana in Gujarat, CJP swung into action.
On November 3, 2011, CJP led several peace activists and human rights defenders to raise concerns surrounding the Pirana Dargah being on the agenda of the Vishwa Hindu Parishad (VHP). That year, the VHP had planned to hold a three-day DharmPrasar Akhil BharatiyaKaryakartaSammelan (or a conclave of volunteers working to spread religion) starting November 5, 2011, a day before Bakr Eid. Local news reports had begun carrying confirmation of the event, and that those attending will be staying in the premises of the Dargah. That the Hindutva stage was often used to spread communal tension, the timing of this gathering was reported as a cause of concern.
The CJP responded quickly to the developing situation, and wrote to Dr. KamlaBeniwal, then Governor of Gujarat alerting her about the "unnecessary and provocative attempts to provoke communal tension within the state of Gujarat" and that concern had been expressed both by local residents and the religious head of the PiranaDarga." CJP feared that VHP's intention to hold the gathering "will be used as an occasion to utter hate speech and generate tension." CJP further said, "The fact that the festival of Bakr Eid falls on November 6-7 makes these intentions of the VHP all the more worrisome and suspicious. It appears as not a coincidence that the timing of the VHP's three-day convention after years of silence comes at a time when efforts of the victims of 2002 and legal rights groups to get justice for the state sponsored violence of 2002."
The letter, signed by human rights defender and peace activists Teesta Setalvad, J.S.Bandukwala, Senior Advocate B .A. Desai, Mallika Sarabhai, Dr. Asghar Ali Engineer, Irfan Engineer, Fr. Cedric Prakash, Hanif Lakdawala, Sophia khan, Sukla Sen, Amita Buch, Ashoke Chatterjee, Adv Kamayani Bali Mahabal, and M K Raina, urged the Governor to act and "ensure that the permission for this is revoked, failing which strict undertakings are taken from the organisers to ensure civilised and peaceful conduct of the proceedings." Similar letters seeking urgent actions were sent to Chittaranjan Singh then Director General of Police (DGP) of Gujarat, alerting him to the brewing situation. On November 4, 2011, the CJP also wrote to Justice K. G. Balakrishnan, the then Chairperson, National Human Rights Commission (NHRC) urging the premier watchdog for the protection of Human Rights in the country, to "issue a Guideline/Directive to the Police/State Government in the first instance ensure that the permission for this three-day convention is revoked, failing which strict undertakings are taken from the organisers to ensure civilised and peaceful conduct of the proceedings. Observers may be delegated to this end by the National Human Rights Commission. Special platoons of the RAF etc. may need to be deployed," adding that it was "a sensitive time for both Muslims and Hindus."
Jama Masjid, Bhopal
On May 20, 2022, a local right-wing organisation named SanskritiBacaho Manch demanded a detailed archeological survey of the Jama Masjid located at Chowk Bazar in Bhopal, claiming it was built on a Shiva Temple. According to the New Indian Express, the group's chief Chandrashekhar Tiwari has met withMadhya Pradesh's home minister Narottam Mishra and submitted a memorandum to this effect. He told the publication, "Next we'll petition the court in Bhopal, seeking survey and excavation in the Mosque to bare the history of the mosque having been built over a Temple called Sabha Mandap."
Tiwari claims his appeal is based on "is based on facts mentioned in the Hayate-I-Qudsi" which is a book on Bhopal's first woman ruler Nawab Qudsia Begum, who ruled between 1819 and 1832. This is not the first time this matter has come up. Previously, HunduDharmSena's Jabalpur-based state president Yogesh Agrawal had also made similar claims. He is the same person who had also demanded that Muslims not be allowed to visit Narmada ghats in Jabalpur.
No temple-mosque-dargah dispute, yet vandalism and violence
Sometimes the aggression is not even related to a temple-mosque conflict. Take for example the case of the dargah of Syed Baba in Fatehpur that was vandalised on the eve of Shab-e-Barat in March 2022. The vandalism occurred in the Rewari Buzurg area that is under Kalyanpur police station in Fatehpur district of Uttar Pradesh. The locals discovered that the revered Syed Baba's tomb had been vandalised at night. The vandals broke the shrine and scratched 'Jai Shri Ram' on the tomb.
Also, in March 2022, a five-decade old Muslim dargah was vandalised, and then painted in saffron by unidentified menNarmadapuram, Hoshangabad district, Madhya Pradesh. According to the shrine's caretaker Abdul Sattar, a few local youths from the village informed him about it early the next morning and he rushed to the spot. "After reaching, we realised that the wooden doors of the shrine were broken open and dumped in the Maru river. Not only the minaret, but also the tomb and the entrance were coated in saffron paint. Furthermore, the hand pump inside the shrine compound was also uprooted," he told the Indian Express.
On May 16, communal clashes broke out in Neemuch in Madhya Pradesh after a group of people tried to install an idol of the Hindu deity Hanuman at a dargah located in the PuraniKachehari area of the city. Stone pelting and arson followed and the police imposed prohibitory orders under Section 144 to control the violence. Police also registered four FIRs in the matter where one Muslim youth was reported injured.
Neemuch is not new to communal violence. In October 2021, 20 masked men had attacked a Muslim shrine and physically assaulted the priest, 59-year-old Noor Baba, accusing him of forcibly converting Hindus to Islam. A man named Razzaq, who tried to protect the pries was also injured in the attack, where the assailants also lobbed explosives to destroy the shrine. Hindustan Times reported that a case was registered against 24 unidentified men under Section 146 (rioting) and 295 (injuring or defiling place of worship with an intent to insult the religion of any class) of IPC.
Then there are cases where there is no vandalism as such, but a show of dominance. Take the case of the HussainiMakan mosque in Karnataka, was in the eye of the storm in March when a rally organized by BJP leader Tejasvi Surya stopped outside it. He was greeted by saffron flag waving crowds, loud DJ music and chants of "Shivaji Maharaj ki jai!" Incidentally this was shared as a video from Karauli where communal clashes broke out around that time, though it was fact-checked and debunked later.
A similar scene unfolded outside the Shahbaz Shah Kalandar Dargah, and 8th Century shrine, also in Kolar. Though these are not examples of temple-mosque politics, these events transpired around the same time as incidents of violence were being reported from different parts of the country when rallies by Hindutva activists passed by mosques in different parts of the country during Ram Navami and Hanuman Jayanti celebrations.
Places of Worship Act, 1991
India has had a dark history dealing with temple-mosque disputes. The Babri Masjid demolition and the subsequent communal riots that followed and have scarred an entire generation of both communities. It was to prevent any such further disputes, the Narsimha Rao government, which was in power when Babri Masjid demolition was carried out in all pomp and show, passed the Places of Worship (Special Provisions) Act, 1991.
The purpose of the law was to prohibit conversion of any place of worship and to provide for the maintenance of the religious character of any place of worship as it existed on August 15, 1947. The law kept the Ram Janmabhoomi-Babri Masjid dispute out of its purview, without citing any reasons for the same but probably because the case was sub-judice at that point in time.
The section 3 of the Act clearly states, "No person shall convert any place of worship of any religious denomination or any section thereof into a place of worship of a different section of the same religious denomination or of a different religious denomination or any section thereof." The objective of the law was clearly to maintain communal harmony in the future.
And despite this, right-wing extremist groups continue to file multiple "temple restoration" suits in different courts. Here's a legal resource to help you better understand the legal stand on temple restoration suits.Thispodcast by CJP's Secretaryalso traces the social and political history that led to the passage of the law.
Related:
Krishna Janmabhoomi: Mathura ADJ directs lower court to hear plea for appointment of Court Commissioner for survey of mosque
Gyanvapi case: Hearing continues on provisions of Order 7 Rule 11 of CPC
The deity has survived for last 800 years: Delhi court reserves order in Qutub Minar case
Wah Taj! Busting the many conspiracy theories about the monument that represents India
Hindutva's Hitlist
Does the law allow "temple restoration" suits?