Delhi: Amidst fears of communal escalation, especially after the demands for arrests by the Vishwa Hindu Parishad (VHP), the Hauz Qazi area witnessed a peaceful Shobha yatra organised by the VHP, with members from both the communities coming together to serve food at the Bhandaara.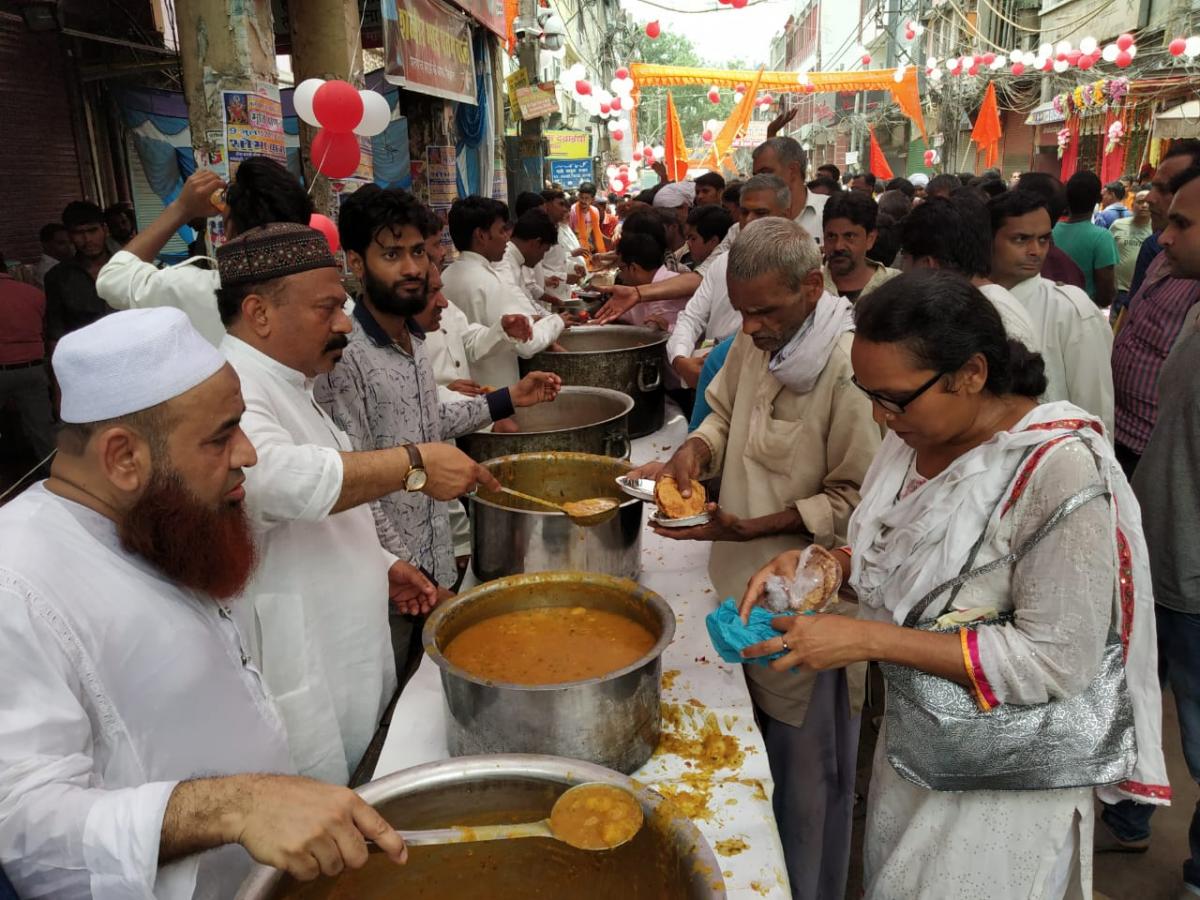 As reported in the
ANI
, the Aman committee, formed after the violence in Lal Kuan in which a temple was vandalised, served food to the Shobha Yatra participants. The residents of old Delhi showered rose petals, offered bottles of water and this gesture at the very beginning of the yatra diffused what could have become a very tense situation. The yatra was organised to reinstall the idols in the temple. In order to keep a check on any untoward incident, considering that the communal tensions were ripe, after a minor scuffle over a parking issue took a communal turn, 91 CCTV cameras, along with audio, were installed in the area.
Senior BJP leader Vijay Goel also joined the Shobha Yatra. Speaking to ANI,
he said
, "A few days back a small scuffle over parking led to heightened tensions in the area. Some people provoked it including AAP leader Imran Hussain. We requested the police to take strict action against the guilty. Arrests have been made in this regard but no action has been taken against Imran Hussain." He further added, "Today's Shobha Yatra was taken out to convey that nobody has the right to cause any kind of damage to any place of worship."
A
clash between the two communities
over a petty parking issue had resulted in stone throwing, with the Durga temple vandalised in the confrontation. So far, the police have arrested seven men and apprehended eight juveniles in connection with the vandalism of the temple. More arrests are likely as search is underway for other suspects. 
Interestingly, a Hindutva activist 
Harsh Chhikara
, who otherwise is known for posting angry and provocative messages,
posted a positive message
and a photo of Muslims serving food, on Facebook. He captioned the photo as "A few miscreants vandalised the temple in Chandni Chowk and now idols are being reinstalled in the same temple. While on the one hand there is a Shobha Yatra going on in Lal Kuan, Old Delhi, on the other hand we see our Muslim brothers serving food in the Bhandaara. This gives a strong message of brotherhood. This is our Delhi, where haters also fall in love."
The efforts of the Delhi police and the Aman committee, consisting of Hindus and Muslims, prevented any communal violence. Also, the joint efforts led to the Muslims agreeing to repair the temple.
Abu Sufiyan, a young resident, recorded the entire procession, interviewed key persons and uploaded the videos showcasing communal harmony on social media. This extensively helped in rebuffing any rumours that could have instigated communal tensions. Sufiyan diligently videographed the efforts for peace, while the eight member peace committee worked with the police to ensure that no spark was ignited by mischief makers.
Sufiyan said, "When the trouble began we all really felt the need for political leaders as we had no idea what to do. But now that the people here have taken over, we are actually happy that none of them came here. They would have only complicated matters and perhaps made the situation very tense. Instead the residents took over and have shown the country the power of the people in what was a very exacting and tense situation that went out of hand, but was immediately brought back in control."