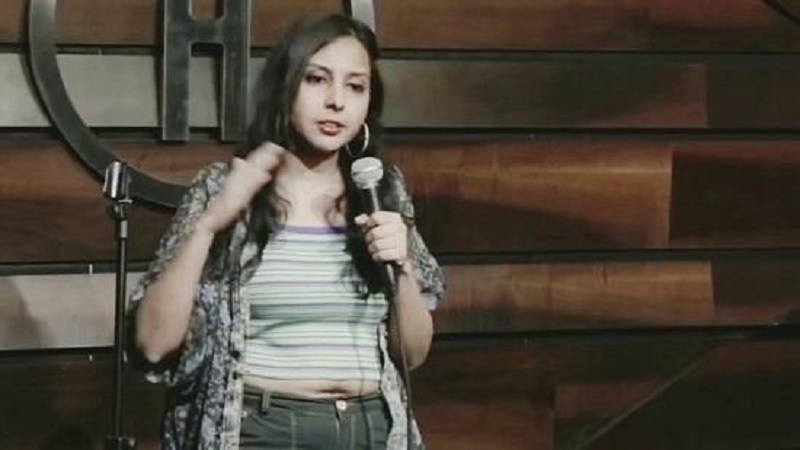 Image Courtesy:indiatimes.com
It all started with the vilification of comedian Agrima Joshua. The rape threats and verbal abuse aimed at her for joking about the misinformation surrounding the statue of Shivaji Maharaj, that she encountered on a QnA platform by one Shubham Mishra, opened the floodgates for hatred for right-wing trolls who followed in his footsteps and unleashed an organised attack against her on social media, forcing her to apologize for her video and take it down from all platforms.
The pattern of hate spread by right-wing trolls has now become very predictable and racial slurs, communal slurs, rape threats and threats to life are all part of the mix. A look at the trolls, their armies and affiliations will show that they have appointed themselves to be gatekeepers of nationalism.
Abuses and apologies
Recently, the government of India banned 59 Chinese apps, including TikTok which was a means of income to thousands in India. The move was lauded by many as a fitting answer to the Chinese government, currently with whom there is an ongoing conflict at the LAC. However, when stand-up comic Kenny Sebastian questioned the apathy coming in from some because the ban didn't affect them directly, he was trolled and subject to communal slurs where he was called a 'rice bag convert' – a derogatory term used by some right-wing Hindutva followers to shame Christians saying that they don't follow the religion due to their religious belief but have converted for the proposed benefits that come with following a religion.
Fir tum jaise dimag se paidal L**** ko anti national bolo toh haay tauba macha dete ho. Abe rice bag ki dukaan, National security in tiktokiyo ke thumko se zyada important hai. Kabhi toh dimag chala aur kabhi toh hate ki patti aankh se hata ke tweet kar.

— Madhur (@ThePlacardGuy) June 30, 2020
After Joshua was villified, more comedians came forward to issue apologies after being targeted by trolls, reported Scroll.in.
On July 14, comedian Sahil Shah saying that years ago when he had centred a joke on Shivaji Maharaj, he didn't know it would offend people and hurt their religious sentiments. Sahil was called a 'jihadi' by a Twitter handle called 'The Hindu Voice' and followers of this handle had tagged everyone from the CM of Maharashtra to the cyber cell and MNS officials to take action against him.
Another stand up comedian and a jih@di, Sahil Shah, mocking at a great warrior #ChhatrapatiShivajiMaharaj in a stand-up comedy show. How these so called comedians mock, defame and target particular community, Why these pathetic comedies being repeating?
We strongly condemn this.. pic.twitter.com/do8hyRKGmb

— The Hindu Voice (@the_hindu_voice) July 12, 2020
Tweeting, Shah apologised profusely for the same and said that he would make responsible comedy in the future.
If I've offended anyone's sentiments please accept my humble apology.@CMOMaharashtra@authackrey@AnilDeshmukhNCP@nitinraut593@RajThackrey pic.twitter.com/Jemg7bIoQ7

— Sahil Shah ?? (@SahilBulla) July 14, 2020
Soon, comic Aadar Malik too released a video apologising for an 8-year-old video which had been dug up to target him. People questioned him for making jokes on Hindu gods but not on other faiths questioning whether the Indian minority would tolerate the same.
Hello Aadar Malik (@TheAadarGuy),

How does this cheap, crass act denigrating Ganpati Bhagwan and his devotees qualify for comedy? Are you trying to impress Zakir Naik, Akbaruddin Owaisi or some high on bigotry dude offering imaginary hoors?

Be ready to face legal action. pic.twitter.com/2sYqjInuwp

— Sonam Mahajan (@AsYouNotWish) July 13, 2020
Why jokes on Hindu deties only but not on Sharia or other faiths? Will Indian minority tolerate?

Comedians feared that they don't want to be next Kamelsh Tiwari?

Aadar Malik mocks Shiva? pic.twitter.com/YfF6Nb6W1o

— Priya Kulkarni (@priyaakulkarni2) July 14, 2020
In his video, Malik said that there was a lot of hate he was receiving on social media, including threats to his family and that it had become a very scary atmosphere to live in.
If my actions and words have hurt anyone's sentiments, here is my sincere apology. @CMOMaharashtra@authackrey@AnilDeshmukhNCP@nitinraut593@RajThackrey pic.twitter.com/NVH0YesZz8 pic.twitter.com/HZ0nRt69VV

— Aadar Malik (@TheAadarGuy) July 14, 2020
Rohan Joshi, one of the co-founders of the former comedy group AIB too put out an apology on Instagram after he too was targeted.
I need the number of Rohan Joshi, that misogynist creepozoid who used to tweet under the handle @mojorojo. Please DM if anyone has. This is for legal action.

— Shefali Vaidya. (@ShefVaidya) July 13, 2020
Saying that he was going offline for a few days and that his number and address had been leaked. He mentioned that the last few days had been a circus of abuse, threats, 2 A.M calls and anxious spirals. Apologising for offending anyone's sentiments, he pleaded for his family to be left alone.
In the same vein, comedian Azeem Banatwalla for his tweets made many years ago and said that while he was not looking to make an excuse, people had been pouring the vilest of Islamophic slurs at him.
It has come to my attention that many people have been upset and offended by tweets I have made many years ago. For that I would like to apologise unreservedly. Many of these were before I even starting doing comedy, but that does not excuse the fact that they were not acceptable

— Azeem Banatwalla (@TheBanat) July 14, 2020
Comedian Sapan Verma too apologised for a wrong, immature and distasteful tweet.
Hello. I had posted this back in 2015 and immediately deleted it and apologised for it because I realised it was wrong, immature and distasteful. I am truly sorry once again to anyone who may have been hurt by this. https://t.co/5DrDxEehlK

— Sapan Verma (@sapanv) July 14, 2020
Throughout these attacks, one thing was common – comedians were accused of being anti-Hindu. However, in bid to bust that narrative, comedian Abijit Ganguly took to Twitter to point out that branding all comedians as anti-Hindu was wrong because no content of two comedians was alike.
Comedians and Hinduism Narrative.
1/4 pic.twitter.com/t5a7Clcnz3

— Abijit Ganguly (@AbijitG) July 14, 2020
Comedian Saurav Ghosh was recently brutally beaten up with a helmet for making a joke on confusion arising about which airport people had to report to due to both airports being named after Shivaji Maharaj.
The comedians also faced open threat to their safety with some comparing them to hate offender Kamlesh Tiwari who had made controversial remarks against Prophet Muhammed in 2015. He was allegedly shot at in his home in 2019. Now right-wing trolls are comparing comedians to him and demanding that Hindus show their intolerance towards them.
Still Hindus are Intolerant browwww ?

Share this to expose hypocrisy! pic.twitter.com/bAn9fV7Ol7

— The Random Indian (@randm_indianguy) July 16, 2020
Comedians like Vir Das also put out sarcastic videos targeting the outrage towards stand-up comics, pointing out how there were a selective number of people focusing on digging up instances of offensive comedy instead of questioning the more pressing topics.
Stop offensive and abusive comedy. It is not easy to take a stand against a community of peers I love, but comedy has become way too offensive. pic.twitter.com/8G6Qf9y7h6

— Vir Das (@thevirdas) July 11, 2020
In response to trolls and abusive misogynists, a group of female comedians too put out a sarcastic video titled 'Women Finally Apologist For Everything', to show the continuous vilification they suffered at the hands of those sitting behind keyboards and issuing open rape threats with impunity.
A political pattern to the organised abuse?
Speaking with Scroll.in, Ravina Rawal, editor of DeadAnt, an online publication that tracks the Indian comedy scene said, "Comics have a young, captive audience running into the tens of millions, they have the power to influence new voters and set a narrative. To add to that is the impression that all comics are liberals or lefties."
A pattern observed in all the trolling is that it comes from many who claim to be nationalists and followers of Sanatan Dharm or are affiliated to the right-wing. All of these trolls have dug up old videos of comedians and tagged the MVA Maharashtra government to take action against them, even though the videos were made during the time of the previous government. One can question if this too is in a bid to pressure the current state government to prove their affiliation towards the majority community and move away from the liberal image it is trying to create by connecting with the youth in its causes.
This could be the reason why the Maharashtra government, even while issuing an inquiry against those who threatened Joshua, also said that they would review her video too. Instead, the government should look at the above evidence and stop this targeted hate campaign, stop people from taking law into their own hands and curb the anarchy that is ready to brim over.
Nobody could've fathomed that comedy and laughter would become resistance movements in India. With comedians being increasingly targeted, especially for their jokes revolving around politics, it is now to be seen if comedy as a form of resistance will take a more defined shape or be hacked out by right-wing guards of nationalism.
Related:
Why social media sites must exercise social responsibility and nip hate speech in the bud