Shujaat Bukhari's Assassination a Sinister Warning to the Media Fraternity. Journalists vow to not be cowed down at the shooting down of Editor, Rising Kashmir.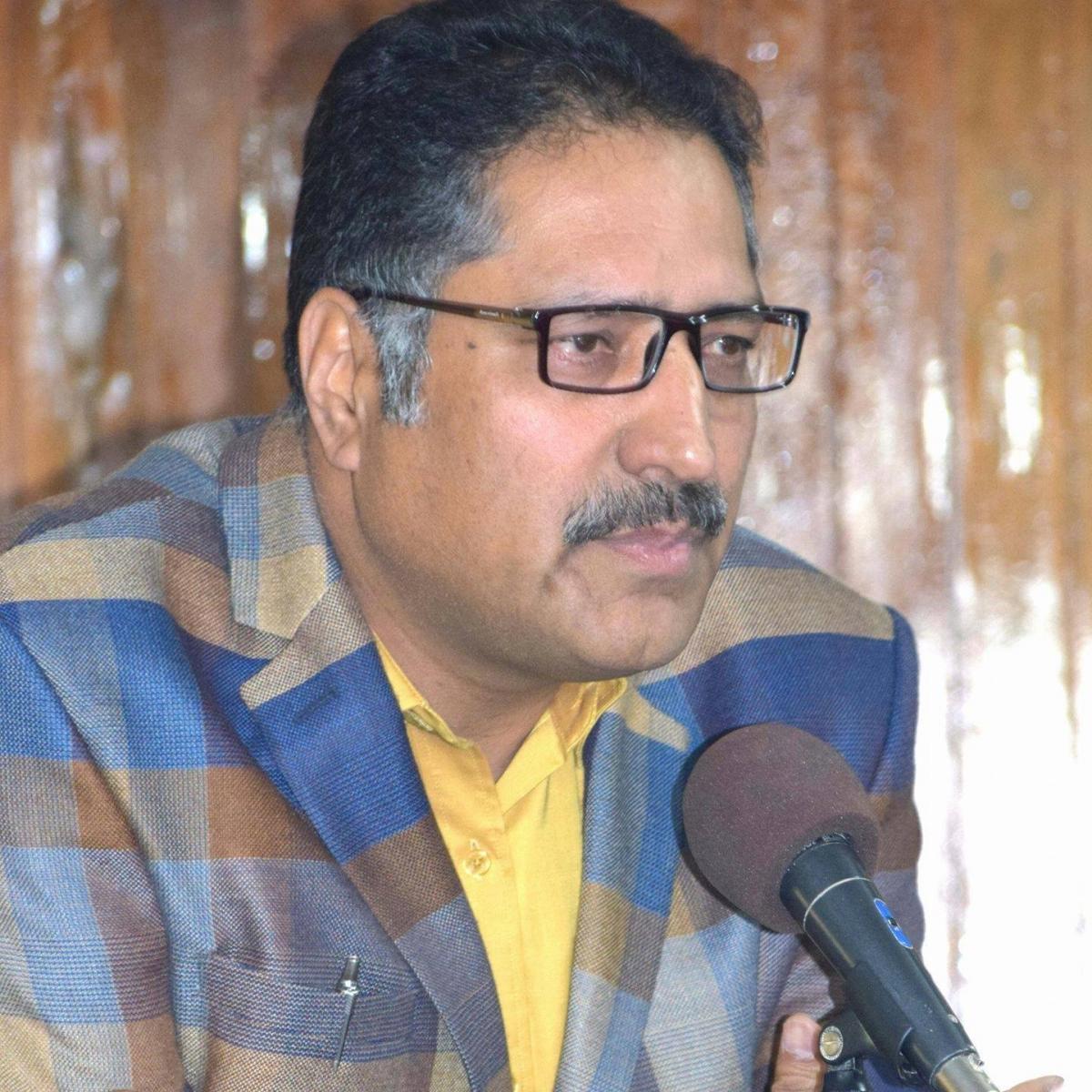 People in Kashmir
and journalist fraternity world-wide have been shocked at the assassination of Shujaat Bukhari, a veteran journalist and the editor of
Rising Kashmir
, the Kashmir based newspaper. He was killed by '
unknown gunmen'
on June 14 evening as he was coming out of his office in Press Enclave, at the heart of Srinagar in Jammu and Kashmir. Two of his security guards were also killed in the same incident.

So far
no militant organisation
has claimed responsibility for his death.
He was killed merely hours after the UN's human rights office
announced
the findings of a first ever human rights reports on the state of Jammu and Kashmir, in which the UN called for an independent inquiry into human rights violations in both parts of Kashmir, administered respectively by India and Pakistan. Analysts, including Shujaat Bukhari believed and expressed on various platforms that the report had significant implications for human rights conditions in the valley as it was for the first time an international body had recognised the deep distress within the valley and recommended the independent investigation.
A journalist of the people
As the news of his death was confirmed last evening, personal narratives of friends and well-wishers haven't stopped flowing. The Indian Express, in its
piece
said "Shujaat Bukhari, perhaps embarrassed about his tall and distinct demeanour, hunched just a wee bit to make his friends comfortable. His two children, before they were five, would walk with their head distinctly bent to the right, as that was a good imitation of Abba, always on the cellphone, trying to be hands-free"
Intimate anecdotes flowed on Facebook as some recalled him for his quick response to new writers, while some regretted not having met him just a few hours ago. Another person recollected that he recently sent a message to Farooq Abdullah congratulating him on wearing jeans.
The shock and grief expressed across platforms and in Kashmir are truly indicative of one fact.
Shujaat Bukhari was not merely a name. He was the embodiment of a voice of sanity, reason and human rights in the turbulent Kashmir valley, marked by too frequent episodes of violence, impunity and unaccountability.  
A sketch of Shujaat Bukhari
Bukhari himself belonged to an illustrious family with the father as a journalist and
elder brother
Basharat Bukhari, a PDP leader and an MLA from the Sangrama constituency in North Kashmir.
However, Bukhari didn't merely rest on the laurels of his family, but used the power of his pen to bring to light the most inconvenient truth. Bukhari consistently spoke truth to power and was recognised across the world as the leading and most rational voice speaking on Kashmir
Bukhari was
The Hindu bureau chief for Jammu and Kashmir
from 1997 to 2012 and a contributor to Frontline magazine. He was based in Srinagar and was running
Rising Kashmir
for over a decade. Bukhari
wrote fluently in
English, Urdu and Kashmiri. He was also the president of Adbee Markaz Kamraz, the biggest and oldest cultural and literary organisation of the valley.  
A martyr for truth
Ironically, just three months ago, Bukhari
wrote
in an editorial in
Rising Kashmir
on the occasion of the tenth anniversary of his newspaper, "Survival is the first challenge for any journalism venture in Kashmir."
Shujaat Bukhari was the missing link between the outside world and the dark alleys of Kashmir clouded with tales of atrocities and human rights violations, reporting from where is an both an act of courage and defiance. After Burhan Wani, the Hijb Mujahiddeen commander was killed in July 2016 and curfew followed along with snapping of mobile and internet connection in the valley, he wrote for the
BBC
, "But when I called the office, one of our employees confirmed that our printing press had been raided, staff held and printed copies of the newspaper seized."
Not only 2016, the
Rising Kashmir
newspaper faced challenges in 2008 and 2010 as well, when armed struggle in Kashmir was on a rise owing to India's failing political interventions in the region. Shujaat Bukhaari
highlighted
, "Authorities had forced us to suspend publication during the protests against Indian rule in 
2008
 and 
2010
 as well." Further, in 2013 when Afzal Guru was hanged under mysterious circumstances in India, Bukhari
wrote
, "When Afzal Guru, a Kashmiri separatist convicted over the 2001 Indian parliament attack was hanged in 2013, copies of newspapers were seized from the press and the stands. I remember my newspaper ceased publication for four days. During the 2010 agitation, we were forced to stop publishing for 10 days."
A key point that Bukhaari
highlighted
about the state's measure to quell protests when discontent in the valley rose to uncontrollable proportions, "Imposing an information blockade had been part of the state "strategy" in 2010 as well and the scene is rewinding this time."
Bukhaari was a living testimony to the transition that media went through after the outbreak of armed rebellion in Kashmir in the 1990s. He said that the media had to work on a razor's edge and that journalists typically
faced
"threats to life, intimidation, assault, arrest and censorship have been part of the life of a typical local journalist."
Bukhari survived
three assassination
attempts on previous occasions.
The last time a journalist was killed in Kashmir was over a decade ago. Srinagar saw killings in 2003, Parvez Muhammad Sultan, a reporter for a local news agency, was shot by gunmen in his office and August 2000, when a bomb blast killed Pradeep Bhatia, a photographer
Awards and accolades
Bukhaari was the
recipient
of World Press Institute USA fellowship. He had earlier pursued his Masters in Journalism from Ateneo de Manila University, Manila as a fellow of Asian Centre for Journalism. He was also a fellow at east West Centre at USA's Hawaii.
He
had just returned
from Lisbon where he participated as a speaker during the Global Editors Network summit.
Bukhari was
part of India's
delegation for 'informal' peace talks on Kashmir with Pakistani representatives held in Dubai last year.
Astute political analysis and commentary on recent events
Bukhari was consistently writing, calling an end to the cross-border firing along the Line of Control (LoC). He
emphasised
on the need for a Standard Operating Procedure in an article on March 3, a time when it was witnessing massive cross border firing, "As things have gone from bad to worse what is missing is a Standard Operating Procedure that could be followed in a ceasefire. A mechanism is also missing and nearly no contact between the two countries is adding to the woes of the people,"
Criticising Modi government's policies at the center, Bukhari said, "New Delhi's Kashmir policy since the beginning had not been based on justice and fairness while the Modi government had pushed them to the wall."
Bukhari had commented on the
recent
ceasefire
in J&K for Ramzaan, a holy month for Muslims across the world,
saying,
"Despite the scepticism from various quarters and even outright rejection, the announcement came as a glimmer of hope for the common people who have been suffering due to the continuous grind of violence. Death of both the militants who have joined the ranks in past few years and the civilians who become the collateral damage has become unbearable."
Bukhaari's writings, apart from giving a deep insight into the "
sharp degeneration of politics in the state
" were an indictment that the Indian government's policies in Kashmir had not worked. He also wrote
stories
highlighting why Kashmiri youth were drawn towards militancy.  
"Psychological war" of Indian media on Kashmir
In an opinion piece titled, "
Prime Time Propaganda
", published exactly an year before, Bukhari once again exposed the hyper-nationalist and jingoist Indian media which, rather than investigating the allegations of human rights violations in Jammu and Kashmir believes in shrill high pitched rhetoric to further its propaganda. He
said
, "The comments made almost every day by hired panelists are part of a psychological war that has been unfolding to make the people submit"
In the same piece, he drew attention to the shallowness of the Indian media, here I quote him verbatim, "In recent days, two comments made by panelists on a TV channel enraged people but in one case there was much amusement and social media was full of jokes. The one comment which evoked a sharp reaction was made by one RSN Singh, a retired Colonel who was briefly with Research and Analysis Wing (R&AW) official and has been engaged by a newly launched TV channel as its contributor. His disgraceful comment insinuated that Kashmiri youngsters were the 'illegitimate offspring' of foreign militants and that is why they were valiantly taking on government forces. When Singh was making this uncouth remark, the anchor was clearly enjoying it. This demonstrated the depths that such debate has sunk to and become the hallmark of these channels. No one intervened as the panelist abused Kashmiris and that is how the response of the government is also shaped."  
His staff and journalists from Rising Kashmir gave him a befitting tribute, saying, "You left all too sudden but you will always be our leading light with your professional conviction and exemplary courage. We wont be cowed down by the cowards who snatched you from us. We will uphold your principle of telling the truth howsoever unpleasant it may be"