Soon after the Modi regime's take over of power in Delhi,
Trilokpuri had simmered,
at that time over the Durga pooja procession in October 2014. Again, now four years later,
the Indian Express reported
how a scuffle during a cricket match on Thursday night at Trilokpuri's block 20 escalated into stone pelting and communal tension in the area, which had seen trouble in February as well. In
1984, the brute killing of 350 Sikhs
in this Trans Jamuna transit camp was even more gruesome. Are the communal fires being lit here, again ?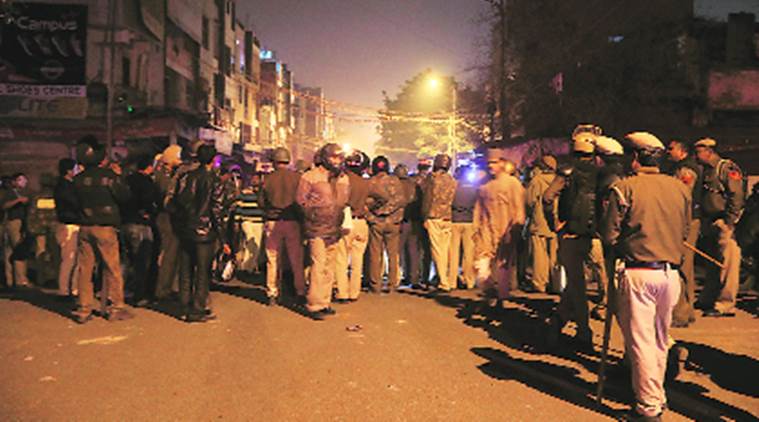 Representation Image: Express photo/Abhinav Saha
Day before yesterday, the attack on a Muslim boy reportedly began the skirmish. Trouble started when 18-year-old vegetable vendor Shoaib was allegedly beaten up by "boys from another community," around 9.30 pm, his family claimed. Shoaib's sister Sadiqa said, "We heard a noise in the lane near our house. When I called our elder brother about it, he told me Shoaib has been beaten up by some boys who live nearby." DCP Singh has, however, denied the allegations: "No one was beaten up at the police station... some people protested outside and we told them to leave, that's all."
Reportedly, Shoaib sustained injuries on his head, back and shoulders, and was rushed to Lal Bahadur Shastri Hospital. His mother Farhad (45) alleged, "He was denied entry there and we took him to Mayur Vihar Phase I police station, where officers refused to register our complaint… they lathicharged us, even women were beaten up." In a diametrically different version from the police one,  Rashid's eight-month pregnant wife Rukhsar (22) claimed: "He was home. I was serving him dinner when police came and dragged him away… they also pushed me and I fell. He wasn't even at the scene of the fight".
Police have arrested 10 men, including Shoaib, and deployed around 50 officers in the area as a precautionary measure.DCP (east) Pankaj Kumar Singh said, "We arrested Shoaib, Noor Mohammad, Rashid, Rahul, Ankit, Lalit, Saqib and three more men. They have been booked under IPC sections 147 and 148, which pertain to rioting; section 149, related to unlawful assembly; and sections 186, 332 and 352 for obstructing public servant in discharge of duty".
Ved Prakash, a relative of one of the accused, Lalit (21), called police at 10.11 pm when he saw stones flying. He claimed Ankit and Lalit came indoors when the stone pelting began, and that they were innocent. "At 10.30 pm, police took them away," he said.
Ankit's mother Chameli (50) claimed, "He was playing cricket with Lalit… We don't know how a fight erupted or who it involved." But DCP Singh said, "Our investigation has revealed the role of each of these boys." DCP Singh denied the allegations: "No one was beaten up at the police station… some people protested outside and we told them to leave, that's all."
2014
Trilokpuri area, before the communal tensions of October 2014 had seen a turn in local politics when Raju Dhingan of the Aam Admi Party had defeated BJP's Sunil Kumar by over 20,000 votes. Dhingan's election had brought communities together and this fraternity was sharply disrupted by the Octpber 2014 violence. Adjoining Trilokpuri is the Patparganj assembly constituency that has elected Delhi's deputy chief minister, Manish Sisodiya.
1984:
A Darkness Unforgotten
In the wave of attacks against the Sikh community in November 1984, after Mrs Gandhi was shot dead by two of her Sikh bodyguards on the morning of October 31, Trilokpuri saw the most gruesome.
Whilst unbridled chaos and mayhem spread unchecked across the Capital, the casual slaughter of some 350 Sikhs, including women and children in the trans-Yamuna Trilokpuri resettlement colony, was without doubt the most brutal. The charred and hacked remains of the hundreds that perished in Trilokpuri's Block 32 on a smoky and dank November 2 evening bore silent testimony to an unbelievable orgy of slaughter which, over two decades later, still haunts my memories.
The massacre took place in two narrow alleyways not more than 150 yards long, with one-roomed tenements on either side. It lasted over 48 hours, with the murderers — who go unpunished to this day — even taking breaks for meals before returning to resume their mad slaughter.Both lanes were littered with bodies with body parts and hair brutally hacked off, forcing people to walk on tiptoe. It was impossible to place one's foot fully on the ground for one would step on either a hacked limb or a dead person.
Senior journalist Rahul Bedi recalled in Tehelka magazine, "It all began on the morning of November 2 around 11.30 am when my colleague from Indian Express, Joseph Maliakan, and I heard of the Trilokpuri massacre — then ongoing — from Mohan Singh who had shaved his head and face only hours before to save himself and had fled, taking refuge in our office canteen. A dazed Singh, who had somehow managed to escape the pogrom under cover of darkness, blandly told us that 300 Sikhs had been killed in Trilokpuri's Block 32. These houses, we learnt later, were occupied by poor, low-caste Sikhs who wove string beds.
"Shortly after, along with Maliakan and Alok Tomar of Jansatta, I rushed to Trilokpuri and, on arrival at the re-settlement colony — which was established by Sanjay Gandhi during the Emergency in the mid-1970s — found the entrance blocked by massive concrete pipes, with lathiwielding men atop them.
"At about 300 yards from Block 32, we found our path blocked by a huge mob. Before we could reach them, two policemen astride a motorcycle burst through the crowd, coming from the direction we were headed. We flagged the motorcycle to a halt and asked the head constable driving it whether any killings had taken place in Block 32.
"...A truck parked nearby attracted our attention. On closer inspection we found three charred bodies in the back and a half-burnt Sikh youngster lying on top, still alive. In his quasiconscious state the man told us he was from Punjab and had come visiting relatives in Trilokpuri. He said that a few hours earlier, a rampaging mob armed with lathis and machetes had killed his hosts and set him on fire after dousing his body with kerosene. He had been brought to the police station, placed on top of the dead bodies, and had lain there for the past six hours. He died a horrible death soon after, we later learnt.
"When the three bodies in the truck and the grievously burnt yet still living Sikh were pointed out to the station duty officer, he denied all knowledge of them, saying they would be dealt with by "Saheb", the Station House Officer, who was "away in Delhi on routine business and would return later in the evening".
"Desperate to get help, we combed the area and were met by an army patrol commanded by a Sikh colonel, part of the detail summoned from Meerut to bolster civil authority who assured us that he would dispatch help to the beleaguered Block 32. We returned to Block 32 only to discover that no troops had arrived.
"Later we came to know that though the army had officially been summoned a day after Mrs Gandhi's killing to maintain order, it was merely token deployment as none of the units summoned from cantonments around the Capital were provided necessary help, guidance or logistical direction by the local authorities.
"The army was not issued shoot-to-kill orders to quell the blood-thirsty mobs till after Mrs Gandhi's funeral pyre was lit on November 3, despite claims to the contrary by officials, which were dutifully headlined by newspapers.
"Once those orders were given, the army restored order within hours, although for many days there were cases we investigated which revealed that the local authorities had deliberately concealed reports of pockets of Sikh refugees still fighting for survival across many east Delhi neighbourhoods.
"After pleading in vain with many military convoys to intercede and stop the Trilokpuri killings, we arrived at the Police Headquarters around 5 pm and informed Additional Commissioner of Police Nikhil Kumar (who later retired as head of the National Security Guard) of the goings-on in the east Delhi colony.
"To our chagrin and amazement, he asserted that he was a "mere guest artist" at Police Headquarters and only tasked with manning Commissioner SC Tandon's telephone line. All our pleadings to Kumar — now an MP from Bihar — to do something about the Trilokpuri killings were insouciantly brushed off. Other senior police officers including those in charge of the Trilokpuri district also expressed indifference and their inability to help.
"On returning to Trilokpuri an hour later in the darkness we found the local Station House Officer and two constables surveying the sea of dead Sikh bodies, surrounded by thousands of people.
"The most frightening part, the part that still sends a chill up my spine after 25 years, was the pall of utter silence that shrouded the area.