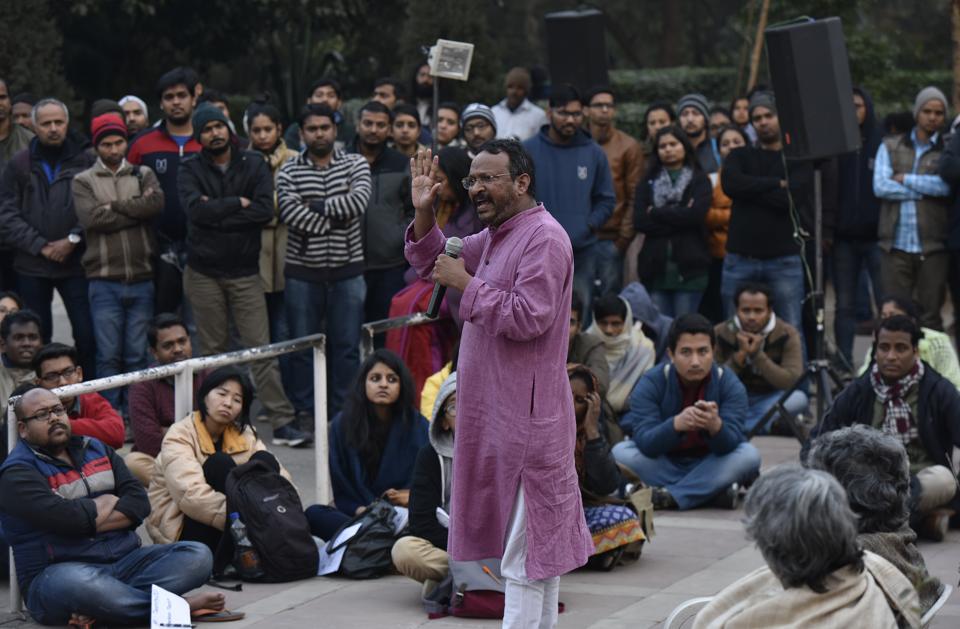 Crisis of Democracy, Bezwada Wilson of the Safai Karmachari Andolan gives an electrifying 38 minute speech  at JNU's Freedom Square that came back to life with its renewed series of lectures in protest against the oppression of the campus. Ten students from among the most deprived, first generation learners—Dalits, Adivasis, OBCs and minorities—were suspended while protesting against discriminatory admission practices recently introduced by the administration.
"The State has become Cruel and we have Destroyed a Dalit Mother's Dreams. 
Radhika Vemula who is an icon of resistance
to this oppression is today scared of her second son (she lost her son Rohith who was killed by the Hyderabad Central University one year back on January 17, 2016) of joining any Indian University even though he has a first class in Geology (MSC). It is a shame that a Dalit scholar with a first class is today driving an autorickshaw in Guntur because our Universites do not offer a life of dignity or safety to Dalit scholars.
"Forty years back, my mother –who never saw the shadows of the walls of any school as she lived the life of a manual scavenger –saw education, and higher education as a way out of Bondage and slavery. Now 40 years later, a Dalit mother finds the University unsafe for Indian Dalit research scholars. What is happening? What is the government doing? What is the Prime Minister doing?
"Yesterday
Radhika Vemula was not allowed to enter the University
where her son lost his life. She was picked up by Telangana police, abused in unmentionable words and then released. Why is Radhika a threat to the Hyderabad Central University? Why am I not allowed to enter JNU freely? JNU is an icon of Freedom of Expression and Thought."
This was the first among three lectures given today.
The JNU's Third Wave of Public Lectures at Freedom Square Lectures were today re-inaugurated with lectures by Bezwada Wilson, Archana Prasad and Ashwini
Deshpande.
Before the lectures began, JNU's Freedom Square cames back into Light with a brilliant cultural performance by the Students that depicted the state of the country with a proto-fascist government controlling free thought and movement and unleashing repression.  
Related articles:
1. Protest Barricading of Freedom Square:
JNU Students begin Sign Campaign
2. The Real Classroom: Outdoor
Lectures Dissect Nationalism at JNU