More than a dozen socio-political groups gathered in Varanasi's Shastri Ghat on Sunday, February 18 to develop a consensus against the rise in hate crimes against Muslims and Dalits in Uttar Pradesh. Held under the banner of "Dalit-Muslim Jan Ekta Sammelan", the meet-cum-seminar saw several hundred participants from areas of Mau, Jaunpur, Ahraura, Mubarakpur, Mughalsarai, Varanasi and Chandauli — all of which are part of eastern UP.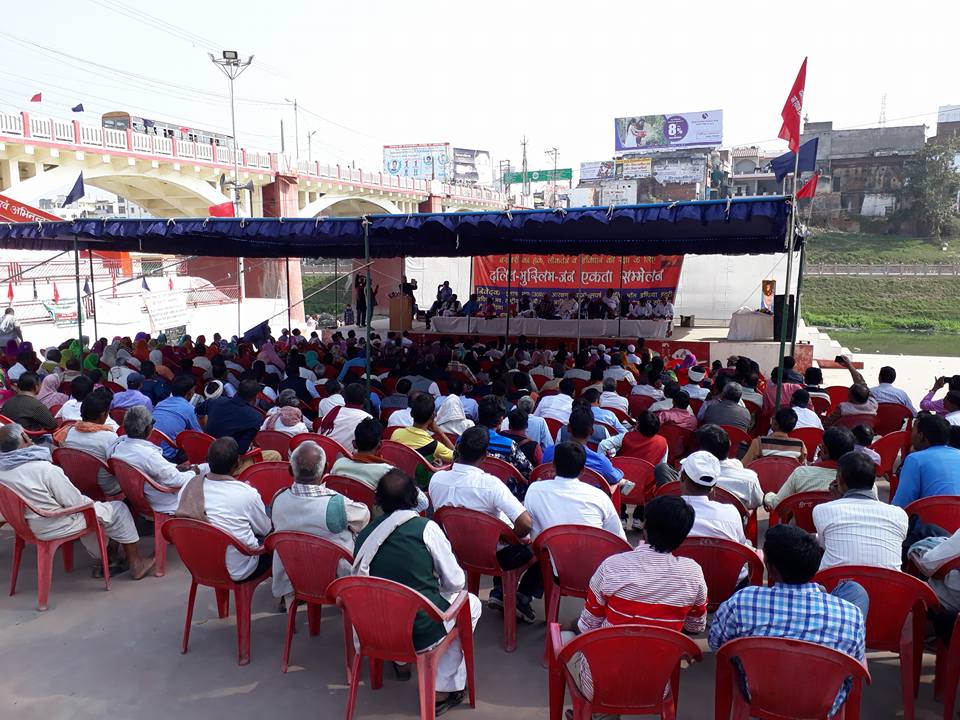 The chief speaker at the event was Dr Shamsul Islam, a noted historian and theatre personality, who accused Bharatiya Janata Party (BJP) and Rashtriya Swayamsevak Sangh (RSS) of mending the history the way they want. "This practice is constantly underway. The country is turning into a laboratory of hate and violence," said Dr Islam.
Dr Islam further added that such unity chapters — like the one held on Sunday — will help in countering the attacks against Muslims and Dalits.
Satyadev Ram, an MLA from Bihar and leader of Communist Party of India (Marxist-Leninist), said, "The united voice of Dalits and Muslims against such fascist and dictatorial times has erupted from Varanasi, and I count that as a very good sign. This seminar will hold the place of a special chapter in strengthening such ties across the eastern UP."
SN Prasad, a member of Arakshan Bachao Sangharsh Samiti, said, "In the idea of Hindu Nationalism proposed by BJP and RSS, there is no any place for poor, Dalits, and Muslims. Brahminical and Manuvadi forces are strengthening every day because of the patronage provided by the government."
Courtesy: Two Circles
Speakers also announced that if needed, both communities will come on the streets.
Organisations involved behind the event are Insaf Manch, Arakshan Bachao Sangharsh Samiti, CPI (ML), Rhythm All India Edrisi Adhikar Manch, Al-Quraish Welfare Society, All India Secular Forum, Mahila Jagriti Samiti, Jan Adhikar Manch, and Veer Abdul Hamid Foundation. Manish Sharma, a member of CPI(ML) coordinated the event.