Ravi Dubey, an office bearer of the VHP was miffed and said that the group was protesting against ASI for erasing Hindu culture. It is not the first time that Hindutva outfits like VHP, RSS and even BJP have created controversy around Taj Mahal and projecting a Muslim identity on historic monuments.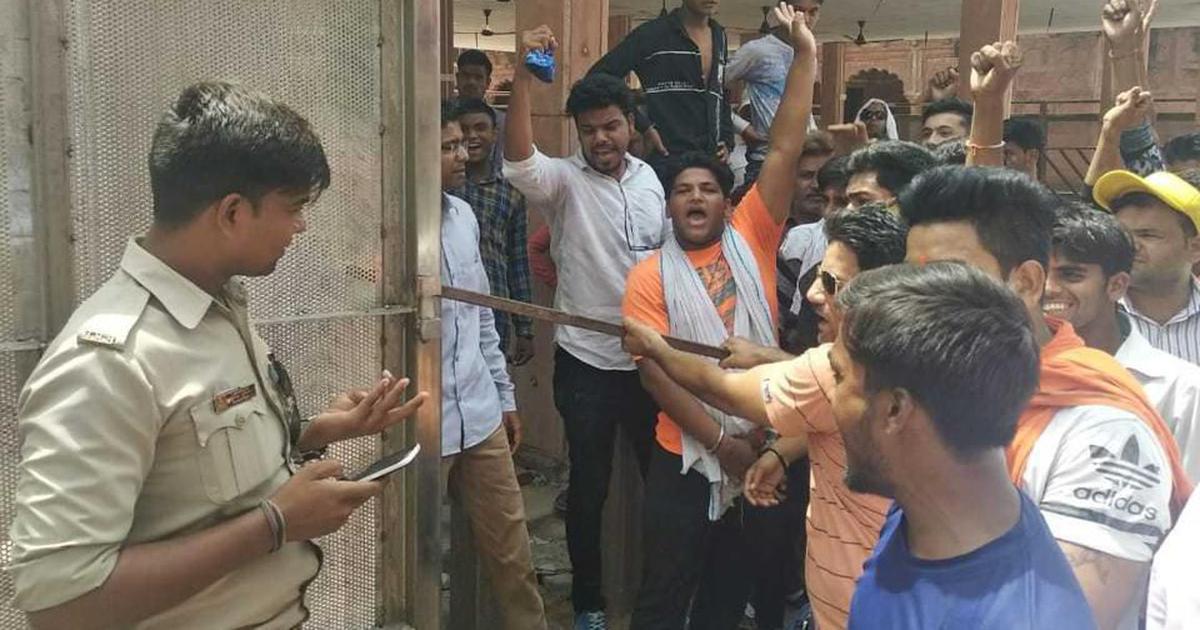 VHP members protest outside the Taj Mahal on Sunday | HT photo
Agra: Mughal monuments in the country have been under vicious attack in the last few years. Hindutva factions are leaving no stones unturned to either rename, erase or demolish structures that represent India's authentic history. The most recent display of strength was shown by the members of the Vishwa Hindu Parishad (VHP) on Sunday when they uprooted a turnstile gate at the west entry point of Taj Mahal. They claimed that the western entrance was also a path to a 400-year-old temple nearby and the gate was blocking it.  
"On Sunday around 25-30 activists from the VHP came near the western gate of the Taj Mahal and started vandalizing the newly installed turnstile gate for ticket collection for Taj Mahal and Saheli ka Burj. The protesters had hammers and iron rods with them. They removed the gate and threw it some around 50 metres from there. Soon the Taj safety police team reached there and stopped them from vandalising more property," Taj Safety circle officer (CO) Prabhat Kumar said in a
report
by The India Express. It was also reported that the incident caused panic among local and foreign tourists.  
ASI lodged a complaint and an FIR was registered against Ravi Dubey, Madan Verma, Mohit Sharma, Niranjan Singh Rathore and Gulla and 20-25 other unidentified VHP members for rioting, assault or criminal force to deter public servant from discharge of his duty and under the section 7 of Criminal Law Amendment Act and section of Prevention of Damage to Public Property Act. No arrests have been made yet.  
Ravi Dubey, an office bearer of the VHP was miffed and said that the group was protesting against ASI for erasing Hindu culture. They wanted an easy access to the Siddheswar Mahadev Temple, devoted to Lord Shiva, located on Basai Ghat. The right-wing members are aware that an alternative path to the temple exists but they believe that it is narrow and nobody can walk on it. They wanted access from the west gate of Taj Mahal.  
"Till around 15 years ago, there used to be satsang at the Saheli ka Burj on the western gate but it was stopped. Dussehra fair was also stopped near Taj Mahal. Earlier people used to celebrate Amla Nawami here inside the Taj Mahal premises near an Amla tree. That tree was also cut down by the ASI. There were so many other things people used to do here, but it all ended around 14-15 years ago during the Samajwadi Party and Bahujan Samaj Party rule. We cannot let this happen," Dubey said in the report by Indian Express.  
BJP, Hindutva group's history with Taj Mahal
It is not the first time such an incident has taken place. Many attempts have been made to sabotage Taj Mahal's history, even by UP CM Yogi Adityanath. The monument was excluded from the state's booklet promoting tourism in 2017 even though it has been on the Seven Wonders of the World list.  
"Foreign dignitaries visiting the country used to be gifted replicas of the Taj Mahal and other minarets which did not reflect Indian culture. This is the first time this has happened that when India's Prime Minister Narendra Modi goes abroad, or any foreign president visits India, he is gifted the Shrimad Bhagavad Gita or the Ramayan," Adityanath said,
reported
The Telegraph. He had to do major damage control after his comments on Taj Mahal being "Not Indian Enough."  
After making controversial statements like "prostitutes are better than government officials," BJP MLA Surendra Singh recently said that roads and monuments named after Mughal Emperors should be renamed. When asked what Taj Mahal should be renamed to, he said, "Make it Shivaji Mahal or Ram Mahal or Krishna Mahal,"
reported
Economic Times.  
Last year, at a gathering in Meerut, BJP MLA Sangeet Som may have caught the foot in mouth disease when he said that it was built by "traitors" who wanted to wipe out Hindus.
"Many people were disappointed when Taj Mahal was removed from Indian history. What history are you talking about? The creator of the Taj Mahal imprisoned his own father. He wanted to wipe out Hindus from Hindustan," Som said. Adding that it was "unfortunate" that the country's history has "such people." He also said that CM Adityanath led government was out to right this wrong.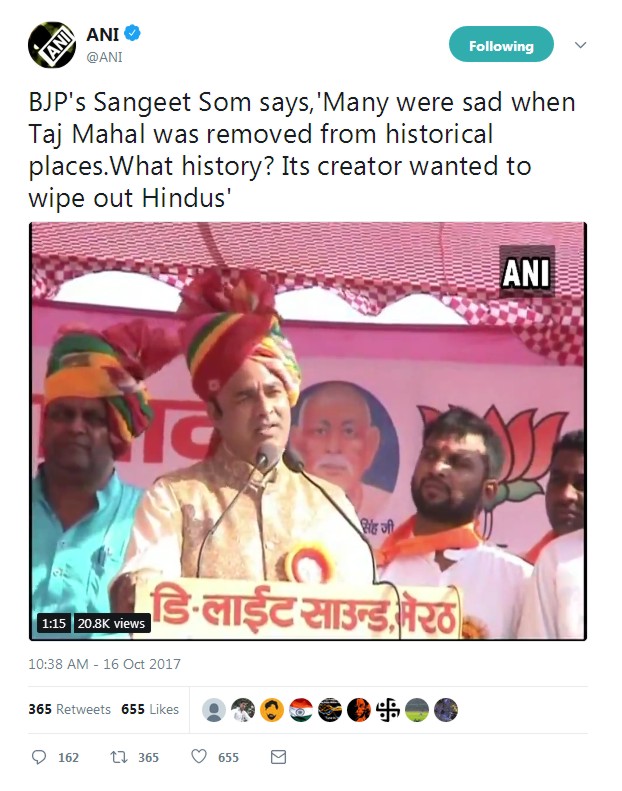 BJP MP Vinay Katiyar also made headlines in February for his views on the Taj Mahal. "You can call it Taj Mahotsav or Tej Mahotsav, both are the same," the founder of Bajrang Dal told ANI when asked about the 10-day Taj Mahotsav event in Agra. "There is not much difference between Taj and Tej. Our Tej Mandir was turned into a cremation ground by Aurangzeb. Taj Mahal will be converted into Tej Mandir soon," he said. He had also made statements claiming that Taj mahal was actually a Shiv Temple.  
What Som and Katiyar don't know is that Taj Mahal was built by Shah Jahan and not his son Aurangzeb. Katiyar had spearheaded the Ayodhya Ram Mandir movement in the 1980s and early 1990s and is facing a criminal trial for his role in the demolition of the Babri Masjid in 1992.  
The anti-Muslim rhetoric of BJP, RSS and other Hindutva Allies does not come as a surprise. They try to rewrite history by subverting facts in textbooks, call Mughal rulers barbaric, traitors and murderers and project their hatred on monuments by giving them a Muslim identity. If they are against people who oppressed Hindu's, will British monuments be the next to go? Will we see an anti-British movement in the near future?