Purported video clips of the attacks are circulating in the Social Media, though yesterday afternoon the one who had posted them deleted the same from his Facebook page.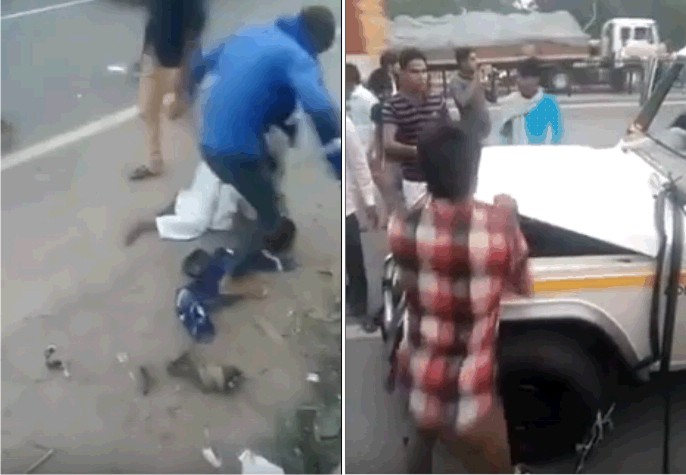 Self-appointed Gau Rakshaks belonging to the Vishwa Hindu Parishad and Bajrang Dal mercilessly thrashed five Muslims in Alwar district in Rajasthan who with documentary evidence of cows purchased from a cattle fair were transporting them to their home state Haryana on Saturday evening.
Of the five seriously injured and hospitalised, 55-year-old Pehlu Khan succumbed to his injuries on Monday evening. The incident took place on the National Highway 8.
The police said the Muslims were attacked even though they showed documents to establish they had purchased the cows legitimately. No arrests have reportedly been made so far.
Sabrang India has received purported video clips of the attack which were reportedly posted on Facebook by one 'Raj Hindu Santoria' from Bahror, Alwar Rajasthan. (
https://www.facebook.com/rajyadav84
).
The links to the video given below were deleted yesterday afternoon.
https://www.facebook.com/rajyadav84/videos/754411514726728/
https://www.facebook.com/rajyadav84/videos/754412194726660/
https://www.facebook.com/rajyadav84/videos/754412494726630/
Ramesh Chand Sinsinwar, SHO of Bahror police station
told the Indian Express
: "
Gau rakshaks
affiliated with the Vishwa Hindu Parishad and Bajrang Dal stopped four vehicles, near Jaguwas crossing on National Highway 8, on Saturday evening, alleging that they were illegally transporting bovines. These vehicles were coming from Jaipur, and were headed towards Nuh district in Haryana.
While the assailants targeted the Muslims they let go one of the drivers, Arjun, as he was a Hindu. For Pehlu Khan the attack proved fatal. His body was handed over to family members after post-mortem.
"We were returning from a Saturday fair in Jaipur. I had bought two milch cows for Rs 75,000, and I had all the valid documents with me. We were not even trying to hide the cows, as we were taking them in a pick-up truck. At around 6 pm on Saturday, the
gau rakshaks
stopped our vehicle and asked us our names. They allowed our driver, Arjun, to leave," Azmat, 22, who was with Khan in the pick-up truck told the
Indian Express
.
Azmat and the three others who were injured — Irshad, Aarif and Rafiq — returned to Nuh on Tuesday, alleging that they did not receive proper care at the Kailash Hospital in Behror in Alwar. "Everyone at the hospital was looking down at us… Pehlu died because he didn't receive proper care," alleged Azmat's brother, Yusuf, 35.