Sangh Parivar-aligned social media handles circulated fake news by claiming that the video of a street play is actual footage of murder.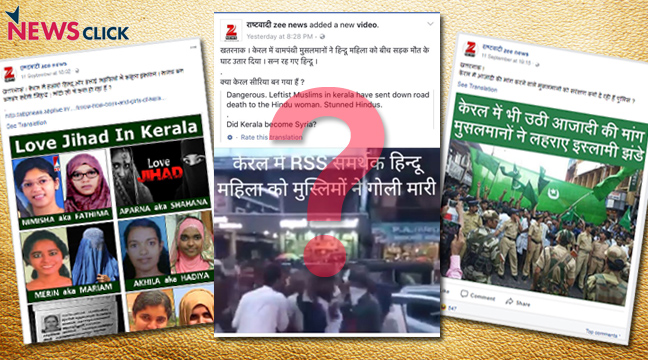 Newsclick Image by Trina Shankar
Yet another instance of fake news being spread about Kerala has come to light as Sangh Parivar-aligned social media handles sought to portray scenes from a street play as video footage of an actual murder.
The play, titled 'Silence is Dangerous', was staged in Kalikavu in Malappuram district by members of the left-wing Democratic Youth Federation of India (DYFI).
The performance was about the rising attacks against secular, left-wing and rationalist activists, in the context of the recent murder of journalist Gauri Lankesh.
A Facebook page named राष्ट्रवादी Zee News ['Rashtrawadi Zee News'] posted a video clip of the street play, with the description, "Dangerous. Leftist Muslims in Kerala have killed a Hindu woman in the middle of a road. Hindus left stunned. Has Kerala become Syria?"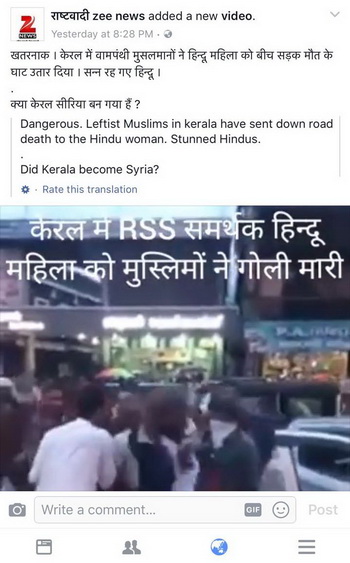 "Muslims have shot dead an RSS supporter Hindu woman in Kerala", says the text overlaid on the video posted by the page.
The street play shows a woman being pulled out of the car and being shot down, in a clear reference to the brutal murder of Gauri Lankesh who was gunned down a week ago.
DYFI Kalikavu Area Secretary CT Sakkariya told
Newsclick,
"The play was organised as part of a campaign against RSS violence. It talks about the violence and physical attacks unleashed by the Sangh Parivar on secular people."
"The RSS brands anybody who talks about RSS violence as "anti-national". For them, anybody who criticises the RSS is an anti-national", said Sakkariya, who also played the lead role in the play.
The video has been posted by Sangh Parivar-aligned handles in Twitter, and shared numerous times.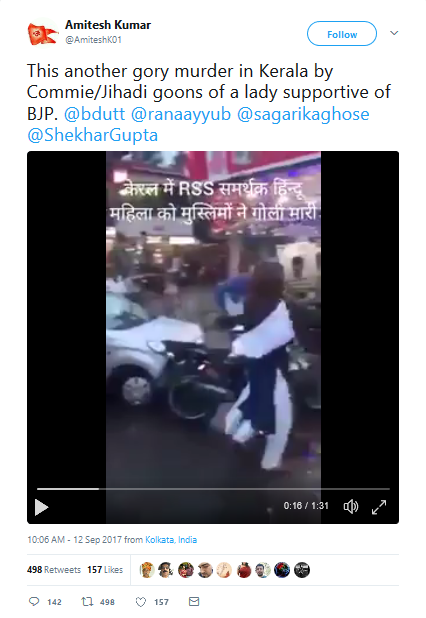 Communist Party of India (Marxist) leader and Lok Sabha MP MB Rajesh lashed out against the propaganda which sought to propagate communal hatred. He said that such pages are circulating lies against Kerala on the occasion of Janmashtami. There have been several
instances
 in the recent years where Hindutva outfits have tried to instigate violence in the run-up to religious festivals.
Earlier in February 2016, the Zee News television channel had been caught red-handed for broadcasting fake videos about the students of Jawaharlal Nehru University (JNU), New Delhi. The channel is yet to issue any apology for this act.
The post on the Rashtrawadi Zee News page has disappeared after the duplicity of the propaganda was exposed.
Watch the circulated video below, with English subtitles added by us for Malayalam dialogues to remove all confusion.
Courtesy: Newsclick.in