Kolkata remains tense as videos emerge showing BJP cadres desecrating the statue of nineteenth century social reformer Ishwar Chandra Vidyasagar's bust in north Kolkata. West Bengal Chief Minister Mamata Banerjee took out a protest rally today to protest the desecration of the bust. The CPI (M) organised protest rallies against the incident and subsequent episodes of violence and slammed both Trinamool Congress (TMC) and Bharatiya Janata Party (BJP). Students from Calcutta University, Vidyasagar College and other institutions in the city have called for a non-violent and apolitical protest as well.
Kolkata: Just three days ahead of the last phase of Lok Sabha polls, in which nine West Bengal (WB) constituencies will also be voting, Kolkata is embroiled in a tense situation. Following the
desecration of the bust of the noted social reformer and key figure of Bengal renaissance Ishwar Chandra Vidyasagar
, videos have now emerged showing BJP cadres indulged in vandalizing and desecrating the statue.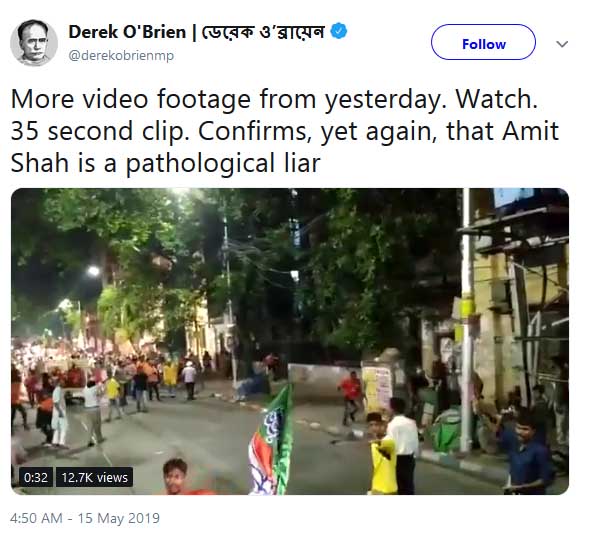 WB Chief Minister Mamata Banerjee and several top Trinamool Congress (TMC) leaders
changed their Facebook and Twitter display picture (DP)
to his photo to protest the incident. Banerjee took out a protest rally today to protest the desecration of the bust.
Trinamool Congress's official profile on Twitter and Facebook was also changed with a picture of Vidyasagar.  
Derek O' Brien, MP Sukhendu Sekhar Ray, Abhishek Banerjee and several others
changed their profile pictures
on Twitter to condemn the incident.  
Attacking the BJP, Trinamool spokesperson, Derek O'Brien called Amit Shah "ignorant" and asked him to "try his luck somewhere else". He
has also accused the BJP
of being responsible for the desecration. He
said
, "We are trying to obtain and authenticate audio of slogans like 'Vidyasagar finished, where is the Josh' raised during the violence," adding that the Central forces deployed in West Bengal have started a "whisper campaign" asking people to vote for the BJP.  
Launching a scathing attack on BJP president Amit Shah on Tuesday,
Banerjee had said
, "What does Amit Shah think of himself? Is he above everything? Is he God that no one can protest against him?"  
Banerjee said this after supporters of the BJP and the TMC fought pitched battles on the streets of Kolkata during a roadshow by Shah.  
A college named after Ishwar Chandra Vidyasagar, was ransacked and a bust of the 19th century social reformer shattered during the clashes. The TMC and BJP are blaming each other for the vandalism.  
Earlier, addressing a press conference in New Delhi on Wednesday, Shah had
accused
"the TMC goons" of vandalising the bust of Ishwar Chandra Vidyasagar inside a college, saying it was done to gain "sympathy" as the Banerjee-led party had realised its "reverse count" had begun.
Banerjee took out a protest rally in north Kolkata on Wednesday to protest the incident.  
The CPI(M) also called for protest rallies against the incident. Sitaram Yechury slammed the BJP-RSS for
desecrating the statue
. He tweeted, "BJP-RSS think nothing of when they vandalise the historic Vidyasagar College, break Vidyasagar statue. This is their advocacy of India's civilizational heritage? Attacking knowledge is central to getting their poisonous project going. Bengal will reject the destruction they offer." He also said that BJP and RSS are systematically attacking Bengal. Highlighting the Vidyasagar's contributions to Bengal's reform movements he said, Vidyasagar was conferred the title of ocean of knowledge."  
Following the violent attacks on educational institutions, students from Calcutta University, Vidyasagar College and other institutions in the city organised protests on Wednesday at 4 pm at College Square, adjacent to the main campus of the University of Calcutta.  
A Facebook event
for the protest was started by ex-student, Sudeshna Dutta Gupta from Calcutta University. Students who will take part in the protest have clearly mentioned to us that it is an apolitical gathering and that they just want to protest against, what they are calling 'saffron terrorism.'  
The city's elite and intellectuals may take out a protest march from College street on Wednesday evening.  
The Election Commission will hold a meeting with Bengal observers, after the TMC sought one over the statue's destruction.