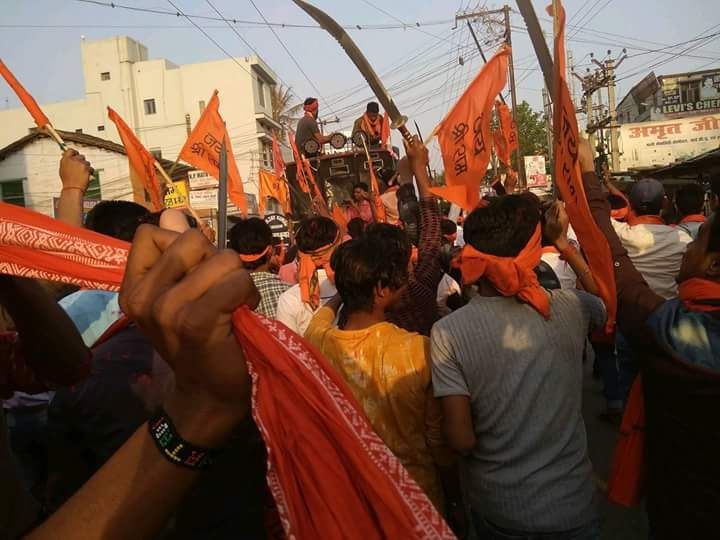 A Ram Navmi procession in Begusarai, Bihar, today
UPDATE: These reports have been updated after regular and reliable data collection and feedback from the ground. - Editors
In a terrible, and cynical fallout of the Ram Navmi celebrations, that have this year at least taken an aggressive and violent turn, Rosera (division of Samastipur) and Munger in Bihar and Raniganj in Bengal are experiencing tensions close on the heels of arms filled processions that were 'allowed' in both states. While administrations of both states under varied political dispensations have been stating that these processions were 'authorised', the issue that remains is whether processionists should be allowed to brandish weapons and also raise provocative slogans, unstopped. Asansol in Bengal was also affected by the communal violence until the district administration brought things under control.
The Hindu reports that three persons have died and several others injured over the past two days after provocative behaviour by processionists organising the Ram Navmi processions in west Bengal. Incidents are reported to have taken place in Raniyan (west Bardhaman district), Kankinara in North 24 Par ganas and Beldi in Purulia district. On late Monday night's incident at Raniyan, one person died and 30 persons, including six police officials were injured.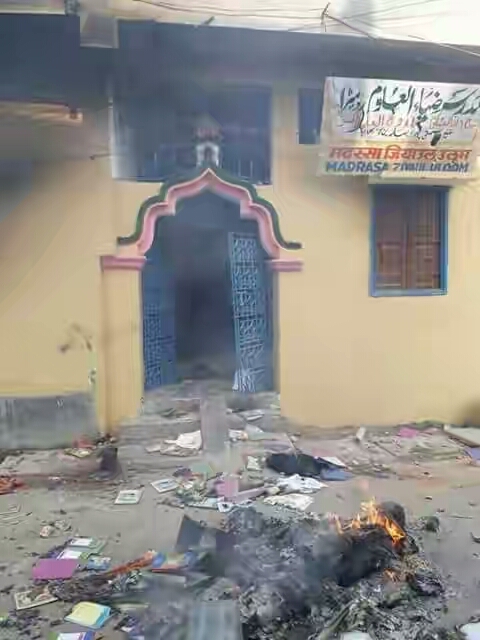 Pictures from Rosera, a division of Samastipur, Bihar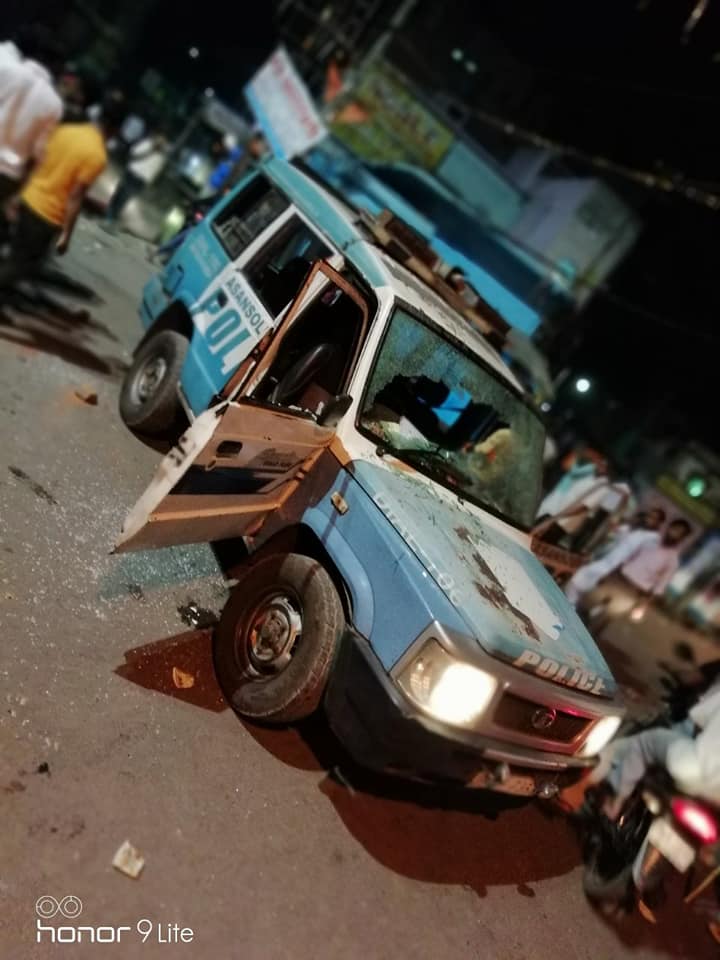 Pictures from Raniganj, Bengal
Late night reports and photographs coming in from all areas report that police had to resort to firing to dispel mobs on the rampage, themselves spreading rumours. Internet was disconnected by the police at Rosera and Munger and both areas were tense till late in the night. Local residents in Bihar, however, did not rise to the bait though the atmosphere remains tense.  
Violence was sought to be provoked  in Rosera of Samastipur today and about stray shops are reported to have been attackrd.Though reports cold not be confirmed, no serious damage or loss of life occurred. Photographs of minor damages to the  Zeya Ul Uloom Madrassah of Rosera are available on social media. Rosera was once represented by Ramvilas  Paswan. Munger town also reported disturbances till late last night and though firing had to be resorted to, the armed Ram Navmi processions was still doing the rounds. Both Munger and Rosera are market towns in Samastipur.  
Munger or Monghyr is hometown of Shri Krishna Sinha (1887-1961), the first chief minister of Bihar. It is also the hometown of Maulana Wali Rahmani and Tariq Anwar of NCP too belongs to Munger though he was and MP Katihar  
Raniganj (West Bengal), not very far from Munger, also had violence where several dozen shops a lot of shops belonging to the minority community have reportedly been burned it is alleged, between today and yesterday. Violence had briefly even spread to Asansol where the violence was thereafter brought under control. Taj Shoes and Leatherworks is one of the establishments gutted.  
Comments on Facebook were and are telling:
https://www.facebook.com/jitendra.narayan.7
भाजपाई राज का आनंद समस्तीपुर वासियों को भी दिया जा रहा है...
मोबाइल इन्टरनेट सेवा बंद करके...!!!
#जलता_बिहार
Raniganj, Bengal:
जो खबरें आ रही हैं वह बहुत ही बुरी है चुंकी पश्चिम बंगाल का रानीगंज कल आग में जल रहा था, तो आज आसनसोल जल रहा है। क्या अब त्योहार का दूसरा नाम दंगा है? हमारी अपील है की आसनसोल "सिटी ऑफ ब्रॉदरहुड" के आवाम दंगाइयों को दूर रखें। अमन चैन बना कर दंगाइयों के मकसद को विफल करें।  
Two days ago, The Times of India had reported how a
t least 20 shops were gutted in fire and more
than seven persons got injuries after a
communal clash
broke out in town area of Aurangabad district after stone pelting took place on a
Ram Navami procession
at Nawadih area. In the Aurangabad violence, the provocative role of union minister swini Chaubey and his kin has been pointed out. The New Indian Express had reported on this aspect of the provocations casued by
elected representatives and his son.
The procession, consisting of bike borne youths, was passing through Nawadih Colony under Town police station when some reports said, miscreants pelted stone on it.In Kaimur, some bike borne youths who were going to attend a Ram Navami procession, raised objectionable slogans in front of a mosque at Mughalpura under
Chainpur police station
area after which clashes took place on Sunday.
Later in retaliation, at least 20 shops located at Ramesh Chowk were gutted in fire by the agitating mob. The chowk is hardly a kilometre away from the spot where stone pelting took place on the procession.Aurangabad DM
Rahul Ranjan Mahiwal
said that prohibitory ordered under Section 144 of Cr.P.C. were issued as precautionary measures in town area and situation was under control.
"The procession was authorised and was passing through pre-determined route in presence of magistrates and security personnel  when stone pelting took place on it," he said adding more than seven persons were injured in the violenceDM Mahiwal also said that stone pelting took place between two groups and an agitating mob torched some shops at Ramesh Chowk.
Patna zonal IG Nayyar Hasnain Khan said that district armed police personnel were deployed in the area and the situation was brought under control. "At least five rioters were arrested and several others were detained," he added.IG Khan said two persons received minor injuries and the situation was immediately brought under control.
While in Gaya, miscreants pelted stones on a Ram Navami procession under Kothi police station area while it was retreating on Sunday. Stone pelting took place between two communities after which huge number of police personnel were deployed.
"No arrest had yet been made in the Kaimur and Gaya incident," Khan added.Meanwhile in Siwan, communal clash took place when a group of   people stopped a Ram Navami procession at Nizam pur village under Mazharulhaq Nagar police station area on Saturday night.Siwan ASP Kartikeya Sharma said that the procession was "authorised" and it was passing through pre-determined route when it was stopped. The question is whether an 'authorised" procession should have processionists carrying arms that imply agression and intimidation and should be 'permitted to raise provocative slogans?
In the state Assembly, the Opposition RJD and Congress attacked the Nitish Kumar-led NDA government over the March 17 communal clashes in Bhagalpur's Nathnagar and the present Aurangabad clashes. Nitish Kumar assured that the government is doing its best  to maintain communal harmony and urged Opposition leader Tejashwi Yadav not to "over-emphasize the clashes" in order to let violent sentiments die down."The government is giving empty assurances as Union minister Ashwini Choubey's son Arjit Shashwat is yet to be arrested for causing the clashes in Bhagalpur. Give me permission and four constables and I will have him arrested," said Yadav to journalists.
Arjit Shashwat moved an anticipatory bail application at the ACJM's court in Bhagalpur on Monday. The court had issued arrest warrants on Saturday against him and eight others accused of inciting violence at Nathnagar during a procession in a Muslim-dominated area on March 17.  
"While administration was involved in negotiation, miscreants damaged a school building and its vehicles owned by person from minority community in neighbouring Rampur village," he said adding couple of shops and a vehicle was damaged due arson attempt. The ASP said the central forced have been deployed in the area.  
The home department and state police's special branch had separately published advertisements in newspapers on Sunday especially for Ram Navami urging people not to share objectionable posts on social media, not to raise slogans and display pictures which would hurt religious sentiments.  
Facebook Videos:  
https://m.facebook.com/story.php?story_fbid=1617772041670780&id=100003140006184
Ashwini Chowbey, Union Minister:
https://m.facebook.com/story.php?story_fbid=2023808487868604&id=10000718...