It was the carefully crafted, calm satire of PM Modi's irrational antics that appears to have provoked the attack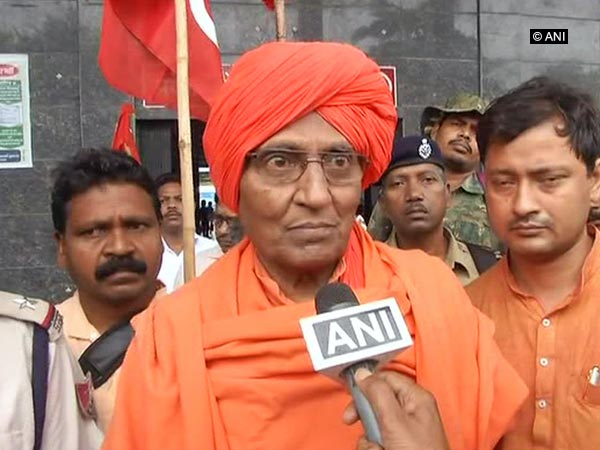 On July 17, two days ago, Swami Agnivesh, an 80 year old rationalist and social activist 
was attacked
 in Pakur Jharkhand on July 17 by a lynch mob allegedly affiliated to the ruling dispensation.
What was the provocation ? It appears that a speech given by him recently didn't go down well with BJP supporters and irked them to unimaginable limits. Funnily, many BJP supporters posted a video of the speech on Facebook and other social media channels and justified the attack!
In the video Swami Agnivesh can be seen ridiculing various recent commentaries by political giants including none other than the Prime Minister, Mr. Modi. Most importantly, he can be heard attacking various myths and superstitions propagated by one interpretation of the Hindu religion and advocated officially by the current government and its various representatives.
Agnivesh's speech is sharp and an expression of dissent, all made within an atmosphere where the simplest of acts have and can be labelled as 'hurtful of religious sentiments'. It is an audacious act to dissect these practices in a manner not only to shock, but be accepted within a massive crowd of common, believers. The saffron clad seer is clearly more effective than many. Very few rationalists have been able to present such sharp critiques openly in the recent past. When they have, they have been unfortunately, attacked in the most gruesome manner. No wonder then, that the saffron clad seer is such a threat to the
bhakt brigade.
Swami Agnivesh can be seen expressing his utter disbelief at the Prime Minister's fallacious contentions,  for example the one speech in which he says that in ancient India, the Hindu deity Ganesha underwent plastic surgery and his head was replaced with that of an elephant's.
Referring to another peculiar statement by none other than the PM himself, again, he pointed out, "The PM said that the Kauravas (characters from a well-known Hindu epic, Mahabharata), multiplied themselves into hundreds. This, they achieved through stem-cell transplants" Mockingly, Swami Agnivesh laments, "Such lies, such pageantry, such superstitions, and India's PM is perpetuating these! The country will move towards a deep abyss," he predicts
The crowd whole-heartedly applauds Agnivesh's speech and statements.  
Swami Agnivesh, with even more grace, now speaking in a satirical and animated manner, imitating the PM, then adds, "When you go to Nepal as a PM, you spend two hours inside the Pashupati temple, [in your full attire], wearing a garland and a 
Tika 
(religious mark on forehead)  and then worship inside for two hours, if you want to worship [like that], become a priest! The PM's chair isn't fit for your work"
He questioned the "Pooja" done by the PM in Bangladesh, in the temple of one deity Dhakeshwari and says that a PM worshipping Gods and Goddesses is against the secular spirit of the constitution. He adds also that he has condemned these ridiculous acts of the PM in Dehradun, and in Srinagar!
All these, the Amarnath worshipping, Tirumala, Tirupati, all these places are places where superstition was bred. Talking about a Hindu pilgrimage Amarnath Yatra he mentions, "TV persons asked me in Srinagar, Swami ji, Amarnath Yatra time period has been reduced by 15 days, what is your reaction? I told them why only 15 days, the yatra should be stopped altogether"
Shedding light on the superstitious belief that there was a '
Barfani baba'
 (Ice-God) or a 
Shivling
 (Hindu God Shiva) at Amarnath, he said that no such Gods existed. He adds that it is a well-known fact that the ice formations are a work of the stalactite and stalagmite deposits. When, at the height of more than 13,000 feet from sea level, the water drips from the Himalayas, the ice formations happen in a certain manner. He points out that this was a natural phenomenon and there is no divinity in it! He adds, "These claims, that the government has to take the effort to go all the way up to thousands of feet and deploy forces for the 'yatra', all this was an ostentatious pomp!"
Talking about an interesting anecdote, he recalls a time when the so called Shivlinga melted and the then Governor of Jammu and Kashmir, Gen. S. K. Sinha went with artificial ice in a helicopter so that when the 'devotees' (
Bhagat log) 
come, then they should be able to witness 'Shiva'. He ridiculed such actions on the part of the government and rightly questions, "Is this the job of the government?"
When the Kumbh fair takes place every year, many die in stampede. People come to 'wash their sins' Swami Agnivesh says, "I roam around the fair distributing pamphlets about how all this is a spectacle. How washing in dirty waters [of Ganges] won't wash off one's sins, but will cause diseases!"
It is crucial that a sane and scientific voice like that of Swami Agnivesh is preserved and protected. When people are, on the one hand, going to ridiculous lengths to prove their secularism by coming up with hashtags such #TalkToAMuslim, or, on the other hand, are being pushed into ghettos, this speech by Swami Agnivesh is an act of courage, unmatched in its clarity and audacity.
Today, two days after the assault, 
protests
 have taken place in 
various parts of the country
 in support of Swami Agnivesh. Swami Agnivesh himself has pointed out that the violence on him cannot be seen in isolation and has also the elements of a conspiracy and pre-planned attack.