Sardar Patel and Indian Muslims

October 31, 2016 is the 141st Birth Anniversary of the Iron Man, India's first home minister, Sardar Vallabhai Patel.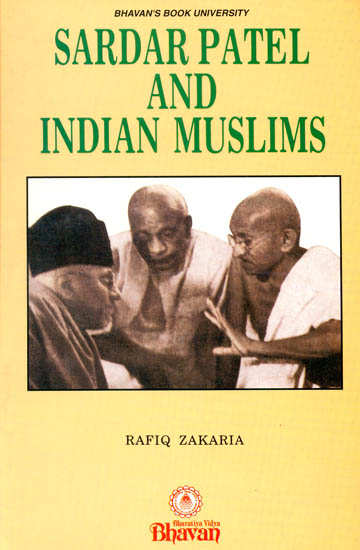 In 1996, scholar and politician, Rafiq Zakaria delivered the Sardar Patel Memorial lecture titled "Sardar Patel and Indian Muslims." (They were divided in two parts: the first, dealing with the Sardar's attitude to Indian Muslims before partition and the second, his role after partition)  
Excerpts from the Lectures that were thereafter published in a volume by the Bharatiya Vidya Bhavan in 1996.
"Armed with all this literary ammunition, I set down to my task to get at the bottom of the charge that Patel was anti-Muslim; even Rajaji had referred to it in his journal
Swarajja
dated November 27, 1971; "A myth had grown about Patel that he would be harsh towards Muslims. This was a wrong notion but it was the prevailing prejudice." The more I researched, the more I was convinced that the iron man had been misunderstood in many respects and there were cobwebs about his attitude towards Indian Muslims, which needed to be removed.  
[I am glad I was able to do so to my satisfaction; those who heard me on AIR congratulated me on my effort. Fali Nariman, former Solicitor General of India, wrote to me that he enjoyed listening to the lectures; so did the Hon'ble Mr. Justice Chapalgaonkar of the Mumbai High Court. Many others also felt that I was able to present an objective analysis of Patel's attitude to Indian Muslims, which was sorely needed in the present situation which is so vitiated by communal poison.]
Sardar's Reactions to the Plight of Hindu Refugees and Muslims Affected by Partition
"….
Similar reactions were conveyed to Patel by Azad, who felt that the Home Minister's sympathies for the sufferings of the Hindu and Sikh refugees had blinded him to the plight of the poor, innocent Muslims in India. Gandhiji continued to suffer terrible mental agony; he spent many a restless night.  
"To quote Rajmohan Gandhi, "No human heart could react with equal anguish to every cruelty of 1947 - neither Patel's nor Jawaharlal's nor Azad's. Vallabbhai's was a Hindu heart. He was, unquestionably, roused more by a report of 50 Hindu or Sikh deaths than by another 50 Muslim deaths."
(5) (Gandhi, Rajmohan, Patel A Life, p. 426.)
"…Patel could not get over his anger against Muslims whom he held responsible for partition; they had brought this tragedy not only upon themselves but also on others. However, Rajmohan Gandhi, rightly added: "
But his hand was just.
"  
"… This is borne out by many incidents, in which the Sardar did not spare the Hindu or Sikh offenders and provided relief to many stranded Muslims. It was also wrong to charge him with relying on Hindu officers. One of his confidants was the Inspector General of the Special Police Force, who was a Muslim. The first Chief Commissioner of Delhi that he appointed was Khurshid Alam Khan. No Muslim civil servant or police officer was replaced by him. Moreover, most Muslims in the police, civil service or armed forces, had opted and left for Pakistan against Azad's pleadings.
(6) (Azad said: "The action of the Muslim League in driving almost all the Muslim officers out of India was not only foolish but harmful. In fact it was more harmful to the Muslims than to India as a whole. Now that partition had been accepted and Pakistan was being established, it was clear that the Muslim would get every advantage in the new State. If, an addition, some Muslims could have served in India, this would not only have been of personal advantage to them but would have been a great gain for the community as a whole. The presence of Muslims in some responsible positions would have given assurance to the community and allayed many unreasonable fears. I have already said how foolishly the League had acted in insisting on partition.
"The League's attitude towards Muslims officers was another example of the same foolishness." Quoted by Seshadri, H.V., The Tragic story of Partition, p. 188.
) Patel had to make do with whoever was available, good, bad or indifferent. There was no question of his trying to pick or choose. The Sardar reacted strongly therefore to the charge that he was anti-Muslim. He characterised it as "an invention made to discredit me". True, he hated the Muslim League; he condemned Jinnah for spreading the poison of communal hatred, which led to partition. "But there are 70 million Muslims in India", he pointed out,
"It is our business to see that they are safe and free". He deprecated the two-nation theory and declared" our problem number one is to disprove Jinnah and his teachings."
(7) (Krishna, B., Sardar Vallabhbhai Patel – India's Iron Man, pp.460-461.)
In the preface to Rafiq Zakaria's book, eminent Indian jurist, Nani A. Palkhivala, Vice President of the Bharatiya Vidya Bhavan dedicated the volume to two brave Indians 'in the hope that it will cement the bond between Hindus and Muslims of India'
 "One, who defended the garrison of ours at Jhangar, until he fell facing the shelling with howitzers and pounders of the Pakistani insurgents, thus obstructing their march to Srinagar in 1948, (Brigadier Muhammad Usman)
And,
The other who, on finding that Pakistani tanks were menacingly moving ahead across the Wagah border tied explosives to his body and got himself blown up, thus successfully destroying the whole Pakistani column in 1965. (Havildar Abdul Hamid Khan
 
Each was given posthumously the highest military award of the Param Veer Chakra by the President of India.
Maulana Azad to Indian Muslims in October 1947
"Addressing the Friday congregation on the ramparts of the Jama Masjid, Delhi on October 23, 1947, he asked the Muslims in a voice choked with pain and anguish: "The uneasiness on your faces and the desolation in your hearts that I see today, reminds me of the events of the past few years. Do you remember? I hailed you, you cut off my tongue. I picked up my pen, you served my hand. I wanted to move forward, you cut off my legs. I tried to turn over, and you injured my back. When the bitter political games of the last seven years were at their peak, I tried to wake you up at every danger signal. You not only ignored my call but revived all the past traditions of neglect and denial; as a result, the same perils surround you today, whose onset had previously diverted you from the righteous path."
(10) (Zakaria, Rafiq, The Widening Divide – An Insight into Hindu-Muslim Relations, p.87.)
"….The same Azad, whom they had humiliated and whom their Quaid-i-Azam had mocked as the "showboy of the Congress", and which canard they had lustily applauded, was being wooed and beseeched by them now. They cried for help and succor but what could he do? He told them frankly: "Today, mine is no more than an inert existence or a forlorn cry. I am an orphan in my own motherland. My sensitivities are blunted, my heart is heavy. Think for one moment. What course did you adopt? Where have you reached, and where do you stand now? Haven't your senses become torpid? Aren't you living in a constant state of fear? This fear is your own creation, a fruit of your own deeds."
(11) (Ibid).
"…
Reminiscing about the past and the blunders that the Muslims had committed, the Maulana said: "It was not long ago when I warned you that the two-nation theory was death-knell to a meaningful, dignified life; forsake it. I told you that the pillars upon which you were leaning would inevitably crumble. To all this you turned a deaf ear. You did not realise that fleet-footed time would not change its course to suit your convenience. Time sped along. And now you have discovered that the so-called anchors of your faith have set you adrift, to be kicked around by fate.
"
(12) (Ibid., p.88)
Patel: A Harsh Task Master
"…Such incidents, no doubt, affected adversely Patel's attitude to Indian Muslims; he continued to distrust them.
Their past association with the League always haunted him.
He was largely responsible for introducing the obnoxious permit system; under it those Muslims, who had, on and after August 15, 1947, gone even on a visit to Pakistan, were deprived of their citizenship. Nehru protested; he asked how those Indians who went to Pakistan from India "for a while before the permit system was introduced can be punished by some subsequent enactment."
But apart from Patel, the Chief Ministers, including Pandit Govind Vallabh Pant of U.P., insisted that the measure was necessary to restore peace and order. Moreover, it was a counter-move to what Pakistan had done.
"….Another measure, which brought a lot of misery to such Muslims, was the enactment of the Evacuee Property Law, which resulted in the expropriation of their businesses, industries, shops, houses, lands and all such assets, movable and immovable; even Muslims, suspected by the police of intending to go to Pakistan were covered under it. It was a draconian act, but it had the approval of not only the Sardar but also Nehru.
They expressed their helplessness, when the affected Muslims agitated, because it was, once again, a counter to what Pakistan had enacted.
"Surprisingly both these measures were initiated by Pakistan, which brought so much suffering and hardship to Indian Muslims in retaliation. This was the cruel reward that Jinnah, who was then alive, gave to his followers in the Hindu-majority provinces; they had hailed him, at the instance of an obscure Urdu editor, as the Quaid-i-Azam (the Greatest Leader) at a meeting on December 10, 1938, at a public meeting in Patna. The title caught on; Gandhiji also used it but not Patel or Nehru.
The irony is that Jinnah created the worst hell for the Muslims, whom he had promised a heaven on earth! And the Muhajirs, who migrated from India, are still experiencing the inhuman consequences of his folly. Patel never tired of reminding Muslims of the support they gave him.
Sardar Against India as a Hindu State
"There was constant pressure on Patel to declare India a Hindu state especially as Pakistan had become a Muslim state. He told B.M. Birla, who had strongly advocated such a step: "I do not think it will be possible to consider India as a Hindu state with Hinduism as a state religion. We must not forget that there are other minorities whose protection is our primary responsibility."
(14) (Chopra, P.N., The Sardar of India, p.151.)
"…Numerous instances have been recorded by senior civil and police officers about the Sardar taking them to task in case of failure on their part to protect the poor and innocent Muslims, targeted by Hindu fanatics. V. Shankar has narrated how Patel rushed out one night to save the Dargah of Nizamuddin Auliya in South Delhi, which was taken over by some miscreants; on hearing about it, he wrapped his shawl around his shoulders and told his Private Secretary,
"Let us go to the saint, before we incur his displeasure."
(15) (Ibid., p.156)
He spent about an hour there, going round the holy shrine "in an attitude of reverence", making enquiries from all and sundry, and warning the police officer and men on duty. That they would be dismissed if there was any further trouble. Similar encouraging accounts for saving Muslims in distress have been recorded by K.B. Lal, H.M. Patel and other high ranking I.C.S. officers, who worked under Patel during those critical days; he castigated Muslims for partitioning India but did not spare Hindus for unnecessarily harassing and persecuting them.
There is also the testimony of no less an antagonist of the Sardar than Choudhary Khaliquzzaman, who records in his book Pathway to Pakistan, the firmness with which Patel saved the besieged Muslims
: "After the complaint of the Delhi Muslims I talked to Sardar Patel the next day in the Constituent Assembly about the affair. I said, 'Will you allow what is now happening in East Punjab to be repeated in Delhi?' He replied, 'I shall now allow disturbances in Delhi at any cost.' When I came out at the close of the Assembly session I learnt that an order under section 144 Cr. P.C. had been enforced for twenty-four hours in Delhi. I thought that at least something good had been done. However before the expiry of this period another order was issued under the same section for seventy-two hours. Rumour had it that this was to curb the activities of the Sikhs and Jan Sangh in Delhi."
(16) (Khaliquzzaman, Pathway to Pakistan, pp.395-96)
The Sardar Patel Lectures
 
On the Sardar's passing away on December 15, 1950, All India Radio, which was then the only mass media of its kind instituted the Sardar Patel Memorial Lectures, delivered nationally:
C. Rajagopalachari, better known as Rajaji spoke on "The Good Administrator"
 Zakir Husain spoke on "Education Reconstruction in India", Verrier Elwin on "A Philosophy of Love", M.C. Setalvad on "Secularism", Romila Thapar on "The Past and Prejudice", P.N. Haksar on "The Evaluation of Foreign Policy", C. Subramaniam on "Centre-State Relations", Swami Ranganathananda on "Our Cultural Heritage", P.B. Gajendragadkar on "Kashmir", K.N. Raj on "Crisis of Higher Education in India".
 
Morarji Desai, who dealt with the role of the Sardar in "The Integration and Consolidation of India", Nani Palkhivala who talked on "The Enduring Relavance of Sardar Patel", and Justice Ranganath Mishra, whose subject was "Why do we remember Sardar Patel today."
 
Sardar Against Hindu and Muslim Miscreants, Criminals
Nonetheless these reactions, however unfortunate, did not turn Patel into a communalist; he remained steadfast in his adherence to secularism. This was evident in a speech, which he gave on October 7, 1950 at Hyderabad, just two months before his passing away. He was told that some Muslims in the city had celebrated the dramatic flight to Karachi of Laik Ali, who was under surveillance. He was the last Prime Minister of the Nizam and a close associate of Razvi. Referring to the jubilation, indulged in by the local Muslims, the Sardar expressed his annoyance at their unseemly behaviour and said, "I naturally begin to doubt, whether Muslims here feel that their future lies in India." Lest his remarks be taken as an attack on Indian Muslims as a whole, he immediately added,
"I know that when Gandhiji was assassinated, some Hindus celebrated the occasion in a similar way. I only wish to emphasize that until this devilry goes out of the two communities, there would not be real peace."
(17) (Chopra, P.N., The Sardar of India, p.150.)
He also warned the Hindus that it was none of their business to deal with disloyal Muslims; the arm of the government was strong enough to take care of them. He appealed to his co-religionists to give up their distrust of Muslims. He said, "If you think that you can go on constantly troubling loyal Muslims because they happen to be Muslims, then our freedom is not worthwhile."
(18) (Ibid., p.150)
And that he would not allow and would come down with a heavy hand on such offenders.