The following is an English translation of a Kannada post by Mr.Kumar Buradikatti, a reporter with The Hindu, about his experiences with Sasikanth Senthil, the Karnatake IAS officer who was in the news recently for tendering his resignation due to the prevalent political climate. In a letter that was shared on the official WhatsApp group of the Karnataka Information Department's Dakshina Kannada office, Senthil had reportedly said, "I have taken this decision as I feel that it is unethical for me to continue as a civil servant in the government when the fundamental building blocks of our diverse democracy are being compromised in an unprecedented manner. I also feel that the coming days will present extremely difficult challenges to the basic fabric of our nation and that I would be better off outside the IAS to continue with my work at making life better for all. It simply cannot be business as usual any more."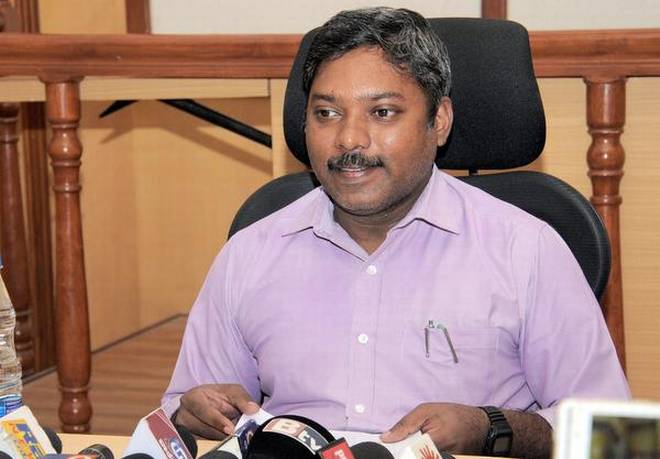 ---
Sasikanth Senthil I witnessed:
It was Diwali time.  A huge box of gift is sent to the collectors  by a big businessman. The collector inquired what is in the gift box.
" Boss has sent Diwali gift", that is what the delivery man replies, the collector, asks the assistant to keep it. Its piled up with other gifts in the corner. After a week or so, an assistant reminds the collector about the boxes laying in the corner.
. The collector says okay , take those boxes for you, take it home he orders to the assistant. The Assistant to check the state of the sweets, before taking it home, opens the box, and to his utter surprise he finds, currency note bundles !!!.
The Assistants, immediately reports this to the Collector.  . Seeing currency note bundles, the Collector seething with anger,  He calls the senior Police officer. He insists for registering the complaint against the sender of the box.
The senior officer, was quiet for a while, later and said, that, if you register a case, it will be blown out  in the newspaper, and it will be a scandal, I advise you to think about all these, and whether it is essential to register a case. It will be overwhelming for you to reply every query over it and it will surely hamper the work.  ." You have bigger task to do, ponder over it , if you think, its essential to register the case, I will register it.
He thinks over it, and instructs police officer to call the man and throw money to his face, and also instructs him to give warning not to do something like that henceforth.
This is the incident happened in the office of the young Collector Mr.Sasikanth Senthil, who resigned from the service recently. This episode happened, when young Senthil was Collector of Raichur.  . It was told to me by the senior Police Officer, in confidence, I beg for pardon from the officer for writing this here and also I beg for pardon from Senthil,  because, he avoided lime light, and always preferred to work quietly.
*****
Before joining Raichul ,  senthil was working as Assistant Commissioner, while the mining dons control over the region was at peak.  He was also CEO of Shivmoga Jilla Panchayat. While he was being transferred to RAichur as Collector, a relative of mine, who was his assistant, and  had witnessed Senthil from very close proximity, had called and told me that, my boss will be coming as the Collector to Raichur, and he is very straightforward, sincere , honest, and he sensitive to the plight of man on the street, had  praised him with many words.. He had told me to meet him, immediately after he resumes the post.
He was replaced by one very corrupt collector, and he was welcomed with garlands, and bombast of praise by the industrialists, social workers, politicians etc, after all that, I phoned him for a meeting, he at once said come any time. I was in his chamber for more than an hour, he discussed everything about the district. He  assumed the post of  Collector and was aware of the authority and jurisdiction it had as the Collector and also as the District Magistrate.  . His talk was full of his ideas and dream to  use his powers to stem the influence of the corrupt officers, and use the power for the benefit of the general masses.
*****.
A canteen in the premises of the Collector's office was our adda for journalists.  , it was press reporters routine to sit there and talk over cup of teas for hours.  . It came to my notice that, for last few days a villager was regular there. I wanted to know, why he comes almost every day, one day, I inquired the reason why he was there, His name Paramesh, village Dongrapur resident.  . Under Land to the tiller Act, brought by Indira Gandhi, the surplus land of the land lords were acquired by the government to distribute it to the dalits, the distribution was 4 dalith families, two acre each.  Unfortunately, it had not reached Dalits in his village. They could not identify the land which was acquired for distribution. Parmaesh was given information about it, in recent past., to acquire it, he regularly travels 25km to the Collector's office. It has fell in to the deaf ears of the office staff.  Myself and my photographer , Santhosh Sagar, together, we visited Dongrapur and made news report of the story, and it was flashed in front page  of The Hindu. I approached Collector Senthil, with Paramesh,. The reality of the  plight  of Dalith, is not new to the Collector Senthil, as he himself is a Dalith.  . He orally ordered the Assistant Commissioner to survey the land in Dungarapur and hand over the possession to Paramesh, and it was done.
However, Paramesh, was not happy with the land, it was rocky land, no yield could be grown, paremesh was dissatisfied, and complained, he insisted that,  this piece of the land is not which was allotted to me, on his complaint, Senthil personally visited the village, surveyed the land, and inspected the papers and confirmed that, there is no irregularity in allotment, and handed over the piece of land.. Senthil sympathised with Paramesh, it was true, that said piece of land was not much of use, but he was helpless, land lords never handed over fertile land to the government as surplus, and Government disbursed these unfertile land to the Daliths.  . It was show put up by the authorities of land disbursement.
The collector, made an effort to allot piece of land elsewhere to Paramesh, on his disagreement to accept the allotment, as he was adamant, if land is allotted elsewhere, he should be given 5 acre land instead of 2acre, which was not within the purview of the Collector's powers, and the matter remained pending. As time passed, the issue was not solved, and I helped Parmesh to approach Lokayukhta Bhaskar Rao, and drafted the petition for him.  . Parmesh was adamant. After few years I was posted at Gulbarga, and Senthil also was left the district on transfer.  Recently I visited Paramesh's village, and found out that, finally he was not allotted the land, and though the villagers fondly remembered Paremesh story, and were of the opinion, Senthil Saheb was very sensitive to the people's issues, he went out of his way to be help for the common people.
*****
The raid without any intimation on a Recreation Club, in outskirt of Raichur, at Yaramaska, was shock and sent chill down the spine of gamblers, and also it was headline news for the state.
It was Saturday night, about 10 pm.  The alcohol was flowing like water in the club.  Gamblers stake was in crores of rupees.  It was the scene of a chaos, the drunk were unstable, trying to balance. The men who had won lacs  of rupees were screaming with delight. Men who lost were scrambling for more money to bid, to win the gamble.. All of a sudden, the team of eight officers and Senthil raided the place, and men tying their mundus in hurry ran out, few them slipped on their pants and tried to get out, and got behind the wheels and started driving their cars rashly to get out the scene.  . Finally only some twenty people were caught out of some 800 assembled there.
By the time, SP, Raichur, DySP, Vijayakumar Madiwal, arrived with police force, everything was quiet in the cludb.. Senthil had taken everyone in DVR Recreation Clun under his custody, and there was not much to do for the police. He collected the notes lying around thrown by the gamblers, and distributed it to the constables to count and account for.
The club was started by big politicians, and real estate businessmen of Telengana some eight months back. It was for the entertainment of Hyderabad, Mehboob Nagar, Karnool, rich of Andhra Telengana, women, wine, and gambling were provided in the club.  They needed protection of police to provide alcohol without permit, and for prostitution, and gambling.  . The protection was provided by the Senior POLice officer, who was on the post, before Chetan Singh rathod.  .It was discussed amongst the people, that Senior Police Officer was given Rs.1 lac per month.
This officer worked under Mining scandal Reddy. It is recorded in the Report submitted by Lokayukhta Santosh Hegde. After transfer to  Raichur, he commenced serving this club. Initially, it was few local people gambled in this club. Once this officer was transferred to this region, the club's fame spread up to Hyderabad, Mehboob Nagar,  Kurnool, the men who were cash rich with real estate deals, corrupt cash rich government officials, corrupt moneyed politicians became its clients. Wine, women, gambling became regular in the club. Eventually, Telegu women flim actors, TV anchors, were seen here, later, women were brought in hoard to the club. The clients/guests were accommodated in a lodge nearby for overnight stay.
Both Sasikanth Senthil and the SP both were known to each other. They both  worked in Bellary..Senthil, though newly posted in Bellary as the collector, made all efforts to keep away from Bellary mining scam, and kept himself engaged in pro people work, and SP was fully hand in glove with Bellary mining scam.  . If plan of  raid was informed to the police department beforehand, the raid would have been futile, SP would have informed the club managers, it was SP who was  covering their back.  Sethil was careful enough to keep the Police department in dark.
It was embarrassment for police department, especially to the SP, that the Collector conducted raid keeping the police department in dark.  Nobody saw SP for two days. The corrupt practice of Raichur Police department became story in the state.
One Inspector K.Basavraj was made scape goat for Club's illegal operation, and was terminated from the service, this was face saving exercise of the police department.
The SP wanted to suspend one Constable.    Three of them who were framed for the operation, one of the constable who as at the verge of retirement, gathered some courage questioned the SP, why you are terminating me. He was surprised by her rebellious attitude, he realised, suspending her will enrage the  lower rank in the police, and it may lead to some kind of rebel action, which may put him in the difficult situation. He withdrew termination of woman constable. The Circle Inspector, Basavraj who was suspended, had reputation of a short tempered officer, who had used his physical prowess, with uncontrolled anger  and was become news in the community, he was seething with anger with he named as the accused, leaving out  SP and others scot free,  in recreation club scandal.  When he was given news of suspension, he buckled his revolver to his waist, and left, without informing where is he heading to. He did not respond to phone calls of family members or friends, or even SP. He did not take call from North East zone IGP.. Finally he picked up the phone call from Director Banglore , Karnataka Police. He returned to Raichur, only after Director Banglore assured him, that, his suspension order will be revoked. Hence, within few days, suspension order was revoked without any inquiry in to the matter.
The firm step of Collector Senthil not only shaken the police department, but also become a reason for transfer of the SP.
*****
The menace of deafening DJ sound  had become part of the Ganpati festival. Of course, problem was not  limited to Rauchur.   Its routine spectacle in most of the towns and citis, the loud blaring of  DJ sound system  during Ganapati visarjan or at pandals. Police Department had a case, of one Police man going deaf, after he was posted at a pandal with lound DJ sound system, it was reported to the press.
As per the rule of Environment, and Forest Protection rules of 1986, the sound cannot go higher than 55 decibel in the day and 45 decibel in the night.  . The sound decibel of DJ is about 129.  Supreme Court has passed a judgement in 2005 restraining DJ music between 10 pm to 6 am in the night.
Senthil as a collector restrained use of DJ. There are about 1400 public Ganapati pandal, out of which 300 pandals use DJ sound system in the pandal or during visarjan  In RAichur Town alone there are about 150 GAnapati mandals, and they take about 18hours for visarjan procession.  It was challenging task for Senthil to face resistance to insist for this mandals to abide by the DJ rules.  . There was sure possibilities of Hindutva groups defaming him as Anti Hindu officer. But with determination he took up the task to control the DJ menace.
His approach to tackle this menace was a  well thought out plan. Firstly he gathered Police officers, and Environment activists, and handed over the copy of the supreme Court judgement and rules pertaining to noise control in the community. The journalists reported the adverse impact on infants, ailing patients and old people of the noise of DJ, journalists earnestly reported the news. In his press reports he  presented his case, that, by not using DJ, GAnpati bhakthi will be of any less value, normal sound system suffices to sing songs of bhajan etc.
He instructed Police force  to strictly bar use of DJ sound system. ON his instructions, Raichur SP Chetan Singh Rathod, instructed the DJ owners from outside Raichur, if you brings it to Raichur, you will not be allowed to take it back. 
Meanwhile, Senthil invited all the leading mandals and religious gurus of Muths to discuss use of DJ. The campaign against DJ in news paper , media and word of mouth, was successful.    The muth chiefs, like, Kille Brahnamath Shanthamalla, Shivacharya Swami, themselves speaking against DJ music in religions congregation. That year DJ was fully banned in Raichur.
" Common people are against this noise pollution, but 10% powerful people over take the opinion of 90% ordinary citizens,  . It our duty to stand up to this lobby, but it was not possible without you media's active participation. It was not an easy task for us to convince these rightist groups. Your media reports created awareness about the noise pollution" Senthil confessed in closed door meeting with journalists.
*****
In 2015 there was a demonstration against killing of researcher M.M.Kalburgi.    A representation to the Assistant Commissioner was submitted demanding inquiry to find out whether it was  a handiwork of Shri Rama Sene. Chennavira Kanavi, Giraddi Govindraj, Tontadarya Swami, from Gadag were signatories of the representation. Enraged by this representation, Shrirama Sene, called a press conference, and publicly demanded that, there should be an inquiry in to the case, unless police brings forth the evidence that, Shrirama Sene has hand in it, otherwise, Shrirama sene will burn down houses of  Cheeneveera kanavi, Giraddi Govindraj,
In the press conference, Shriram Sene,  in reply to the press question whether they are conducting arms training to their followers without regard to the law of land, sene proudly replied affirmatively, saying, we conduct arms training of handling revolver in Raichur. That reply was sufficient for Senthil to move the law machinery, he phoned senior police officers to arrest the persons who conducted the press conference.
*****.
In year 2016 Raichur  hosted of 82nd Kannada Sahitya Sammelan, and it was conducted very efficiently and the major credit goes to Senthil, that  was first opportunity for me to report on Sahitya Sammelan.
The Welcome committee's  estimate was that 7000 delegates and 30000 audience may attend the event, the meal was organised accordingly. The audience outnumbered the estimate, and 75000 people attended the event.  Last two days, there were about 80000 and 1,00,000 people  attended the events. I was apprehensive about the chaos may take place if short fall of meal provided for the audience  no such things happened, there was enough food for the gathering  There were some snags, I did not find it important enough to make it in to a news report.  I could understand, if we have unexpected guest arrive at home,, how difficult it is to arrange for meal from nowhere. Here three time of  the number audience expected  landed, it was not easy to handle. Here organisers deftly handled the situation, you have to give them credit for that.
What impressed me  most was the attendees who were non kannadigas and their enthusiasm to be part of the congregation. It is a practice that, whichever district hosts the sammelan, the committee is lead by the District Collector. The fiancé is managed by the treasurer. Here the Senthil was leading as a Collector, he is basically Tamil, he strived day and night, he formed 33 sub committees, it was under his supervision, decided, where the pandals will be located, how meals will be organised, how books will be stacked for display, where the press counter will located, he instructed how far it should be from the main podium, about meal to be provided for the press reporters, he decided everything to the last details. He was told that, there is problem of internet connection from the press counter and also from the main podium, He immediately instructed state  government  techys to look in to the matter and assigned them the work to smoothen the internet connections, though the internet connection was not in order , that was a different matter altogether. I was impressed with his dedication to carry out the kannada literary festival though he was a Tamil.
Here I specially mention, Chetan Singh RAthod, SP, though he is from North India, he was success full in managing the crowd thronged to the conference.  His management was praise worthy, especially security to VVIP, crowd management, traffic management, and overall law order control.
A District Panchayat, CEO Koorma Rao a Telegu man was head of many subcommittees, the main pandal, book display stands, and dining pandals were constructed by Tamilians of the district, food was served by Hindi speaking boys. There were about 3000 volunteers to overlook the conference, and most of them were non kannadigas, who had come from other states. Marwadi funded the cold drinks, curds, and cool water in the procession of 6kms, on which Conference President Baragoor Ramchandrappa presided over, the drinks were served by north Indian boys.
Due to withdrawal of 500 and 1000 notes, there was dearth of cash  in contribution from the industrialists and businessmen. The Collector Senthils wisdom, of accepting the donation in kind instead of the cash was an excellent idea, he accepted free hotel rooms from hotel owners, he accepted the rice from rice mill owners, he convinced the rice mill owners to provide meals to lacs of attendees,. His idea of involving non kannadigas was impressive, MLA, S.R.Reddy from Narayan Peth of Telengana, donated generously, Vishnukanth Boodadi, a Rajasthan origin,  and Telegu man A.Papa Reddy were interesting participation, giving that, it was a conference of unity of languages not alone Kannada sammelan
Few organisation wanted to felicitate Senthil for this successful conduct of the Conference, he refused. But finally convinced by Baragoor Ramachandran personally convinced him to accept the felicitation.  .  It was evident that, senthil never sought the fame or popularity, he while addressing officers and teachers, he always said, that, our works should speak in the community, we should not be seen, our work should be seen." This I had heard him saying this many a times  in all occasions.
*****
There was an incident in 2015, in village Turvanil,  Taluk Sindhnoor, some 25 daliths including one pregnant woman were attacked by upper caste in their locality with knife, iron rod, bamboo, etc,. The dalith youth of Turvinil, were in contact with Karnataka Janashkhti, and they reported this news, I immediately called Senthil. He without wasting any time, Phoned Chetan Rathod and instructed to register a case, and arrest the culprits.
Some 29 men were arrested under the charges of attempt to murder cases. He personally, with Chetan Rathod, and Mr.Selvamani, Linganoor Assistant Commissioner visited the Turvinul, and consoled the daliths
That is Senthil. No one can find fault in execution of his duty, and unblemished public service record. He stood by the poor and disempowered. He did everything for them as a collector of a district in their interest. He was honest, sincere, intelligent and also efficient.  . He was ever ready to go around all the remote villages to inspect the welfare activities of the region. Usually, on his such tours,  he had mid day meal with school students. If I narrate there are  too many incidents to write down his good work, but now that he has resigned , I have written this just to keep it as a record.
Kumar Buradikatti