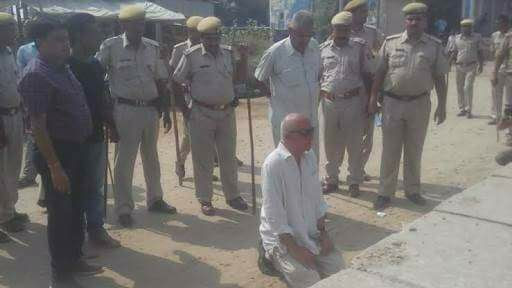 It was only the day before yesterday, that a local, Rajasthan court gave a clean chit to 6 people named by Pehlu Khan on his deathbed as his killers, in his dying declaration. Pehlu was lynched by a self styled cow vigillante group on in April this year. The incident took place in Alwar, Rajasthan.  
Captured live on a mobile camera, the identity of Pehlu's assailants was evident...yet the Rajasthan court's verdict effectively meant "No one has killed Pehlu Khan."  
The verdict has generated widespread outrage; justice has clearly been poorly served...  
Today, activist Harsh Mander's 'Karwan-e-Mohabbat', a Peace Yatra against hate, reached Behror, Rajasthan. Mander wanted to visit Pehlu Khan's family. Hindutva activists stopped Mander's bus and physically prevented him from paying respects to Pehlu's family.  
Mander sat on a Dharna...the Police remained mute spectators.It was Mander's force of will that finally forced the Police to allow him a visit to Pehlu's home. In a blatant show of anti-national cowardice, Hindutva groups kept screaming ''Bharat Mata Ki Jai', as if this kind of sloganeering was in any way relevant.  
It is a simple case of cold-blooded murder of an Indian citizen by a lumpen, communal mob. That enjoys the patronage of the powerful in Rajasthan and in Delhi.
Related Articles:
1. The
Karavan-e-Mohabbat Begins