The Daily Mail
reports that while the Hindutva brigade and cow vigilante groups have opened front against cow slaughter in the country, the male species of the bovine family have few protectors it seems!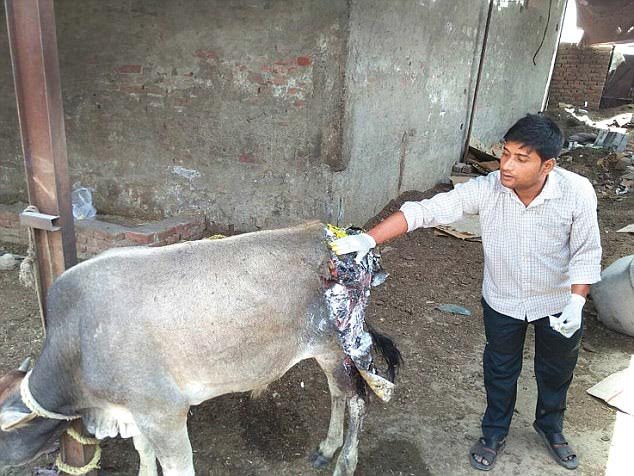 The newspaper reports that, a number of incidents have been reported from Bhopani village in Haryana's Faridabad district, bordering the national Capital, where villagers poured acid on the cattle, mostly bulls, to shoo them away from their agricultural fields. In one of the incidents that was brought to the attention of People for Animal on Wheels, an NGO, a two-year-old bull was attacked with concentrated acid by some villagers in Bhopani after they were allegedly fed up with losing their crop to grazing. 
The bull, received severe burn injuries on his hind limbs and lost much of its skin to attack. It has been named Shambhu by the NGO. Members of the NGO said parts of his internal organs could also have been damaged. The incident took place last week when the NGO received a call from an unknown person informing that a stray bull was sitting restless by the roadside with severe burn injuries After this, a team immediately reached the spot with an ambulance and traced Shambhu. 
It was Ravi Dubey, member of PAW who gave details to the newspaper about the rescue operation, Ravi Dubey. He said, 'When the bull saw the rescue team, he tried to escape.'The team then lured the animal by giving chapatis and tied it lightly with a rope. 'After providing medical aid, Shambhu has now been kept under observation by the NGO. Initially, he was not eating anything but he has started recovering. Now, he is on a proper diet.'
Significantly, no FIR has been registered in the case. Though police officials said in such incidents, FIR could be registered and action against the accused could be taken as per the provisions of Prevention of Animal Cruelty Act, 1960. During investigations by the NGO, it has been learned that villagers in Haryana often pour acid on cattle as they are useless for them, thanks to modern agricultural farming techniques. Another villager claimed at least six bulls were attacked recently. Mail Today tried to contact Jash Raj, sarpanch of Bhopani, but he refused to comment. Interestingly, no case was registered in either of these incidents.
Photos Courtsesy: Dail Mail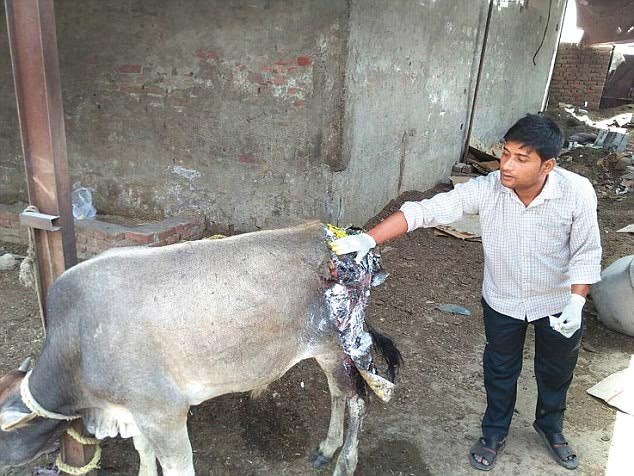 Villagers pour acid on the cattle, mostly bulls, to shoo them away from their agricultural fields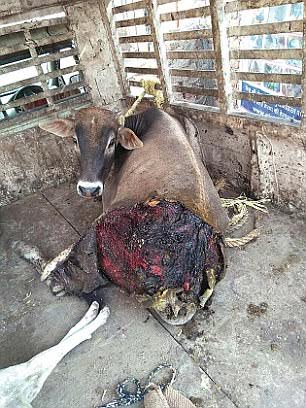 One of the bulls received severe burn injuries on its hind limbs and lost much skin. Parts of its internal organs could also have been damaged, its caretaker said